Imola Facts & Figures
Friday, 24 September 2010 10:36 GMT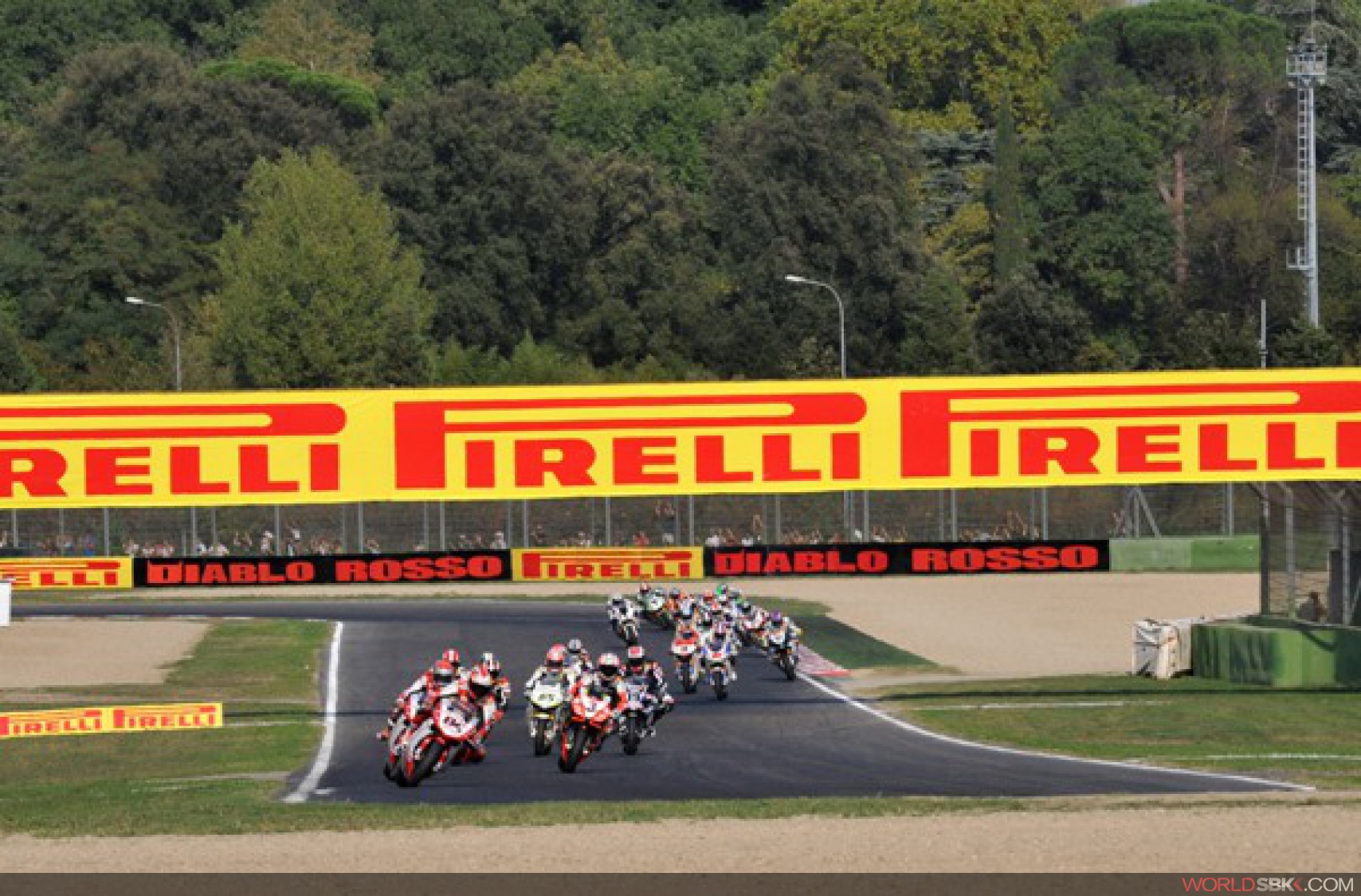 Imola Facts & Figures
Max Biaggi has also raced in three different championships at Imola: among his best results was a third place in the 1999 500cc championship and a win in the 1997 250cc race. Last year he was second in race 1 and fourth in race 2;
Carlos Checa has not had much luck at Imola: in the 500cc world championship he was fourth in 1997 and tenth in 1998 out of four races run. Last year he fell in race 1 and finished tenth in race 2;
Cal Crutchlow was the polesitter for last year's Supersport race, but fell at the Acque Minerali while leading;
Troy Corser has taken part in eleven superbike races at Imola. His best result is a second place, obtained in race 1 in 2001 and in the only race of 2005, after which he was crowned champion for the second time. Last year he was hit by brake problems in both races, ending up eleventh in race 1 and retiring in race 2;
Michel Fabrizio endured only one tough weekend in Imola, in 2006, when he retired twice; apart from that he has always obtained good results in all three classes he has raced in: he won the Superstock 1000 race in 2003, he was seventh and fourth in the Supersport races of 2004 and 2005, third in race 1 last year before winning from his team-mate in race 2. Last year he also scored his maiden pole;
Only one retirement out of nine races for Noriyuki Haga: in all his other races here the Japanese rider has always finished in the top-6, scoring three podiums, among those a win in race 1 last year. At Imola Haga has never qualified lower than seventh, starting from the front row with the fourth time in 2002, 2004 and 2009;
Leon Haslam has always finished his Imola races in the points, obtaining his best results last year with a sixth and an eighth place;
Lorenzo Lanzi obtained his best results here in 2006, when he raced as a works Ducati rider: he was sixth and seventh. Last year he didn't manage to reach the top-10, retiring in race 1 and ending up eleventh in race 2. He was fourth in the 2004 Supersport race, while he fell on the last lap in the Superstock 1000 race of 2003, compromising his championship challenge;
Max Neukirchner finished only one of the three races he contested in Imola, the first one, finishing seventh. He fell twice in the 2006 races;
Jonathan Rea was sixth and seventh in the two 2009 races, two results which don't reflect his true pace, as in race 1 a contact with Fabrizio sent him into the gravel trap and in race 2 he had brake problems. He started from the third grid spot;
Luca Scassa is looking for his first points finish at Imola. He won the Superstock 1000 race in 2006 in front of Brendan Roberts and Alex Polita;
Jakub Smrz managed to finish in the top-10 in both last year's races, with an eighth and a ninth place;
James Toseland has raced ten times in Imola, ending among the top-six seven times, three of them on the podium;
Ruben Xaus is the most successful rider at the Santerno track with three wins, together with Regis Laconi. The Spaniard obtained his wins in 2001 race 1 and posted a double in 2003. In recent times however Imola wasn't a good venue for him: a double retirement in 2006 and two finishes outside the top-10 last year (12th and 13th).

Team Notes

Aprilia posted the two fastest qualifying times back in 2001 with Corser and Regis Laconi. Corser finished second to Xaus in race 1 while Laconi won race 2. Aprilias were back on the podium last year with a second and a third;
Ducati have won eight times at Imola: they are unbeaten since 2006, race 2;
Honda can count four wins, the last one in 2006, race 1;
The best result for a Kawasaki bike at Imola is a sixth place obtained in 2001, race 2 (Gregorio Lavilla) and in 2005 (Chris Walker);
Suzuki have never been able to win at Imola: best result is a second place, obtained by Troy Corser in 2005;
Only two podium placements for Yamaha at Imola, a couple of thirds scored by Haga in the 2005 race and by Andrew Pitt in race 1 in 2006.

Milestones at Imola

2001 - Regis Laconi won his maiden superbike race in front of Ruben Xaus and Tadayuki Okada;
2002 - win number 75 for Honda by Colin Edwards. The American won also race 2, beating Bayliss and winning his second title;
2003 - maiden pole position for Ruben Xaus;
2005 - Troy Corser won his second world championship;
2006 - Troy Bayliss won his second world title at the end of race 1. Alex Barros won his maiden (and only) superbike race. Troy Corser started his 250th superbike race.
2009 - maiden pole for Michel Fabrizio, the 150th for Ducati. 30th podium placement for Max Biaggi.

Supersport

Honda have won five of the seven races run in Imola, one win also for Suzuki and Ducati, while Yamaha have never made it to the top step of the podium.

Superstock 1000

The first six editions were won by Italian riders (Walter Tortoroglio, Vittorio Iannuzzo, Michel Fabrizio, Riccardo Chiarello twice and Luca Scassa). The first win from another country (Belgium) came last year from Xavier Simeon;
Kenan Sofuoglu is the only non-Italian to have started from pole at Imola (2005).