Under pressure: Which Bautista will we see in the UK?
Wednesday, 3 July 2019 11:20 GMT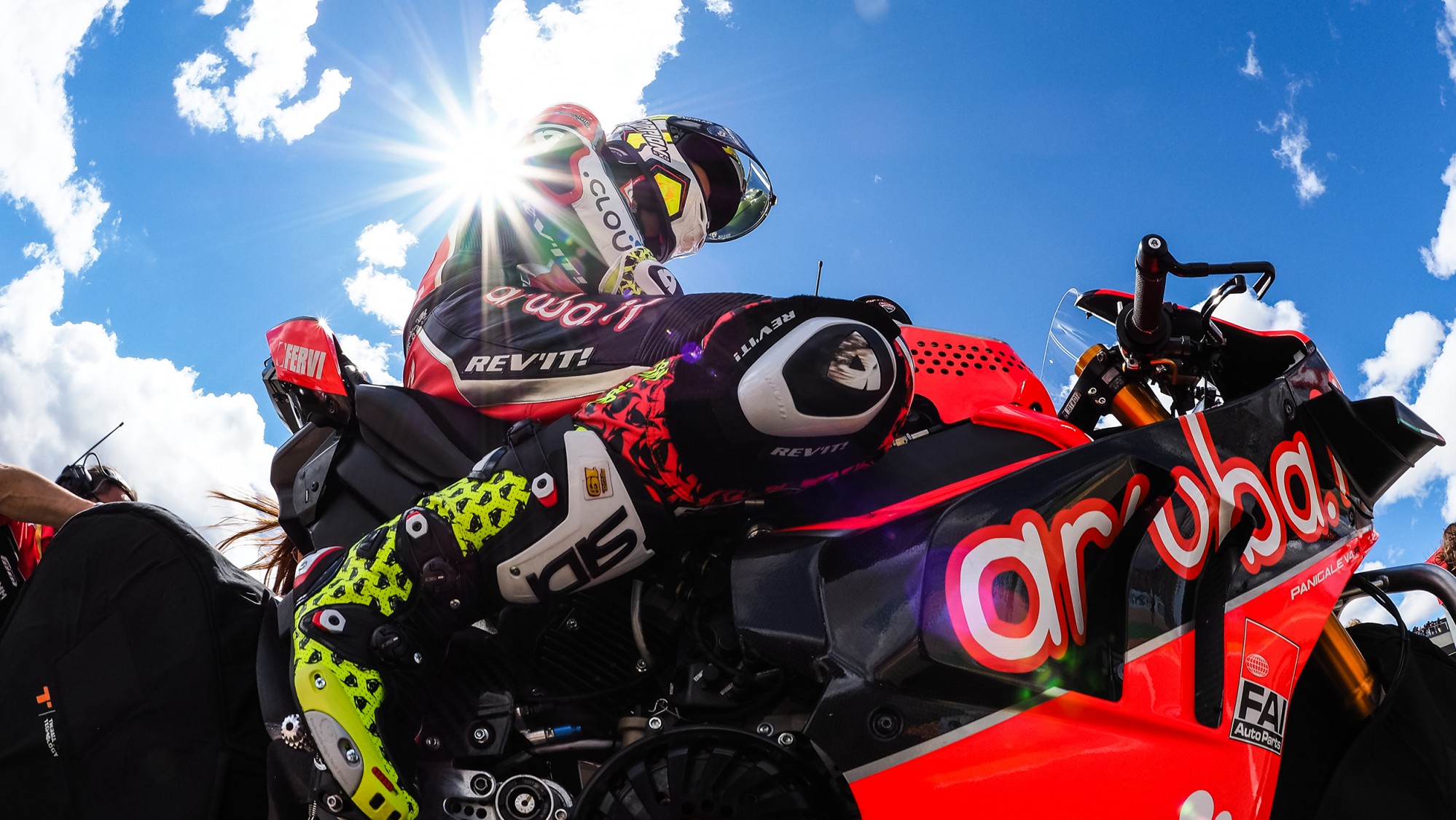 WorldSBK commentator Steve English looks at the suddenly vulnerable Alvaro Bautista and why this weekend could be one of the key rounds of the 2019 WorldSBK season
"Sport doesn't build character; it reveals it," so said Vince Lombardi. The Hall of Fame American Football coach could just as easily have been talking about Alvaro Bautista (Aruba.it Racing – Ducati) as about Green Bay Packer players over 60 years ago. How the WorldSBK championship leader deals with the adversity of seeing his title lead slashed to 16 points will be very revealing.
Crashes from the lead at both Jerez and Misano cost him 48 points and suddenly the man that opened his Superbike career with a record-breaking run of success is vulnerable. Going to Donington Park and Laguna Seca on back-to-back weekends will see the Spaniard go into the belly of the beast. He needs to dig deep and remember how fast he's been over the season.
Pressure is key in motorcycle racing. A rider is either under pressure or applying pressure. The most important six inches on any racetrack are the six inches between the rider's ears and how they deal with pressure is crucial.
Can you keep a cool head when the world is falling around you? Can you get into the head of a rival and play mind games at the right times? Can you deal with the highs and lows of a 13-round campaign? The next ten days should give us a crucial insight into what to expect for the rest of the 2019 WorldSBK season.
His recent crashes revealed a chink in his armour. Now it's a question of whether or not the rookie can step back into the form that saw him win the first eleven races of the year. Make no mistake about it: the package of Bautista and Ducati Panigale V4R is still the most complete on the grid. All things being equal they are faster than anyone else and should be in front of the standings. The simple fact remains though that they've made mistakes of late and now the Ducati squad faces a referendum of their championship challenge.
These are two circuits that Bautista knows from his Grand Prix career, but this weekend's venue is very different on a Superbike compared to his 125cc and 250cc experience. Having ridden at Laguna Seca on a MotoGP™ machine he'll know what to expect there.
Whether they suit the all-new Ducati remains to be seen. The big question for this weekend though is which Bautista will we see? Will the dominant Bautista that rides off into the distance appear or will we get the error prone rookie that has suddenly made the title fight competitive?
The V4 R is a superb package – this is proven by its success in domestic championships as well as in WorldSBK – but it's not an easy bike to ride. This has been proven by the form of Chaz Davies (Aruba.it Racing – Ducati) and Michael Ruben Rinaldi (Barni Racing Team) this year. Both have flashed signs of turning the corner and coming to terms with the demands of the brand-new machine but have ultimately been outperformed by Bautista.
When the bike is in its operating window it's immense. If it's outside of that comfort zone though it can be a difficult beast. Bautista has said as much throughout the season, but the last three rounds have offered proof that he wasn't trying to keep a lid on expectations; his crashes prove that it's a tough bike to ride.
Donington Park doesn't have long straights but having a bike that gets out of corners well is key. Over recent years Tom Sykes (BMW Motorrad WorldSBK Team) has been dominant and his style with the Kawasaki of recent years was all about spending as little time as possible on the side of the tyre and getting out of the corner quickly. Bautista tries to carry corner speed, but the strength of the Ducati is its punch from slow corners. This track could play to the strengths of the bike but not to the Spaniard's riding style.
If that's the case he'll face stiff opposition with Sykes, Jonathan Rea, Leon Haslam (Kawasaki Racing Team WorldSBK) and Alex Lowes (Pata Yamaha WorldSBK Team) all looking for home success.
Sykes has been the King of Donington for this era of Superbike riders. While he was finally beaten by Rea two years ago don't sleep on the BMW rider springing a surprise this weekend. No-one in the paddock has done more laps around Donington Park than Haslam and with his future still a talking point, the British rider will be out to prove his worth again. Having stood on the rostrum in Misano he'll be out for three podiums this weekend.
At his home round Lowes is never one to be discounted and with his Yamaha teammate Michael van der Mark attempting to race just ten days after surgery on his fractured wrist the expectation will be for Lowes to lead the line for the boys in blue. The former British champion has two podiums and a pole at Donington Park and the youngest ever British Superbike champion has won here in his national series before stepping up to the world stage.
There's a lot of rivals for Bautista to try and beat and a 16 points lead is all that Bautista has to show from a dominant opening half of the year. He'll face a lot of opposition this weekend. Suddenly all his strength, suddenly all his pace count for a lot less. Suddenly his title challenge is under threat. How he deals with it this weekend will tell us a lot of what to expect from him over the second half of the 2019 season.