Done deal? Not even close, Australia is just the first fight
Thursday, 28 February 2019 11:39 GMT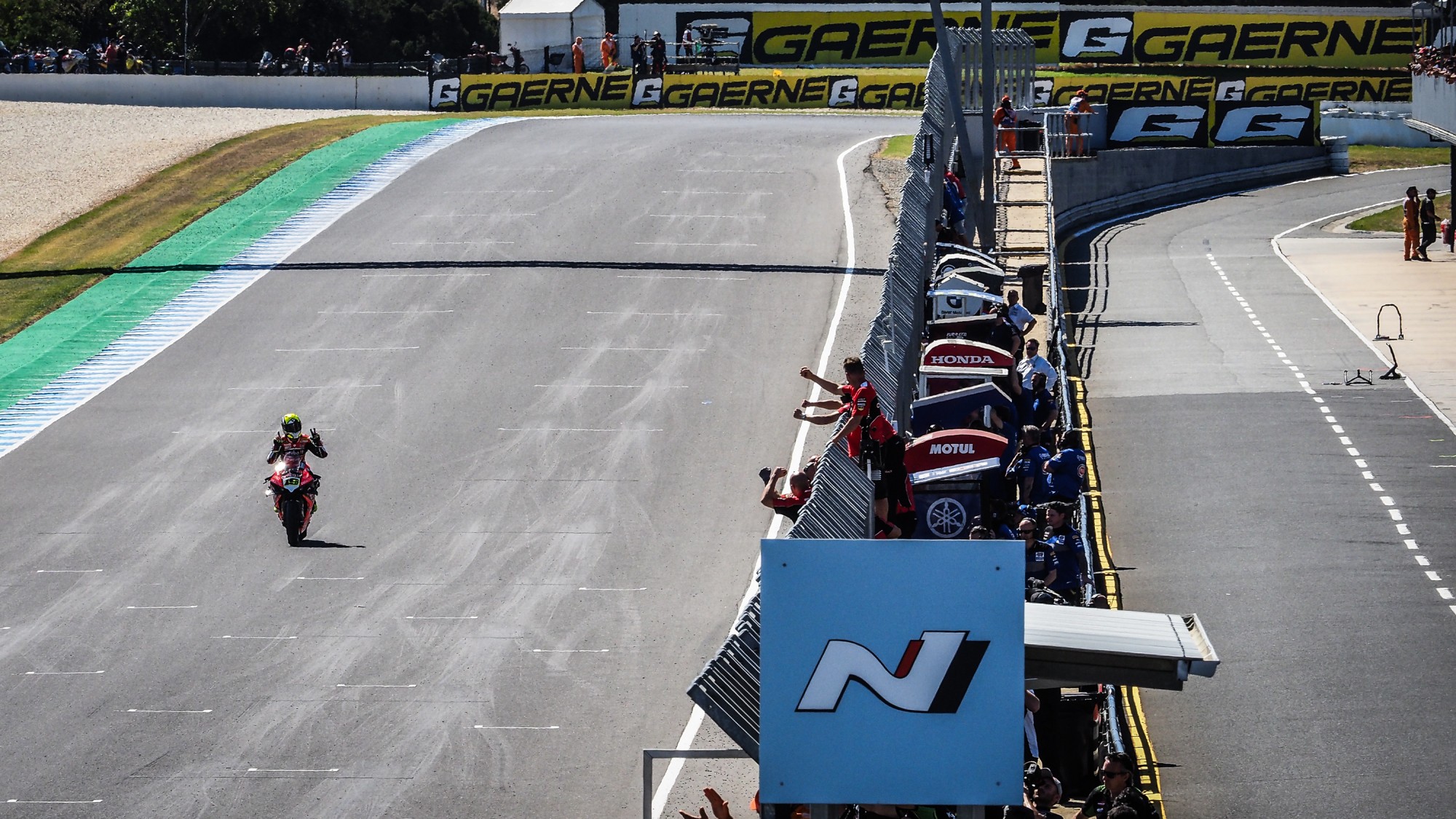 WorldSBK commentator Steve English reviews a potentially game-changing Yamaha Finance Australian Round
It's easy to look at Bautista's performance at the weekend and assume that this form will continue indefinitely, but racing doesn't often work like that.
Phillip Island is unique and Alvaro Bautista (Aruba.it Racing - Ducati) is fantastic around this circuit. If there was ever going to be a perfect recipe for the Spaniard it was here at Phillip Island. Talking with team personnel who have worked with Bautista in the past there was one constant; he's fantastic in Australia.
A look through his career shows he had the best result of his rookie 125cc World Championship season in Australia, when he went from a handful of points scoring finishes to scrapping for the win in the rain. The following year he finished on the podium, and in his title winning campaign he took the win. In the 250cc World Championship he finished second as a rookie and won the following year. In his MotoGP™ Australian appearances he qualified on the front row for Suzuki before crashing out of podium contention in 2011, was a front runner on the Gresini Honda and famously scrapped for the win in a thrilling race for Ducati last year. The boy can ride at Phillip Island.
Bautista also has the advantage of inexperience. That might seem strange but in the WorldSBK paddock we're conditioned to think certain things. In Australia it's that you have to manage the race and not race flat out all the way. You need to finesse the tyre or else your times will drop off a cliff. Managing that issue has traditionally been the biggest factor in winning down under. Instead, Bautista has turned that theory on his head. He was dominant last weekend.
The rest of the field raced a "traditional" Phillip Island race, albeit one a lot slower than previous years, while Bautista ran away at the front. Without having been bitten in the past, he didn't have a bank of bad memories to think about. Like the first time you tee up a golf ball and swing freely, you've no bad memories. They come with time and the experience leads to a change in strategy.
There's no way that Bautista is going to continue winning races by 15 seconds, but the bike will work at Buriram and the Spaniard managed his tyre well in the Thai MotoGP™ race last year. The biggest question mark after Round 1 isn't how Bautista was so dominant, but rather it's how badly the other Ducati riders struggled during the week.
There's a lot of factors that go into Chaz Davies (Aruba.it Racing -Ducati) struggling and the biggest one was his inexperience. While Bautista might be new to WorldSBK, he knew the characteristics of a Ducati V4 R. It might not be the MotoGP™ bike with Michelin tyres he's used to, but with such a radical change of machinery he had an easier learning curve in Round 1 than Davies. The Welshman lost a lot of winter testing due to inclement weather and injuries, so arrived in Australia trying to understand the bike; Bautista arrived trying to find a race setting. That made a big difference and once he found the front end feeling he wanted, he was ready for the races. With a new crew chief and engineers around him with an all-new bike, there are plenty of reasons behind the issues in Australia. Davies should be better in Thailand. If he's not, then it's time to worry for his chances this season.
Bautista struck when the iron was hot in Australia to win all three races. He left with a perfect haul of points and that could be the most important lesson we learn from Round 1; if you have an advantage you must make it count. This year there will be races where Ducati has the best bike, when Kawasaki has the package to beat and when Yamaha are at the front. The brand-new BMW showed it has a lot of potential too. If you have the best bike you can make up a lot of points on your rivals. It's also imperative that when you don't have the best bike that you limit the damage and get the best result possible. By going 2-2-2 in Australia Jonathan Rea (Kawasaki Racing Team WorldSBK) limited the loss to Bautista.
Has Australia changed everything, or will it be an outlier? That's the million-dollar question for the other 17 riders on the grid. In winter testing we didn't see this type of performance from Bautista. We saw Jonathan Rea at the top of the times and looking comfortable. Now the champion needs to dig in and fight back. He can come away from Round One thinking that he stemmed the bleeding, but now he needs to punch back in Thailand and that won't be easy. After the race Rea said he had taken "a knife to a gunfight" but now it's about seeing the size of the dog in the fight.
Rea, like all champions, runs on self-confidence. He knows that he can win. He knows that Pere Riba can fix any problem. He knows that Kawasaki has a great bike. What happens when that confidence starts to erode with Bautista's win? It will be fascinating to find out. Like the Phillip Island race pace, we're conditioned to think that Kawasaki and Rea will find a way to win... What happens if they can't?