Checa: "Bautista surprised me… and everyone"
Wednesday, 27 February 2019 11:36 GMT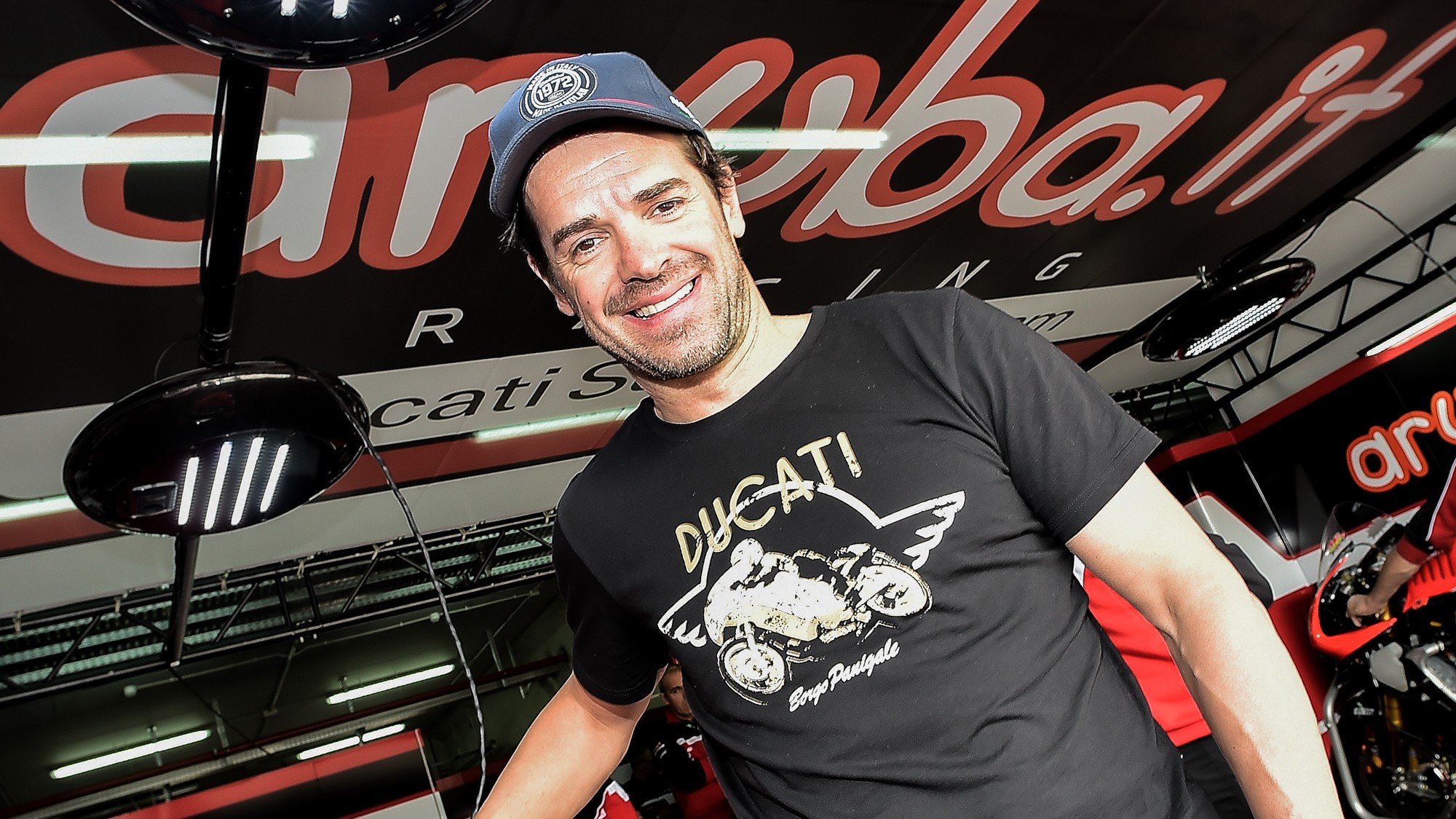 The former Spanish rider and 2011 WorldSBK World Champion gives his opinion about the start of the 2019 season and Alvaro Bautista's performance
Carlos Checa, one of the benchmark riders both in MotoGP™ and WorldSBK, has been in the news this Wednesday as he has been announced as MotoGP™ commentator for the new streaming platform DAZN. Crowned World Superbike champion in 2011, he was the last Spanish rider to achieve such result, and after the stunning start of the new WorldSBK season, he made his analysis on what could happen this year and in the next rounds after Alvaro Bautista's dominion in Australia.
Were you surprised by the start of the new season and Alvaro Bautista's performance on his debut in WorldSBK?
"Yes. The truth is that I was amazed, and it had not been just me. Everyone was surprised. I had the chance to try the new V4, and it is a bike that goes well in all aspects. I saw that the bike potential was there, but it is also clear that we are comparing with bikes and riders that have been in the championship for many years and I understand that reaching the same level of Jonathan Rea and Kawasaki would take a few races. Winning on his debut and in the way he did, with such a margin ahead of Rea it surprises positively. Alvaro is in good shape, he is a lot motivated, and the bike is working well".
Starting like this for a rookie in the championship must be adding a lot of motivation…
"Yes, I think that this will motivate Alvaro a lot! For a rider who had been competing in MotoGP™ for many years without having options, being able to stay at the front and fight for the championship will be a great source of motivation, and the same is for Ducati. I think it is time for him to count on a real option to be able to fight for the championship. This is a good thing also for the championship itself, after years that saw an absolute dominance of Rea. That is why I think it is interesting seeing Alvaro Bautista and Ducati with a new bike at that level".
Do you think that Bautista's dominance at Phillip Island is a sample of what he can be able to do in the championship or do you think he will face more difficulties in the next rounds?
"Of course, he will face more difficulties! But Alvaro is a rider who has just joined the championship and a team with a new bike, and considering that he will find himself better with all of these as he keeps racing with them, right now I can say that he will probably be able to stay at the front, winning more races, or at least have the chance to do so in each round".
The performance of the other Ducati riders has not been at the same level of Bautista, especially if we think about the problems that Davies had…
"Yes, it is also a surprise that Davies finished so far behind, but I think that many factors have coincided. Adaptation to the new bike, the fact that Bautista knows the Australian race track and that he likes it… but the difference between Alvaro and the second has been so wide that he can easily arrive on circuits that he doesn't know and being able to stay at the front even if with some more difficulties. The truth is that I would think as Alvaro as a favorite also for the next race".
Alvaro said that the V4 R is still developing and that many aspects can be improved. What do you think can be improved as you were able to try the bike?
First, we need to say that these racing motorcycles are close to the ones that people can buy, register and use on the road. But the performance of racing motorcycles, of course, is higher. If we compare it with a MotoGP™ bike of ten years ago, maybe it lacks some aspects, but in others, it is better. We are speaking about a bike that has a base level which is very high. I would say that if with the Panigale they missed their target, they have reached it successfully with the new bike as Alvaro proved in this first round. It is evident that this bike will evolve, and without a lot of pressure as they already have a rider who has been able to win from the very beginning".
Since it has been announced that Alvaro Bautista would be part of the official Ducati team, it has been spoken of the parallelism between his career and yours, which ended with the achievement of the 2011 WorldSBK World Championship title aboard a Ducati machine…
"I am delighted about this parallelism because I know Alvaro. He is a very nice rider, and we get well together. I am happy that now he can fight for the championship title for Ducati after so many years. I think he is the right person and that this is the right moment. I am happy about it. In my case, I spent two years in Honda and then moved over to Ducati in a private team before being able to win the championship, but I think that Alvaro will be able to shorten the timeframe if we think of what we saw in Australia. I think he has more chances to win the championship".
Relive all the best moments of the first round of the year at Phillip Island and follow the rest of the 2019 WorldSBK season, all with the WorldSBK VideoPass.