WorldSBK Rewind: A showdown for the ages
Friday, 4 May 2018 13:43 GMT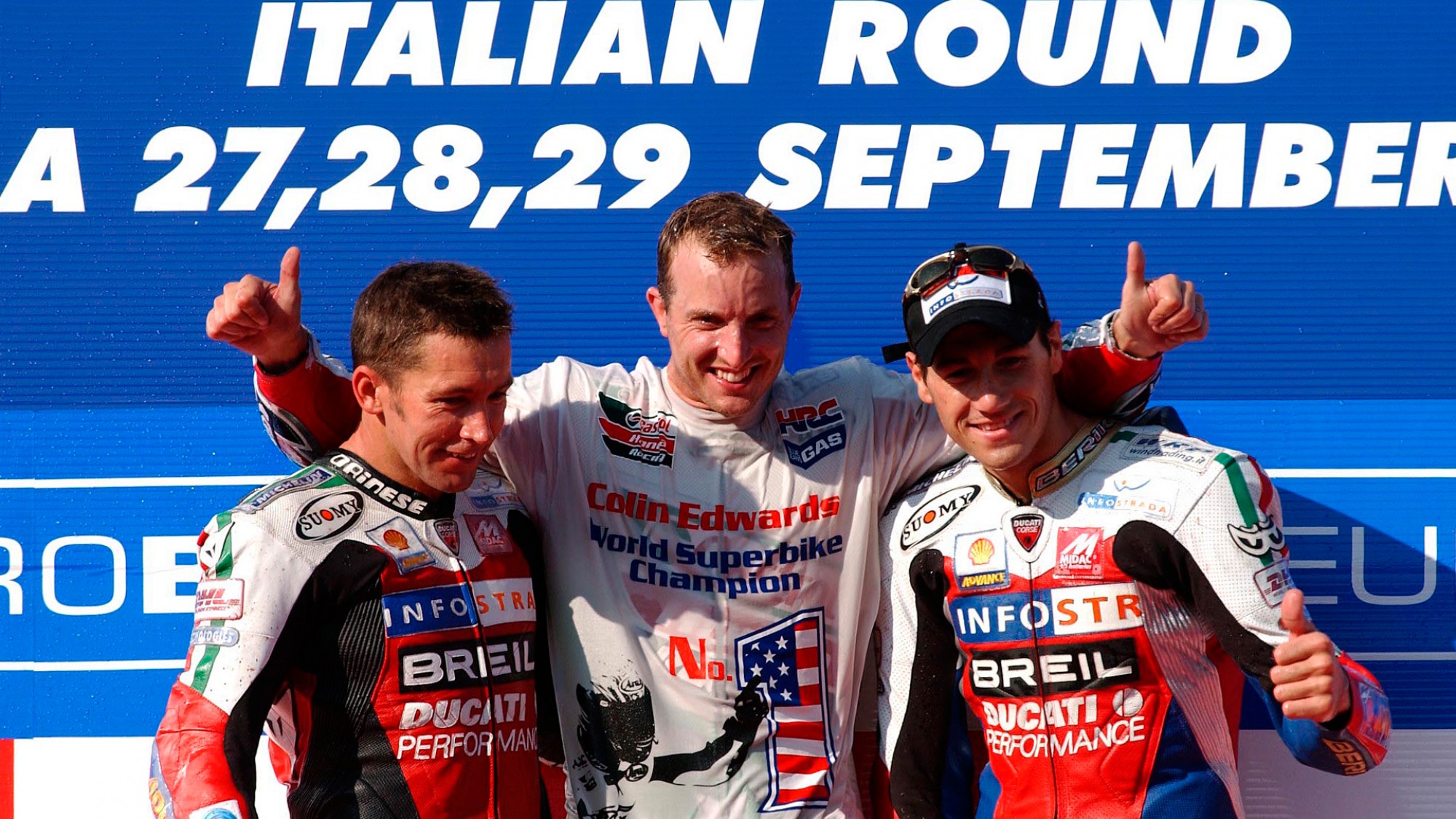 WorldSBK.com relives the thrilling 2002 Imola Race 2 that defined two legendary careers
It's the battle that set the bar. Perhaps the most talked about race in WorldSBK – if not motorcycling – history. A clash that every title challenge for the past sixteen years has aspired to mirror. Colin Edwards and Troy Bayliss, Texas Tornado against the Aussie sensation. Three years of continued one-upmanship climaxing at an epic Imola two-parter.
The change of millennium was marked by the rise of two of WorldSBK's brightest stars. Colin Edwards made his WorldSBK debut on a Yamaha back in 1995, but it was in 2000 when his big breakthrough came, taking his maiden championship in a wild season where riders from six manufacturers took the first six places on the standings.
At the back of that group was a debuting Troy Bayliss, acting as a midseason replacement for WorldSBK legend Carl Fogarty after his Philip Island accident and subsequent retirement. The next year, his first full season, Bayliss shocked the field with a stunning first title.
The stage was set for a season-long face-off. However, with barely four and a half rounds to go Bayliss had 14 wins to Edwards' 2. Edwards had finished second in ten of those races, but even then, a 58-point gap, in the middle of such an unbelievable run of form? It wasn't quite over – but it was, really.
Until something clicked. Edwards won the latter race at Laguna Race, followed by a double at Brands Hatch. And another in Germany. And another at Assen. Yet even that shouldn't have been enough, with Bayliss in second most of the time. It was his lead to lose.
And then the Australian fell at the Strubben hairpin in Assen, Race 2. Now, just one point separated the pair going into the final round – and it was the American in front.
Race 1 itself was a fantastic, drama-filled event. A red flag cut the race in half, with act 1 won by Edwards and act 2 just clinched by Bayliss, the combined times giving the edge to the Honda. That gave him a 6-point advantage for the season-ender: Edwards didn't need to win.
Race 2 began with a bang. Bayliss jetted out from the lights, but Edwards caught up less than three laps later at Rivazza. Imola is the Ducati's sacred land, but here the Honda rider was untouchable, the rest of the field a distant blur behind – only Bayliss could hang on, barely, at times just fighting to stay on the bike, like a marathon runner at the end of his second wind. But whatever he had left in the tank was well spent – he picked his moment at Variante Bassa, made it to the straight side-by-side, and at Lap 15, was finally ahead.
Bayliss knew this wasn't enough. He needed help, someone, whoever, in the fight. He slowed the pace, tenth by tenth of a second, frantically looking over his shoulder for a sign, as did Edwards. With five laps to go, Bayliss got what, or who, he wanted – Ruben Xaus, his Ducati teammate. Suddenly, it had turned into a three-way scrap, less than a second between the three. Edwards didn't need the win – but he knew he needed second.
Now or never for the Texan: he took Bayliss at the inside of Tosa, barely scraping past. Xaus fell back, his clutch unable to handle the comeback. As fate would have it, this wasn't his battle, nor his party to spoil. The title was settled. But the final lap was about much more than just a title. Bayliss slipped in front at Villeneuve, but Edwards retaliated at Tosa, risking everything and more. No, Edwards didn't need the win – but he desperately wanted it. They swapped again, twice, at Piratella. Bayliss wobbled, nearly flying off through Acque Minerali, and Edwards met the flag.
Both men had scratched, clawed and fought to the point of extenuation. They knew they wouldn't be back the next year, both joining the MotoGP paddock. Their final image in WorldSBK together was fitting: beaming side-by-side, as if nothing in the past 30 minutes had happened. The record books would say otherwise, but here there were no victors or losers: just two riders having cemented their legacy.
Watch the full Showdown at Imola, now free with register, and catch many more classic races thanks to the WorldSBK VideoPass.