Oliveira's father: "Riding in WorldSSP300 is a huge opportunity"
Tuesday, 28 August 2018 10:41 GMT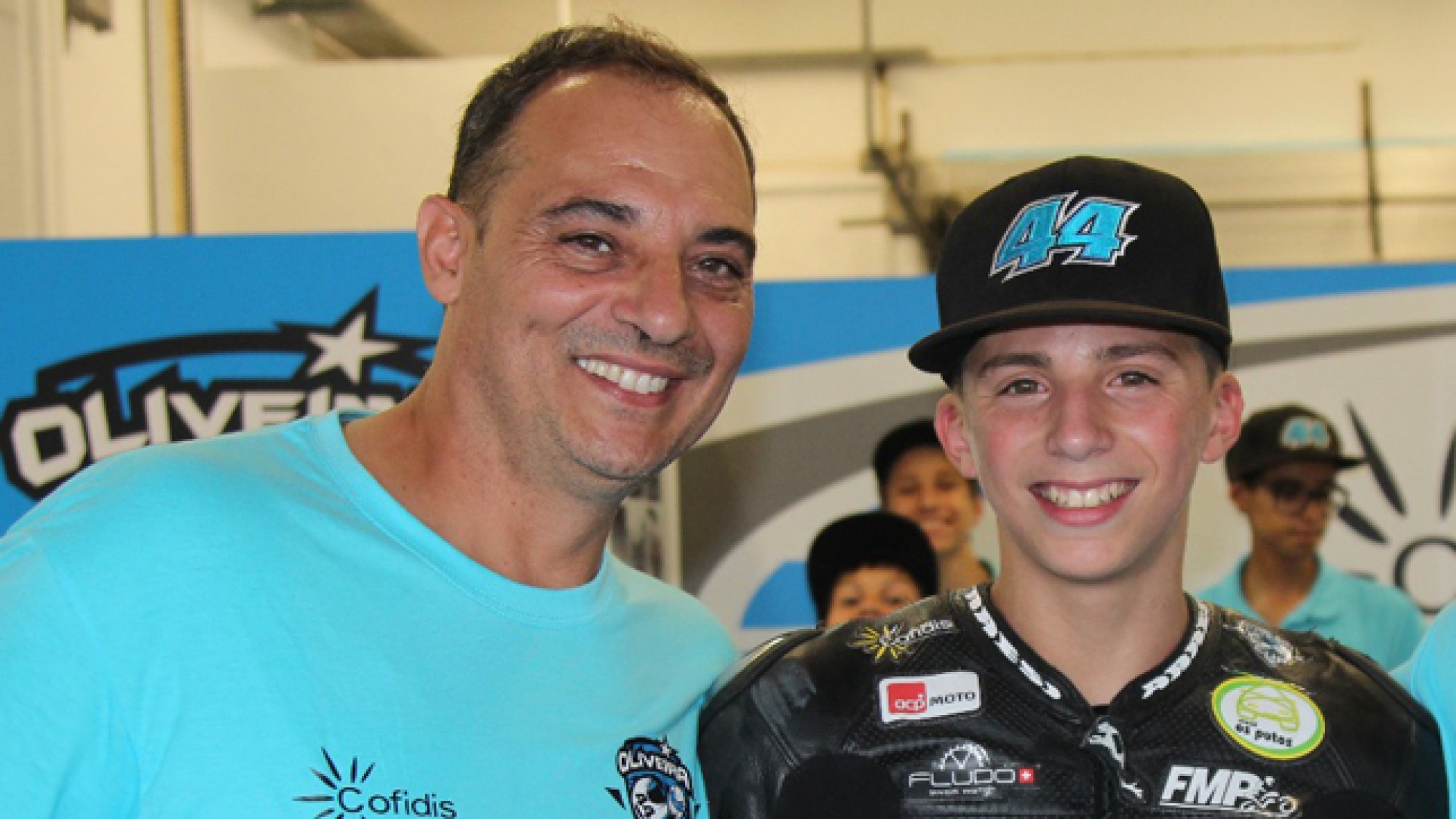 Moto2™ rider's father Paulo Oliveira speaks ahead of their team's WorldSSP300 debut
Few riders get the chance to make their debut on the world stage at the tender age of fifteen; fewer still can do so under the guidance of a man currently sitting second in a world championship. Yet both conditions apply to Pedro Fragoso, who will make his FIM Supersport 300 World Championship debut back at his home track of Portimao, in just over two weeks' time.
Fragoso is one of many young Portuguese talents being nurtured at the Oliveira Cup motorcycle school, a platform where up-and-coming riders are mentored by current Moto2™ rider and race-winner Miguel Oliveira. The 23-year-old's father, Paulo Oliveira, is the sports director for the Oliveira Cup and Miguel Oliveira Fan Club team and has overseen the first steps of the project – and Fragoso's career.
"We started the Oliveira Cup as a project to train riders in Portugal", the team leader starts. "Pedro came here to learn with us and Miguel, just as Tomas Alonso (Samurai-YART Racing) did before. He's been the most outstanding out of our riders at the moment, and his age allows him to race here at Portimao".
Fragoso is currently competing in the Portuguese national championship, pre-Moto3 category, and as such knows the Autodromo Internacional do Algarve well. It will however be the team's first foray onto the world stage: "With Pedro's knowledge of the track, our bike and how competitive the series is, we think that Pedro can be in the points. But the chance to be here, in this championship, is already a huge opportunity for him, for teams to see him and maybe get an opportunity for next season".
With the backing of Miguel Oliveira, there should be no shortage of opportunities for future Portuguese talent. When he's not on the GP paddock, the Moto2 rider is directly involved in helping these young promises learn the ropes. "Miguel is always at their races and out on the track with them, sharing all his experience as a rider and his technique. We try to get small tracks, even karting ones, and get close to the riders. There Miguel can show them riding lines, how to brake, how to open gas…", explains Paulo.
"Aside from that, Miguel is an idol for these kids. Just to be there with them is a great honour for them. They evolve and become better very quickly".
As important as teaching how to react on-track is, the Moto2 contender's experience when the leathers are down can be just as important: "We do briefings where we speak about Miguel as a person, what he does every day and how our pupils should face any challenges".
Next season, Oliveira will step up to MotoGP™ with Tech3-KTM and become the first full-time Portuguese MotoGP rider, while in the MOTUL FIM Superbike World Championship there have been no Portuguese riders since 2008. Could his triumphs and his riding school's growth signal the arrival of new talents from the southern country to the paddock? "Miguel's success and the move to MotoGP are, at least, a very good excuse for us to start doing things better and reach further than before", the sports director concludes.
Catch Pedro Fragoso's first appearance on the world stage from September 14th-16th at the Nolan Portuguese Round, thanks to WorldSBK VideoPass.