O'Halloran to make his debut at Imola
Friday, 11 May 2018 12:00 GMT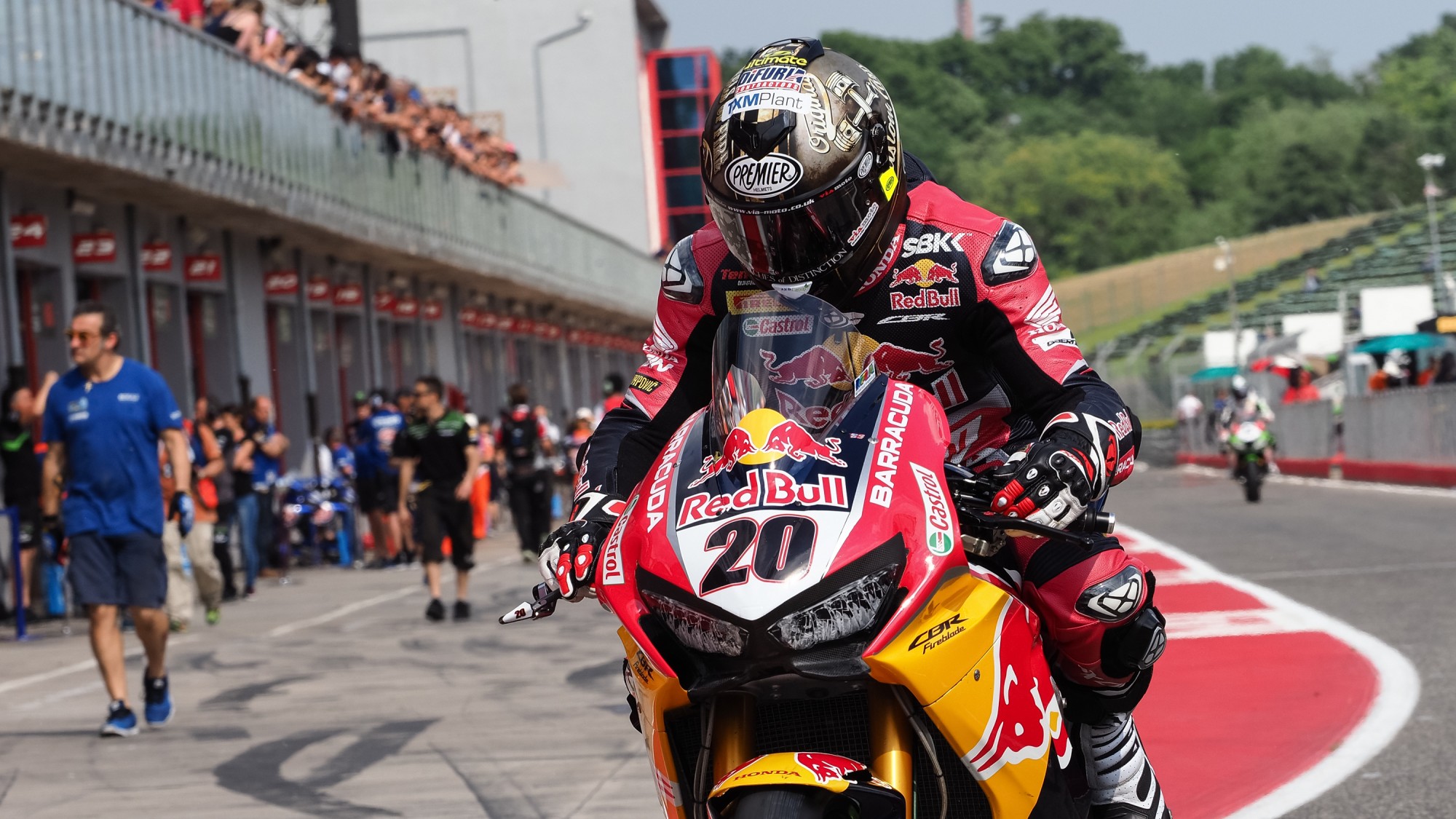 Standing in for Camier this weekend, WorldSBK.com catches up with the rookie
Jason O'Halloran is set to make his MOTUL FIM Superbike World Championship debut this weekend as a replacement rider at Red Bull Honda World Superbike Team. The Australian, a front runner in the British Superbike championship, has enjoyed success on the Honda Fireblade in Britain, and will replace Leon Camier at Autodromo Internazionale Enzo d Dino Ferrari di Imola.
After swinging his leg over the Honda CBR1000RR Fireblade SP2 in free practice one this weekend, Camier has decided to sit out of the rest of the weekend. With the official wording from the medical team explaining: due to a pain increase and functional impairment. The British rider was able to finish in the top 16 in the opening sessions around a sunny Imola.
"I'm looking forward to the opportunity and it's nice to be in line for something like this with Honda," beamed O'Halloran. "I've raced for Honda for a long time, and I'm happy to help them but obviously I don't want to ride the bike in these circumstances. This is another Honda and if I can learn something this weekend it's great."
While this will be his debut on a WorldSBK machine, it won't be the 30 year old's debut on the world stage having made two starts in both Moto2™ and WorldSSP classes. This weekend will be a very different situation, but one that he is looking forward to.
"I'm the same as any rider and I'd love to race in the world championship. I've been lucky to race in Moto2™ and getting yourself in the door is the most important thing. I've been able to show that I'm competitive in Britain, and I think that if I was given the right opportunity I could be competitive in WorldSBK. I'll put my best foot forward and do my best, but you've got to be realistic about it too. These guys have had four rounds already this year, a winter of testing and they've a lot of knowledge. I'd be in at the deep end on an unfamiliar bike, at an unfamiliar circuit but I'm excited."
"In the future I'd love to represent Australia in a world championship. I left Australia to have a chance to race in the world championship. I've been very lucky to have good results in the UK and I've been able to make this my home. I love living here and I love racing in Britain, but if the right opportunity comes up of course I'd like to race in the world championship."
"The path that I've taken so far in my career means that I can look back and feel proud of what I've achieved. When you leave Australia it's very difficult to get onto the world stage, and when I moved to the UK it was tough. I'm happy with what I've achieved so far in my career but of course, like all riders, I want more. I'm very happy to race in BSB and to fight for a championship, but I'd be very excited to race in WorldSBK."
This is O'Halloran's fourth season racing a Superbike and while the Honda has been a challenge for some riders in the past, the Japanese machine has made significant strides in 2018. For O'Halloran the bike might be different due to the electronics and regulations, but the feeling should be familiar.
"I don't have a lot of experience of racing a Superbike compared to a lot of riders. I've only been racing a Superbike for four years and I spent one of those on the sidelines with a broken femur. I've only ridden Honda's, I know how they should feel and where they're sweet spot is. I don't have another bike that I can compare them to, but I understand what they need."
It remains to be seen what O'Halloran can do on a WorldSBK machine but he's making his debut with his eyes wide open. Follow how the Australian tackles the challenge at the Pata Italian Round, all with the WorldSBK VideoPass.