Hernandez: "The battles with riders are always left on track"
Wednesday, 14 March 2018 11:43 GMT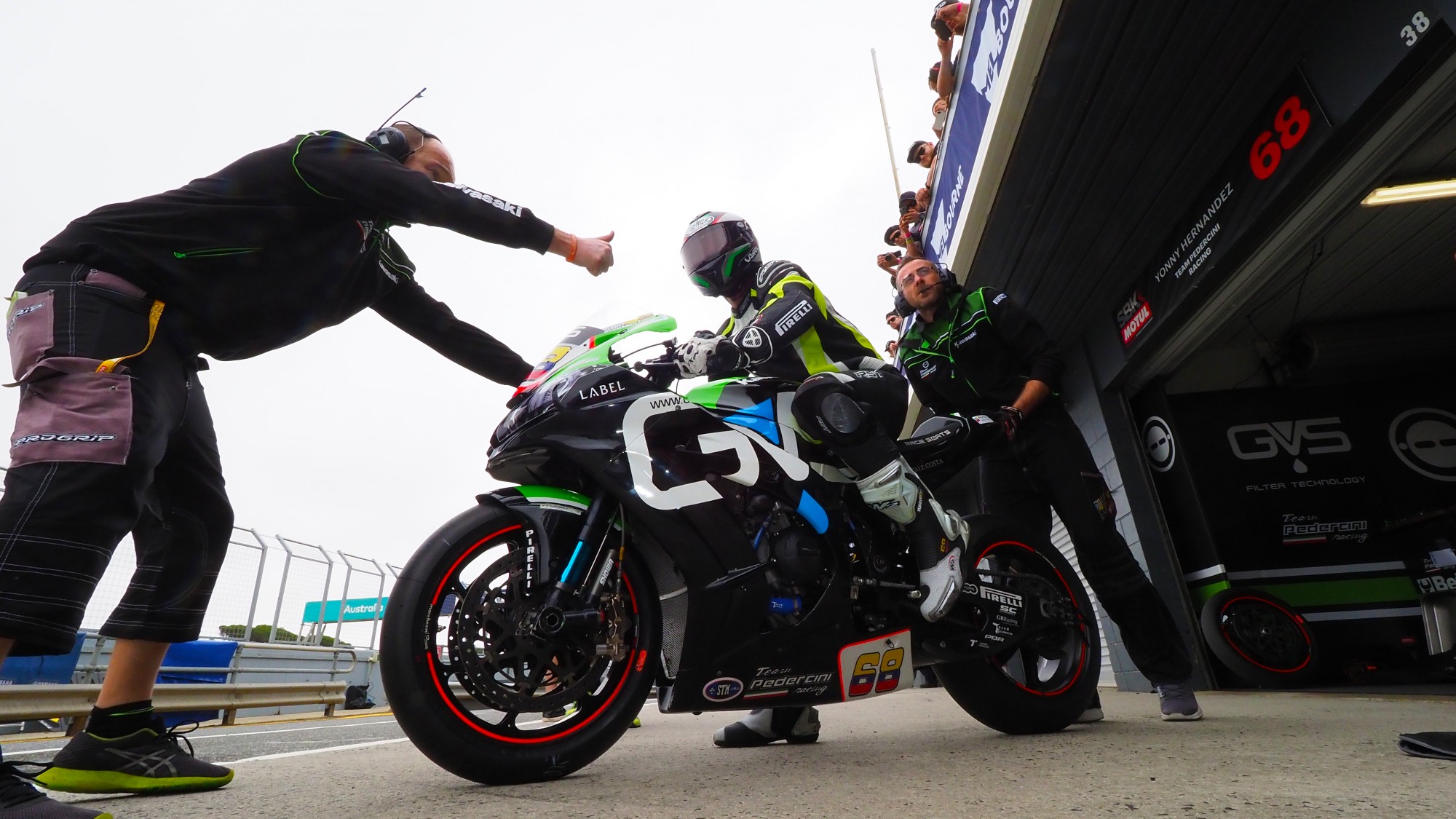 Pedercini Racing Team rider discusses his career, his arrival to WorldSBK and his crash in Australia
A rider with a history of hundreds of on track battles, Yonny Hernandez (Pedercini Racing Team) doesn't lose his smile or morale, even though his recent debut in the MOTUL FIM Superbike World Championship wasn't what he dreamt of. A crash in Race 1 at Phillip Island left him with a shoulder injury from which he is still recovering, meaning he left Australia with no points after he was forced to sit out of Race 2. Now, the 29-year-old Colombian's goal is to quickly change his WorldSBK career, starting in Buriram (Thailand). In his interview with WorldSBK.com, he speaks about his debut as well as he development as a rider and his personal thoughts and outlook.
"It was a shame to start like that, but this is racing. I do not know if I will be back at 100% in Thailand, I would like to get there and do my best. I have just arrived in a totally different category, which is different to anything I've done before. It is clear that I have to adapt to the category, but with the experience I have I think I can do it in a short period of time, every time I can build a greater understanding with the team, and I think the bike can be competitive ".
"My feelings in the race? The truth is that I did not feel comfortable. I did not have a strong pace, I was almost a second slower than in practice and from the third lap I saw that we had a problem. But from my lack of experience with the tyres, I did not know if it was normal for performance to drop so much. If I had more experience I would have cut the rhythm, as Jonathan [Rea] clearly did when he felt that something was not right. (...)"
"I did not know if it was normal for them to degrade so much because it was my first race. Yes, I had done a long run in which I saw that the tyres were losing performance. I saw that the pace was much worse and it was hard to keep it, I tried, but with the doubt of whether something happened. It is an experience for the future, for the following races ".
"In this paddock I have met with old rivals, but the conditions are very different. They are adapted to motorcycles and equipment, I have to arrive and discover circuits I do not know. It is a new stage. I was racing with Torres around circuits in the Spanish Championship and with Román Ramos also, I raced against Forés, with Baz. In general I get along well with everyone, I have no problems. The rivalries are always on the track, off the track I get along with everyone. "
"I ride with number 68 because it's the year my mother was born. And because I like it. I'm not superstitious, I do not have good luck rituals. Yes, I am very Catholic, so I always entrust myself to God every time I go out. I give my blessing and I give it to the motorcycle. "
"What happened to Yonny Hernandez the slider? I was much younger when I got to the World Championship, had much less experience and came from Supermotard. There I was sliding all the time but now with the experience I have - and having gone through MotoGP - I adapted my riding. Every year I have been sliding less and I have a much finer style, I do not ride as much with motocross style as before. I am always trying to improve in this regard. "
"Now I think a lot more, I'm more thoughtful and I always look for a good set-up. Before, in Moto2 for example, I did not think so much about the consumption of the wheel, but with 1000cc engines you have to be very physically prepared. Having a good set-up and electronics are important for the bike to work as you want for more time, try to do the race at a constant time. They are much longer races and therefore you face them in a different way ".
"I think it's great to share the Latin American representation in the Championship with Tati Mercado, I get along very well with him and he's also a great rider. I have been the only Colombian in the racing world championships for years; I was in MotoGP™ for many seasons as the only one and I think that I am the only Colombian who has competed in World Superbike." [WorldSBK can confirm there has been one before him, his compatriot Carlos Macias Perdomo raced for a full season in SBK® in 1999, with a 13th position as his best result).
"I know that in Thailand there is the added factor of high temperatures, but Colombia also has a tropical climate. It is not as hot as in Thailand or Malaysia, but I do not usually have problems in those kind of circumstances. Of course I have not been able to train enough, as I am still recovering from my crash, but we will arrive in the best possible way. It will be a matter of arriving, trying a feeling on the bike, seeing how the shoulder is and adapting as quickly as possible to a circuit that I do not know. And from there, try to add as many points as possible, because in the past Rounds we could not score and it would be good for the Championship to do it there."
Follow Hernandez's performance for the first time around Chang International Circuit, all with the WorldSBK VideoPass.