Fabien Foret Interview: "Rea is perfectionist and talented"
Monday, 4 December 2017 10:50 GMT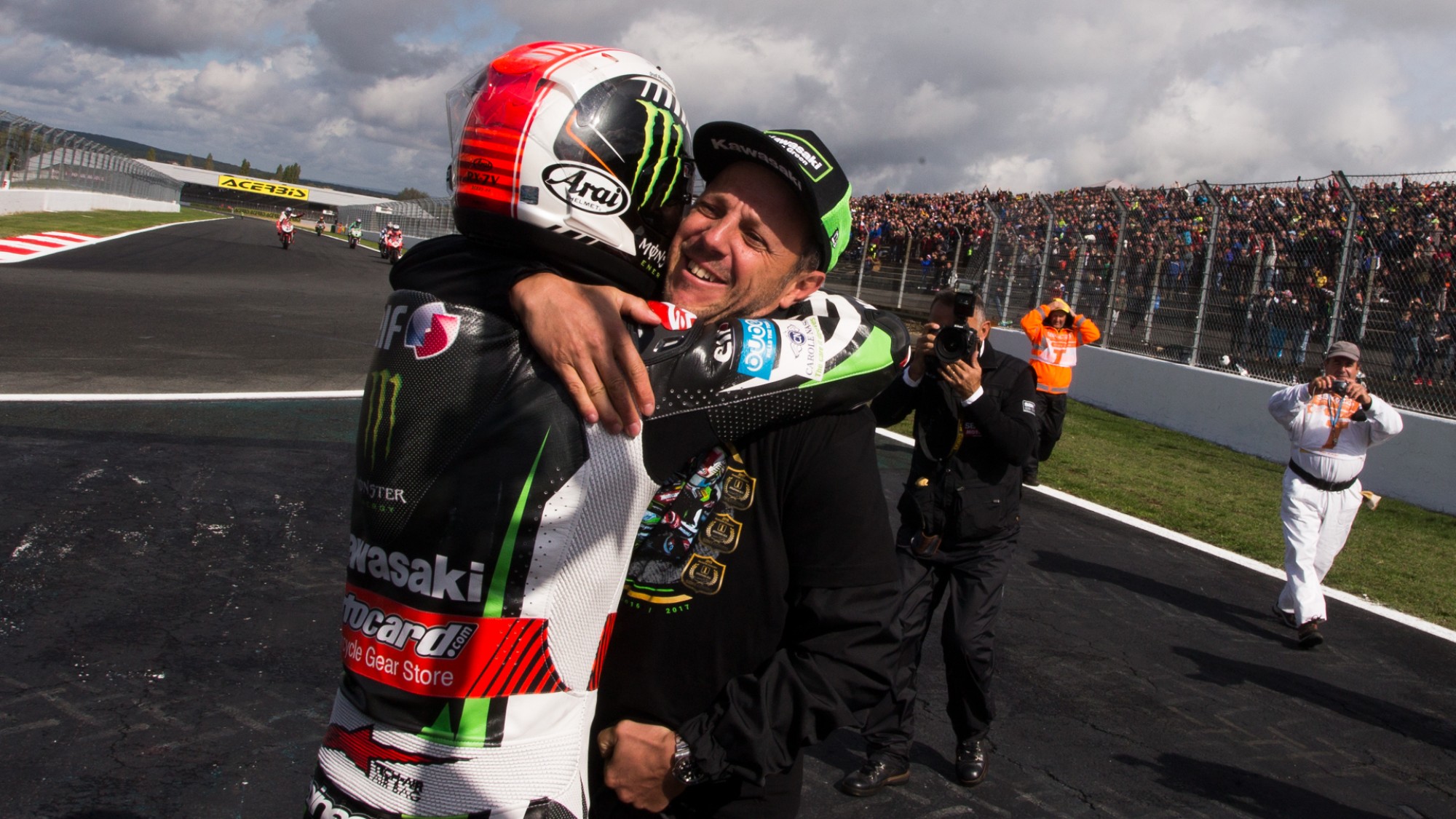 WorldSBK catch up with Jonathan Rea's rider coach
2002 World Supersport Champion, Fabien Foret is still present in the MOTUL FIM Superbike World Championship paddock as a rider coach of Jonathan Rea (Kawasaki Racing Team). Even though the triple world champion dominates with stunning style, Fabian Foret is never far away. Whether it's being stood on the side of the track to analyse his riding style, or helping with his frame of mind, which according to the Frenchman is an important element of racing.
In an interview with WorldSBK.com, Fabien Foret unveils some of the behind the scenes secrets of the Kawasaki Racing Team's third crown.
Fabien, you finished your WorldSBK career in 2014 to join the World Endurance Championship, but since you have been since Jonathan Rea's coach. How did you get there?
"I still have one foot in endurance competition with Kawasaki, but today, my coaching role takes up a lot more of my time. It's a combination of circumstances that led me to this. I know Jonathan very well because we have been teammates in the past, although we did not race in the same category. We have always got along well, his wife and my fiancee are both Australian and we even spent a winter in Australia in the same apartment, so we got to know each other well. When he felt he needed to have someone, both trackside and psychologically and it seemed a very logical idea. "
Did he really need a coach?
"He knows what he wants and he wants to give himself every chance of doing it, he is a perfectionist and very determined. It works well because he knows my character and the way I work, so we tried and it worked immediately. I think we are complementary, I know what he needs to hear, but also not to hear. For the moment, everything is going well. "
The role of coach is not exclusively devoted to the analysis of the riding style?
"The psychological aspect is crucial, especially with the bike. As riders, we are always thinking about what it is important to know compared to his opponents. My role at the psychological level is important as the one I have when I'm on the edge of the track. I have to be there to make sure he's one of the best, avoiding too many unnecessary questions. "
In a few words, what are his qualities?
"Physically, he's ready. He is both determined and extremely professional. He is also a very talented rider."
While everything seems easy, are there any points you still need to work on?
"In my opinion, even if it is not really a weakness there are sometimes in all sports, moments of doubt. I must therefore be ready to support him in with decisions of a technical nature, but also before a race I am simply there to help him in relation to the competition. I have to make sure he always has confidence in himself."
What was his state of mind before the start of the weekend at Magny-Cours? And how did you help him?
"On Thursday, we have a habit of getting ready for a lap of the circuit. In my case, Friday is the most important day, as it is the two longest sessions that can have an impact on the progress of the round. During the opening session, I analyze all the details that we can refine or change. He might have needed it a little less at Magny-Cours, because he felt immediately at ease. "
After winning the title, do you plan to help other riders?
"This year, I worked alongside Randy Krummenacher. It was a rather different job with other expectations, focused in particular on the technique and the steering of a Superbike. Johnny fully supports that I accompany other riders, as long as they do not compete directly with him. It seems simple, especially with Johnny, to win races and dominate as he has done many times ... but when you know the subject well, it's not so obvious. There are a lot of retired riders trying and failing. It takes time, energy and I need to be present at all the debriefings. It's complicated to work with other riders while ensuring a certain level of quality for each of them. If I'm here, it's thanks to Johnny in a way, so I want to continue to make a good job and I hope to accompany him to the end of his career, if he wishes. "
Jonathan has raced in some endurance races, did you think about being teammates?
"The Bol d'Or was my last race. We had a problem at the beginning of the race and unfortunately I ended my career on a sour note. Even if we thought about it, when he will decide to come back to endurance, I will certainly be at his side, but not as a rider."