Davies: "There's so much more behind what we do than simply turning up"
Friday, 4 May 2018 13:45 GMT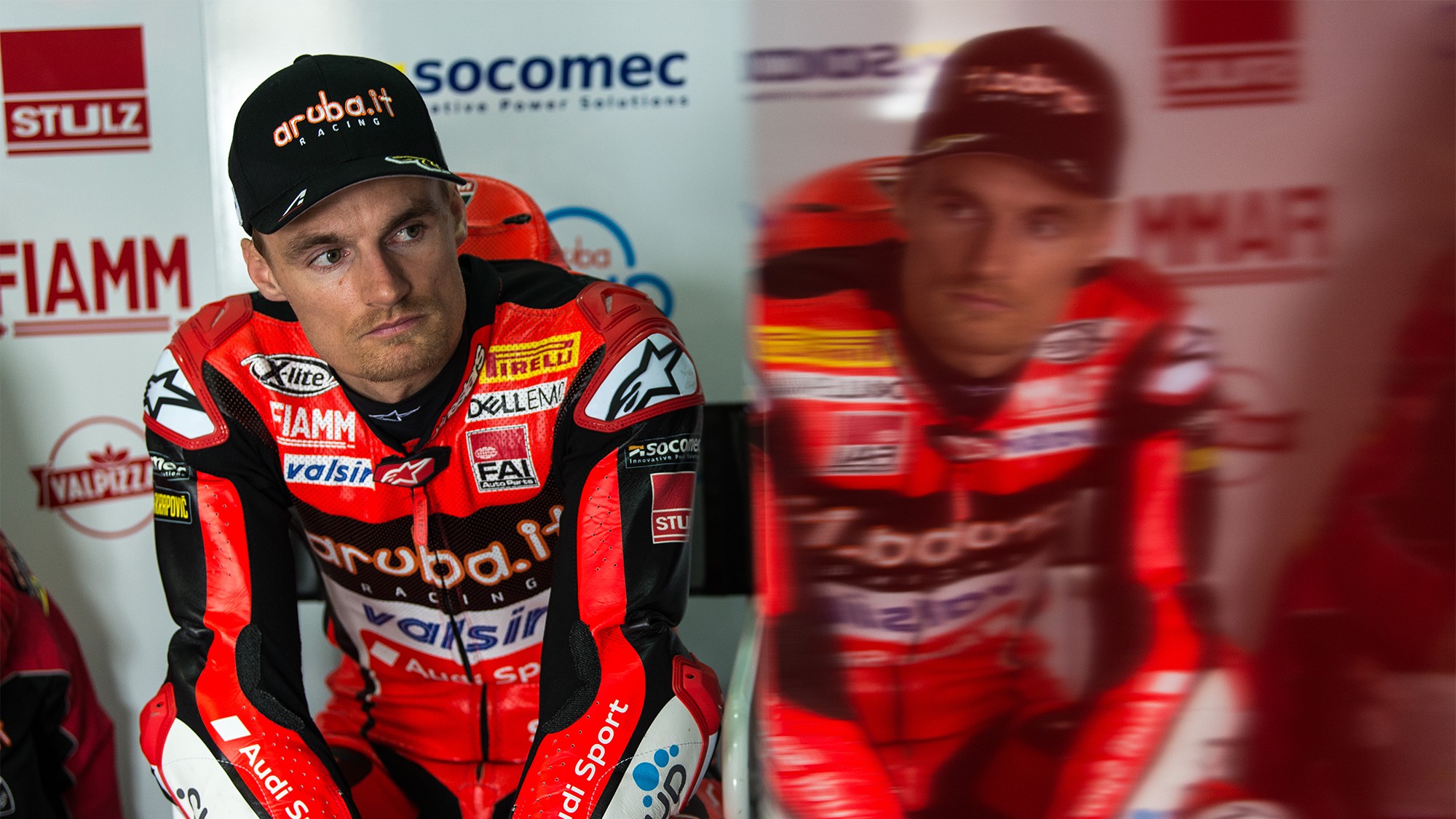 The Aruba.it Racing – Ducati rider opens up on life away from home, a future in racing, and vlogging
Born in Knighton, Wales. Racer, just turned 31 last February. Competing in his seventh season in the MOTUL FIM Superbike World Championship, his fifth on a Ducati. Speaks calmly and confidently, only interrupting himself as he watches his dog Tor "terrorise" the back garden. Imola saw his WorldSSP and WorldSBK debuts: now he heads back at the prime of his career.
I've changed quite a lot since that debut. Imola 2009 was my first race back in Europe for a long time, after years in America. Coming back, you always have that doubt: can I cut it at the world level again? Will it be any different, where's my level at? There were a lot of question marks then that I've stamped out now. I think I've improved just about every year I've been in the world championship.
I don't get back that much to the UK. My base is Andorra. From a training point of view, stability, weather… It's a change I made a few years ago, I said that for the rest of my career I'd do it this way. Home is always home, but there's good reason to being out here. I definitely plan to return at some point, but that could be 5 years, it could be 10 years.
Life here is probably not that much different, compared to Wales, in terms of what I do. Maybe the language barriers, I'm trying to pick it up. Catalan is a little bit difficult, but my Spanish is getting me by, along with a bit of Italian. Here it's quiet, it's relaxing, you've got the fun in the winter of snow sports. In the summer, you've got the climate, but it's also outdoorsy, you can get out around the mountains – there's really breathtaking nature.
We have a good balance in Superbike, there's a lot of Brits so there's a good level of banter between us. And even with the other guys, they're all a pretty sound group.
If anything, racing against friends is another motivator to beat each other. I'm not going to throw Leon [Camier] an elbow – not that I would anyway, but you know what I mean, I'm not going to go super hard on him because I know we're good friends off the track. But there is a little bit more at stake.
I've always been interested in video content. Not just the videos itself, but the creativity behind it, piecing together an edit. I bought my first video camera when I was really young, and then went to Dixon's and bought an editing suite for my really slow computer at the time. I was probably only 13 or 14. Later I made a DVD for when we left school. I sneaked my video camera in the last couple of weeks – and filmed plenty of things that I probably shouldn't have! – and made an edit for it.
I think vlogs are a nice way for the fans to connect with who they're watching. They see us in post-race interviews, sat on the grid looking all stony-faced… We're at work on the weekends, you don't see anything about what happens when we go home, or the build-up to the race weekend. We don't just turn up, put on the leathers, shut the visor and go. There's so much more behind it, and that's what I try to show in my vlogs.
I think people sometimes do assume it's a lot simpler, a lot different to what it is. Sure, you can do it that way, where you just turn up, you get driven to the airport, jump to the other side, you get picked up, or you get your private jet. You can do it that way, there are plenty who do, but that's not how I do it. The same can be said for most Superbikes riders.
Switching off is the way to stay focused for me. Getting away, having a little break: that is my sharpener. It's not going down to the gym at 9 AM on Monday morning after a race weekend. Might be for somebody else, but for me it doesn't work like that. I also really like the Superbikes calendar, because we get 7-8 weeks of downtime. Our lifestyle is fantastic, but it doesn't allow sometimes for periods of rest, or do other things for pleasure.
I've asked myself a lot what would I do after racing. I don't know much else apart from racing. I feel like I could turn my hand to a lot of things, but until you do it you don't know. It's all very well trying to do something else, but you might not enjoy it, or be any good at it.
Looking 15 years ahead, I can only say that I'd like to see myself as happy as I am today, and probably with some kids by that point. Hopefully still riding motorbikes plenty, definitely not still racing, at least in world championships. Will I still be involved in the sport? I'd like to think so, but we'll see.
A wish for 2018: stay healthy, keep enjoying this, and just keep getting the best out of myself and the package.
Watch Chaz Davies and the other WorldSBK riders, as the championship rolls into Imola, will all the action on the WorldSBK VideoPass.