Candidates for the 2019 Idemitsu Asia Talent Cup Selection Event!
Thursday, 13 September 2018 11:25 GMT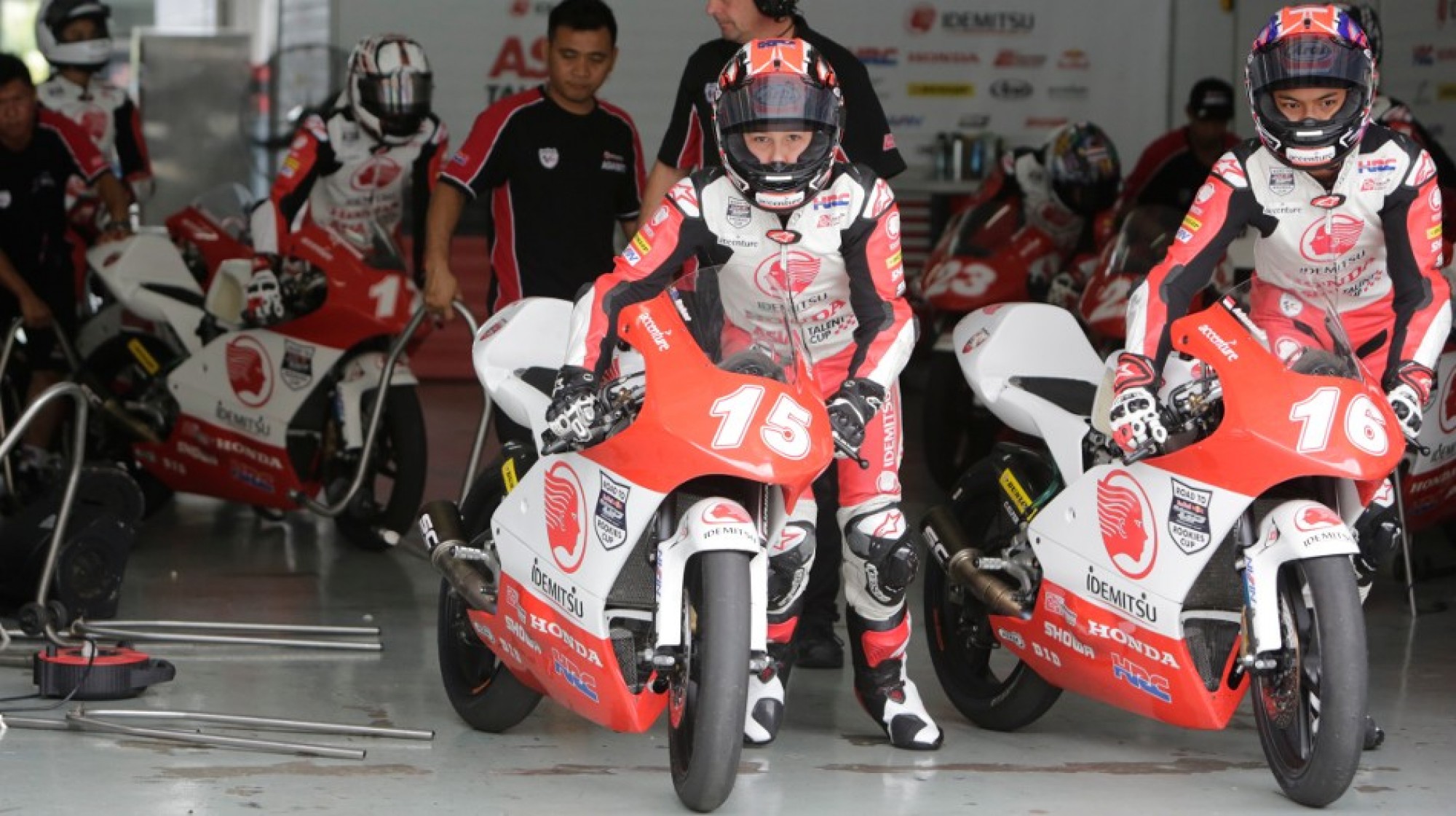 The candidates to be invited to the 2019 Idemitsu Asia Talent Cup Selection Event have now been shortlisted.
Registration came to an end on the 12th August after an intensive communications campaign with the collaboration of key Asian circuits, federations, motorcycle riding schools and additional partners and companies. Applications have been registered from riders in many countries across the region, with more than 450 riders from Asia and Oceania putting their names forward for a chance at joining the grid next year.
Following a thorough analysis and review of each application, the selection committee have chosen 117 riders to invite to the Selection Event. The committee is headed by Alberto Puig, and the Selection Event takes place at Sepang International Circuit on the 30th and 31st October ahead of the season finale for the 2018 Cup at the same venue that weekend.
At the Selection Event, each applicant must demonstrate their skills and riding ability at Sepang Karting Circuit. The selection committee will then meet again to analyse all the data and ultimately determine the final riders chosen to participate in the 2019 Idemitsu Asia Talent Cup, as well as a list of reserve riders.
The list of the 117 riders invited to the Asia Talent Cup selection process in Sepang on the 30th and 31st October is:
| | | | | | |
| --- | --- | --- | --- | --- | --- |
| APP ID | FIRSTNAME | LASTNAME | AGE | NATIONALITY | GENDER |
| 149 | Thomas | Brown | 13 | AUSTRALIA | M |
| 319 | Zylas | Bunting | 15 | AUSTRALIA | M |
| 400 | Seth | Crump | 15 | AUSTRALIA | M |
| 425 | Drew | Gates | 14 | AUSTRALIA | M |
| 365 | Travis | Hall | 14 | AUSTRALIA | M |
| 366 | Joshua | Hall | 12 | AUSTRALIA | M |
| 343 | Jack | Hyde | 16 | AUSTRALIA | M |
| 30 | Harry | Khouri | 14 | AUSTRALIA | M |
| 331 | Liam | May | 15 | AUSTRALIA | M |
| 279 | Luke | Power | 13 | AUSTRALIA | M |
| 318 | Jacob | Roulstone | 13 | AUSTRALIA | M |
| 327 | Ryan | Smith | 14 | AUSTRALIA | M |
| 355 | Harrison | Voight | 12 | AUSTRALIA | M |
| 228 | Guillaume Hun | Jucha | 15 | CAMBODIA | M |
| 376 | Zuoran | Jiang | 14 | CHINA | M |
| 38 | As | Alexander | 18 | INDIA | M |
| 42 | As | Ann Jennifer | 17 | INDIA | F |
| 151 | Prakash | Kamat | 14 | INDIA | M |
| 304 | Muhammad | Abhipraya Putra | 13 | INDONESIA | M |
| 115 | Sindi | Amalia | 15 | INDONESIA | F |
| 368 | Herjun | Atna Firdaus | 14 | INDONESIA | M |
| 57 | Muhammad | Darihaq | 19 | INDONESIA | M |
| 363 | Azryan | Dheyo Wahyumaniadi | 13 | INDONESIA | M |
| 75 | Bima | Febrinda | 16 | INDONESIA | M |
| 236 | Muhammad Iqbal | Firdaus | 15 | INDONESIA | M |
| 370 | Abdul | Gofar Mutaqim | 13 | INDONESIA | M |
| 78 | El Vito | Handy | 14 | INDONESIA | M |
| 369 | Muhammad | Hildhan Kusuma | 16 | INDONESIA | M |
| 223 | Aqshal | Ilham Safatullah | 15 | INDONESIA | M |
| 429 | Aditya | Prakoso | 16 | INDONESIA | M |
| 112 | Devano Perdana | Putra | 14 | INDONESIA | M |
| 103 | Surya Narayana | Renaldo Surojo | 16 | INDONESIA | M |
| 350 | Ikraam | Rofikan Djeni | 14 | INDONESIA | M |
| 218 | Keny | Septrio | 13 | INDONESIA | M |
| 416 | Takuya | Shoji | 14 | JAPAN | M |
| 285 | Hikaru | Arita | 16 | JAPAN | M |
| 314 | Shinya | Ezawa | 12 | JAPAN | M |
| 22 | Tetsuya | Fujita | 15 | JAPAN | M |
| 168 | Takumi | Fukuda | 12 | JAPAN | M |
| 411 | Taiyo | Furusato | 13 | JAPAN | M |
| 360 | Kanta | Hamada | 14 | JAPAN | M |
| 414 | Tsubasa | Hosoya | 15 | JAPAN | M |
| 387 | Shoki | Igarashi | 16 | JAPAN | M |
| 231 | Arata | Irimoto | 11 | JAPAN | M |
| 311 | Sachika | Kajiyama | 16 | JAPAN | F |
| 356 | Anjyu | Kasai | 19 | JAPAN | F |
| 307 | Shota | Kiuchi | 15 | JAPAN | M |
| 268 | Nakamura | Kou | 12 | JAPAN | M |
| 47 | Soki | Makita | 15 | JAPAN | M |
| 398 | Hiro | Nakagawa | 19 | JAPAN | F |
| 292 | Eito | Nakamura | 15 | JAPAN | M |
| 254 | Shinji | Ogo | 12 | JAPAN | M |
| 430 | Kai | Okumura | 20 | JAPAN | M |
| 303 | Hayato | Ota | 14 | JAPAN | M |
| 282 | Ash | Oyakawa | 14 | JAPAN | M |
| 283 | Kuuri | Oyakawa | 12 | JAPAN | M |
| 306 | Fugo | Tanaka | 14 | JAPAN | M |
| 227 | Maiku | Watanuki | 15 | JAPAN | M |
| 198 | Kou | Yamamoto | 13 | JAPAN | M |
| 385 | Syuu | Yamato | 14 | JAPAN | M |
| 199 | Ainosuke | Yoshida | 14 | JAPAN | M |
| 261 | Abdullah Qayyum | Abdul Razak | 15 | MALAYSIA | M |
| 69 | Muhammad Afiq Kharith | Abu Bakar | 12 | MALAYSIA | M |
| 404 | Awal Mohamad | Alfikri | 15 | MALAYSIA | M |
| 37 | Iman | Amirul | 19 | MALAYSIA | M |
| 155 | Muhammad Izham Hanafi | Amran | 14 | MALAYSIA | M |
| 150 | Muhammad Syarifuddin | Azman | 16 | MALAYSIA | M |
| 202 | Muhammad Aiman | Azman | 18 | MALAYSIA | M |
| 25 | Haizil | Azri | 16 | MALAYSIA | M |
| 293 | Muhamad Norhakim | Bin Mohd Norhafizullah | 13 | MALAYSIA | M |
| 170 | Muhammad Izzat | Bin Muhammad Raduan | 15 | MALAYSIA | M |
| 88 | Muhammad Idlan Haqimi | Bin Raduan | 14 | MALAYSIA | M |
| 107 | Muhammad Izzat | Bin Raduan | 15 | MALAYSIA | M |
| 182 | Danial | El Fahim | 15 | MALAYSIA | M |
| 177 | Muhammad Faiz | Halim | 15 | MALAYSIA | M |
| 178 | Adib Hareez | Hazwat | 11 | MALAYSIA | M |
| 163 | Allan Harris | Herman | 14 | MALAYSIA | M |
| 276 | Arif | Izzan | 13 | MALAYSIA | M |
| 17 | Muhammad Idil Fitri | Mahadi | 15 | MALAYSIA | M |
| 153 | Mohd Mukhriz Danish | Mazlan | 16 | MALAYSIA | M |
| 237 | Muhammad Afiq | Md Yusof | 17 | MALAYSIA | M |
| 43 | Muhammad Syahmi | Mohamad | 13 | MALAYSIA | M |
| 337 | Muhammad Sharul Ezwan | Mohd Sharil | 14 | MALAYSIA | M |
| 61 | Suppat | Muhammad Afizat | 15 | MALAYSIA | M |
| 86 | Muhammad Danish | Muzaffar | 16 | MALAYSIA | M |
| 401 | Mikhail Firhad | Muzaharry | 14 | MALAYSIA | M |
| 179 | Muhammad Zakir | Naqiuddin | 13 | MALAYSIA | M |
| 299 | Muhammad Hakim Danish | Ramli | 12 | MALAYSIA | M |
| 334 | Muhammad Mikail | Razlan Hashim | 14 | MALAYSIA | M |
| 169 | Muhammad Fadlyshah | Redzuan | 16 | MALAYSIA | M |
| 262 | Khairi Haziq | Roslan | 15 | MALAYSIA | M |
| 50 | Muhammad Harith | Rosmaza | 15 | MALAYSIA | M |
| 174 | Muhamad Hazim | Rosmaza | 12 | MALAYSIA | M |
| 175 | Muhammad Harith | Rosmaza | 14 | MALAYSIA | M |
| 176 | Muhammad Haziq | Rosmaza | 15 | MALAYSIA | M |
| 13 | Muhammad Aeiman Hafidz | Shahril | 11 | MALAYSIA | M |
| 59 | Danish Haiqal | Shaiful Rudzin | 14 | MALAYSIA | M |
| 263 | Muhammad Afizal | Supaat | 14 | MALAYSIA | M |
| 408 | Imran | Syamil | 15 | MALAYSIA | M |
| 256 | Khairulamirin | Yahaya | 16 | MALAYSIA | M |
| 272 | Zaifi | Zaini | 14 | MALAYSIA | M |
| 286 | Akif Hakimi | Zainuddin | 14 | MALAYSIA | M |
| 158 | Muhammad Zaki | Zamri | 15 | MALAYSIA | M |
| 180 | Muhammad Harith Haziq | Zamri | 13 | MALAYSIA | M |
| 51 | James | Barham | 17 | NEW ZEALAND | M |
| 324 | Clark | Fountain | 15 | NEW ZEALAND | M |
| 185 | Blake | Ross | 16 | NEW ZEALAND | M |
| 421 | Jesse | Stroud | 15 | NEW ZEALAND | M |
| 371 | Amber | Garcia | 15 | PHILIPPINES | M |
| 19 | Ahmad | Zikry | 14 | SINGAPORE | M |
| 432 | Pherawich | Chattan | 13 | THAILAND | M |
| 172 | Mr.Chanon | Inta | 16 | THAILAND | M |
| 431 | Teerathap | Tanchang | 12 | THAILAND | M |
| 433 | Wacharin | Tubtimon | 15 | THAILAND | M |
| 284 | Kadir | Erbay | 12 | TURKEY | M |
| 252 | Hakan | Yılmaz | 15 | TURKEY | M |
| 232 | Phung | Le Hoang Phi | 20 | VIETNAM | M |