Camier: "I'm in a better place than I was in Imola"
Thursday, 24 May 2018 11:15 GMT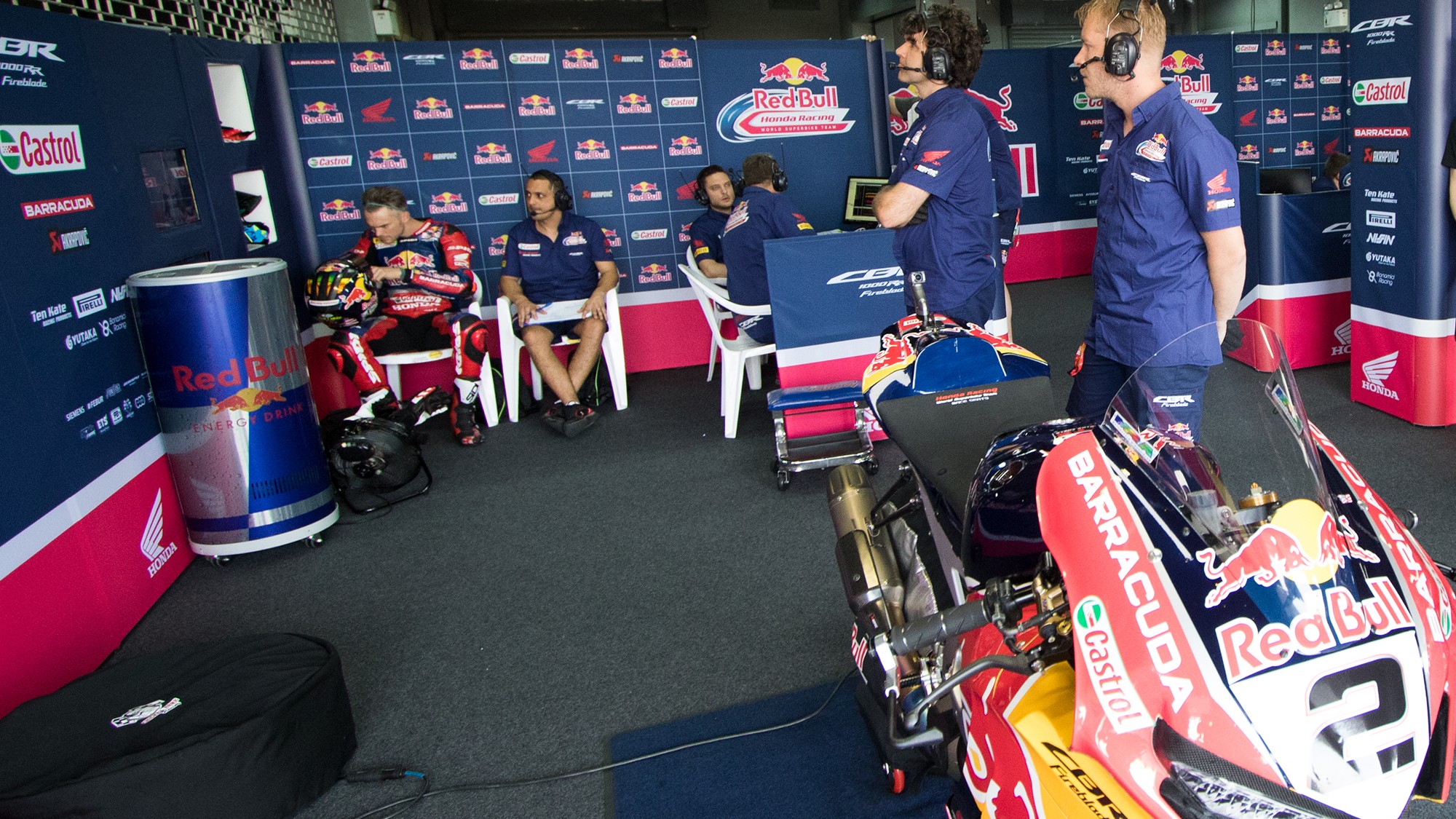 Red Bull Honda team aiming to get European season on track at Donington
Putting it bluntly, it's been a rough couple of months for the Red Bull Honda team, mostly through no fault of their own. First came Leon Camier's (Red Bull Honda World Superbike Team) horrific Aragon Race 1 crash, which left him off the tracks for two full rounds. Then, the next week at Assen, a wild highside in FP2 took Jake Gagne (Red Bull Honda World Superbike Team) out for the weekend. Imola seemed like it could represent a return to normality, but after the second Free Practice Camier, still not fully fit, was replaced by Jason O'Halloran for the remainder of the weekend… Until the Australian broke his right ankle in an early Race 1 accident.
The best antidote to adversity is confidence and hard work, and both the team and riders possess both attributes in spades. For Camier, this has meant many extra hours of rehab to arrive in time for his home race at Donington. The Brit had performed his best start to a MOTUL FIM Superbike World Championship season before Aragon, scoring 42 points and pushing strongly for a first podium finish since 2013.
Donington is an unmissable race for Camier, who hopes the deafening home support and long Donington experience will give him that extra push to make it through the weekend. Imola arrived a bit too early for Camier – is he ripe for a Donington return? "I'll only really know how much better my condition is once I get on my Fireblade, but the goal for me and the team is to try and get through the whole race weekend".
"After Imola I took a couple of days off and since then I've been doing a lot of treatment to help in my recovery", he confirms. "Although I'm still in some pain, I feel better in training and my lung capacity has come on quite a lot so I feel that physically I'm in a better place than I was in Imola".
His teammate Gagne did manage to return at Imola, but, perhaps not perfectly fit after his Assen crash, couldn't get into the points in either Italian Round race. The American WorldSBK rookie will make his Donington debut this weekend: "I really like the look of the Donington park circuit and the Fireblade should work very well there. Looks like we should have some great weather so I'm ready to hit the track on Friday and get to work".
"We made some really solid progress on some important points with the bike at Imola and although it was a shame we didn't get to show what we were fully capable of, I think we're ready to make some good jumps forward this weekend", says Gagne confidently, as he prepares for the next step of his WorldSBK career.
Will we see Camier back on the grid? Find out that and much more as we approach the Prosecco DOC UK Round, with all the action available thanks to the WorldSBK VideoPass.