MotoAmerica: Cameron Beaubier stays perfect in Monterey
Monday, 25 June 2018 11:01 GMT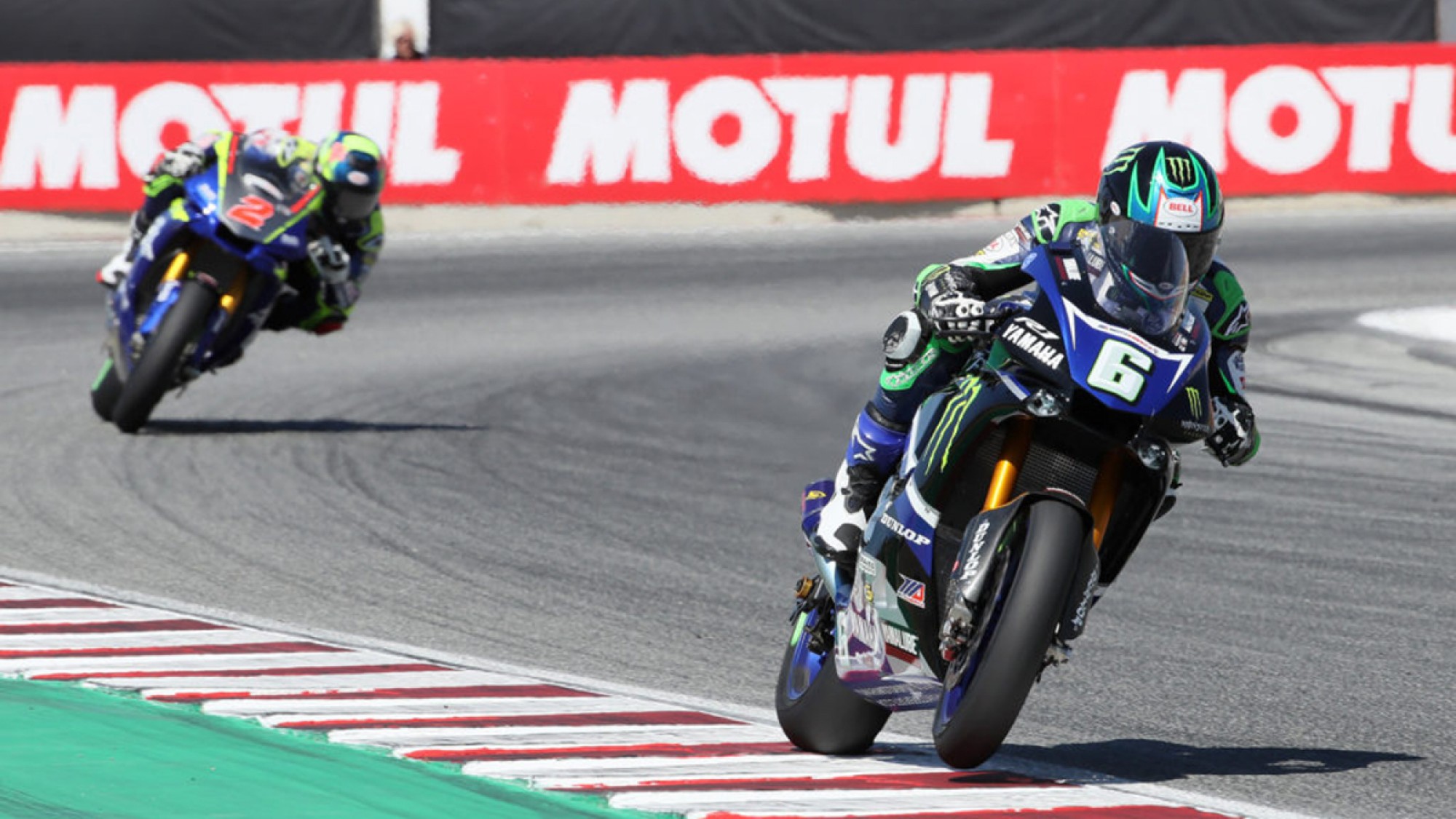 Cameron Beaubier completely turned the tables on his competition for the 2018 MotoAmerica Motul Superbike Championship in the last two rounds, the Monster Energy/Yamalube/Yamaha Factory Racing rider going from 32 points behind in the points chase to 29 ahead in the span of two rounds and four races
Beaubier completed his perfect weekend in the MotoAmerica Championship of Monterey on a sunny Sunday on the Peninsula, the Californian racing in front of his friends and family to complete the two-race sweep of the Motul Superbike class at WeatherTech Raceway Laguna Seca.

Beaubier, who lives some 150 miles away from the track in Roseville, did the double for the second straight race after also winning both races at Road America three weeks ago. He now leads Yoshimura Suzuki's Toni Elias by 29 points, 203-174, as the series heads into its second half at the Utah Motorsports Campus for round six in a month's time.

For the second straight day, Beaubier found himself in a battle with Attack Performance/Herrin Compound's Josh Herrin, the two running in tandem for the first 19 of 24 laps. Beaubier had taken over from Herrin on the 16th lap and the Georgian was keeping him honest when he suffered a crash in Rainey Curve that knocked him out of the race.

The win was the fourth of the year for Beaubier and the 28th of his Superbike career. He's now tied with former AMA Superbike and World Superbike Champion Ben Spies for fourth on the all-time list.

"It was a perfect weekend," Beaubier said. "From the first lap Friday I just felt really comfortable with my R1. I just have fun around this place. It's such a good vibe for me coming here just being so close to home. I know we have Sonoma back on the calendar, but I treat this as my home race. Like I said up on the podium, thanks to all my family and friends for coming out and cheering me on. Definitely made me dig a little deeper. Hats off to (Josh) Herrin. He was riding so good. He was just reeling off the laps there at the beginning, all the way midway through the race. 24's, 24's, 24's, and I was just kind of yo-yo'ing. He made a mistake going into one and I got in the lead and I just put my head down and started clicking off laps. I was able to do the same times he was when he was in front. I don't know if it was just like the yo-yo effect when you're behind and you're trying to make some up on the brakes. Hats off to him for doing that back to back (with World Superbike). I'm just really, really happy to get out of here with max points. Really looking forward to the rest of the season. Hats off to my Monster Energy/Yamalube/Yamaha team. They're behind me 100 percent. I love those guys."

Herrin's blunder left the battle for second to fall to Elias, the Spaniard beating his teammate Roger Hayden to the line by .322 of a second. Elias had rebounded from several mistakes that dropped him back as far as seventh. Hayden, meanwhile, had fought through to the podium for the second straight day after starting the race from 12th on the grid.

"Today has been one of the more difficult races of my life," Elias said. "My team did an amazing job giving me a nice bike to ride. The frame was working much better than yesterday. I think I was able to go with these guys, but since the first lap I started in neutral like yesterday. Neutral, another one, another one. At the end, I couldn't brake late because every time I tried to brake late the bike… I think I was able to catch these guys, but I was catching just a little bit another neutral. I have to say we've been lucky. I'm so happy with this second position. We just lose five points to be 15 points, but it's like this. I'm so happy for that. This second position for us today is like a victory. We're still positive. We will work hard. The frame and suspension is coming. I hope we will solve this problem for the next round. This is long championship and we will fight again."

Hayden was back on the podium for a third straight race after turning his early-season blues into strong finishes.

"It was definitely an entertaining race for me," Hayden said. "It was a little bit tougher than yesterday. A lot of guys were going a lot faster, so it made it a lot more difficult to come through the pack, but we made it up. I knew Toni (Elias) was behind me the last couple laps. I really tried to stay close to him that last lap and make the pass. I made a mistake going into turn one. But it was a good weekend. It was my best weekend so far this season. I'm excited about that. We have some work to do to catch Cameron (Beaubier). Even Josh Herrin was riding really well. We appreciate all the fans' support and we're looking forward to Utah."

Yamalube/Westby Racing's Mathew Scholtz ended up fourth after also battling for the final podium spot. Ditto for Beaubier's teammate Garrett Gerloff, the Texan holding third for 14 laps before being caught and passed by Elias, Hayden and Scholtz. Gerloff ended up fifth.

M4 ECSTAR Suzuki's Jake Lewis finished sixth, some 18 seconds ahead of Cycle Gear/KWR Racing's Kyle Wyman and at the tail end of the group fighting for what would be second place.

Scheibe Racing's Danny Eslick, Fly Street Racing's David Anthony and Genuine Broaster Chicken Honda's Cameron Petersen rounded out the top 10 finishers.

With Beaubier extending his championship lead to 29, Elias grew the gap back to Herrin third to 39 points. Scholtz is fourth in the title chase, just six points behind the non-finishing Herrin.