Ask the expert: Steve Day's five reasons why the 2019 Ducati line-up is so strong
Thursday, 23 August 2018 17:24 GMT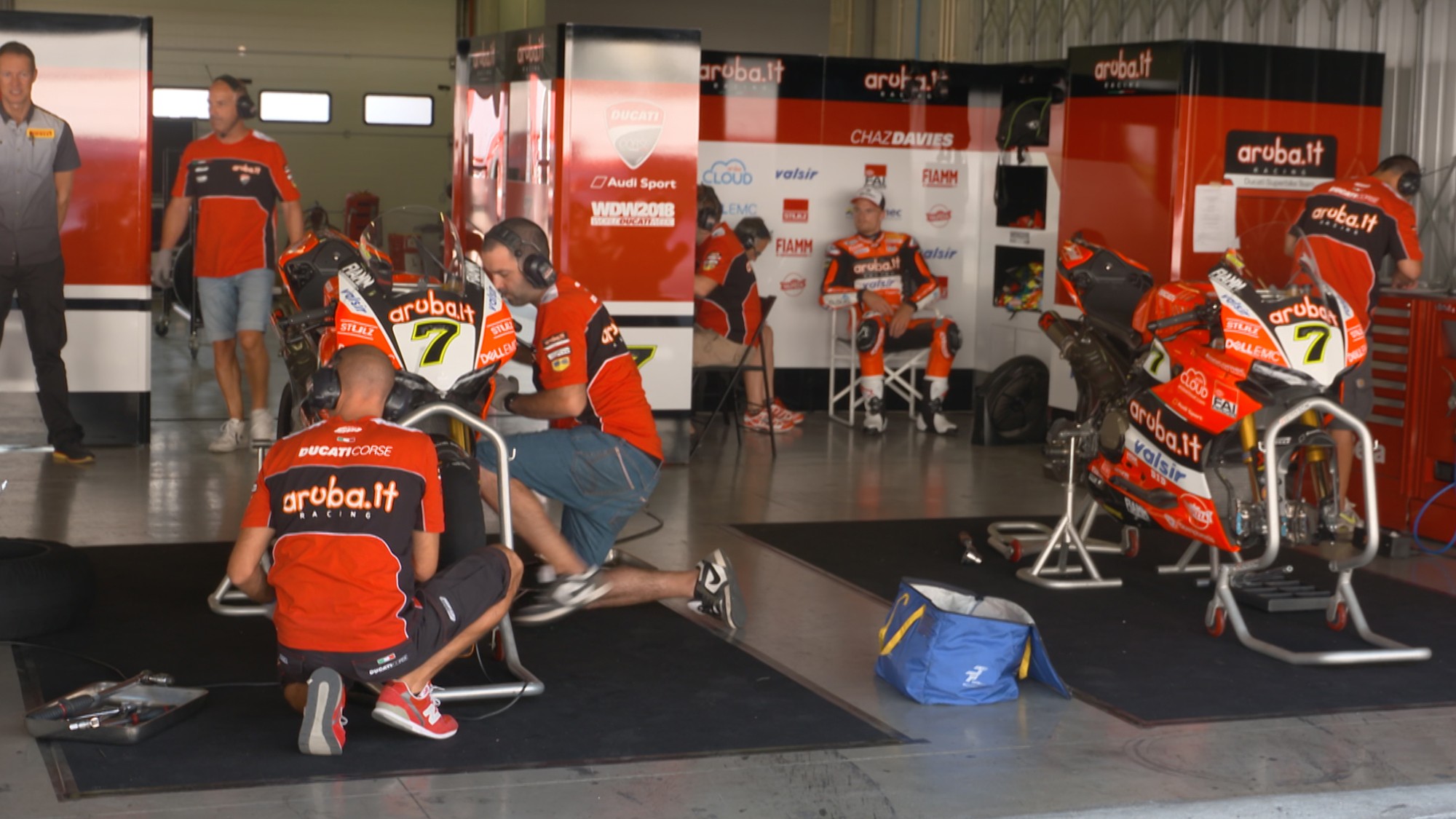 Current MotoGP™ and former WorldSBK commentator reviews the Bologna factories decision for next season
Aruba.it Racing – Ducati have announced today they will have Alvaro Bautista join Chaz Davies on the Panigale V4 in 2019, as they welcome the all new bike in the new season. Sticking with Davies for the sixth season in a row welcomes consistency within the team, but the new addition of Bautista will bring a fresh outlook into the garage.
MotoGP™ commentator and former WorldSBK commentator Steve Day is one of many excited about the move, explaining his five reasons why he think it will be a good move for the historical Bologna factory.
Ducati needed to hold onto Davies and his experience
For me, their number one priority was to hold onto Chaz. With the exception of Checa who won the title on the Ducati, I think that since Bayliss and Fogarty there hasn't been anyone as successful in terms of being able to win races on a regular basis with Ducati, other than Chaz. I think he's a great rider, he's a proven race winner, he's experienced and next year will be his sixth year with Ducati. Nobody knows the bike better than Chaz, and although they're getting a new bike, he's the only person who has been able to challenge Jonathan in recent years. It was a no brainer to hold onto Chaz.
Ducati also needed change
As much as it was great for Ducati to stick to what they knew with Chaz, they've not had two riders in the top three of the World Superbike Championship since 2009. When you compare this other teams in WorldSBK, you need a strong two-man team. If you look at Kawasaki who had Rea and Sykes, before that it was Sykes and Baz and next year they will have Haslam who is a proven race winner. Yamaha are coming stronger with race wins for Lowes and van Der Mark who are only going to get better. Ducati had to bring something different in, and not necessarily from current SBK riders. Picking a current MotoGP™ rider is a really good call, and they needed that change.
The new V4 requires change
Ducati have a brand new bike in the Panigale V4 coming in next year, and they won't fully know what to expect. So they need someone like Chaz who has experience of Ducati's, he knows how to win on a Ducati, he knows what feels good and what doesn't. But you don't know what you're going to get on the new bike, it might have GP bike characteristics, so bringing in a GP rider is something completely out of the unknown, and gives them two different angles to look at it from. On top of this, Chaz hasn't really had any competition at Ducati before so it lines up nicely as he might be able to look at Alvaro's data and learn something from Alvaro, and likewise – Alvaro can learn something from Chaz.
They're going to need all the expertise that they can get, and I think it is a really clever line up from Ducati, with a new bike coming in. To have the different levels of experience, the different riding styles, someone that's known SBK® since he was a boy and someone that's only known GP racing since he was a boy, it's an exciting combination.
Bautista has a massive point to prove
Bautista is a GP rider who believes he should still be in the GP paddock, and this decision hasn't come easy for him. He will go over to WorldSBK to prove to himself that he can still compete at a high level. He has a world championship to his name, he was runner up in the 250cc World Championship only to Marco Simoncelli, he has been fifth and sixth in the MotoGP™ world championship, and at the moment he's finishing in the top ten on a regular basis. He's fit as a fiddle, and I think that some may say his age is a problem, which it isn't. He will be 34 at the start of next year, only two years older than Jonathan Rea and Chaz Davies, so age is not really a problem.
If you take a look back at the age of some of the WorldSBK champions of the past – even recently Max Biaggi was in his 40's – it shows Alvaro has a lot of years of top quality racing in him and with a big point to prove, that makes it even more exciting.
WorldSBK need to attract GP riders, before they get past their optimum level. In the past, MotoGP™ riders used to be attracted to the WorldSBK paddock and if Bautista does well, it could tempt other GP riders to do the same, depending on what's on offer and what state of mind they're in. Why finish 10th or 11th week in week out, if you can be on the podium at WorldSBK level? I think it's a great thing for WorldSBK to attract a guy like Alvaro to prove a point; he's not just there for the money, he's there to win races.
Spain haven't had a rider who can challenge for the WorldSBK title since Checa
It's been talked about a lot – WorldSBK is a world championship and their top riders are all British. It's not the fault of the British riders at all as they all came through around the same time from the British to the world championship.
It's great to have different riders from around the world – in the future it will be fantastic if WorldSBK can attract riders from America, Australia and Malaysia.
At present maybe Melandri and van der Mark are the only other nationalities who can challenge the Brits, so Bautista adds that nationality in. It's great for Spain as they've not had a rider who can challenge at the top since Checa. Torres had a good season in 2015, but with changing teams for 2017, it's unlikely that he can fight in the top three or four, so it's great to have more riders of different nationalities entering the championship who could challenge for the title, for the fans.
Enjoy the final four rounds of the season before Bautista is able to swing his leg over the all new Paniagle V4, all with the WorldSBK VideoPass.