Aruba.it Racing pair keen to end Donington drought
Thursday, 24 May 2018 07:42 GMT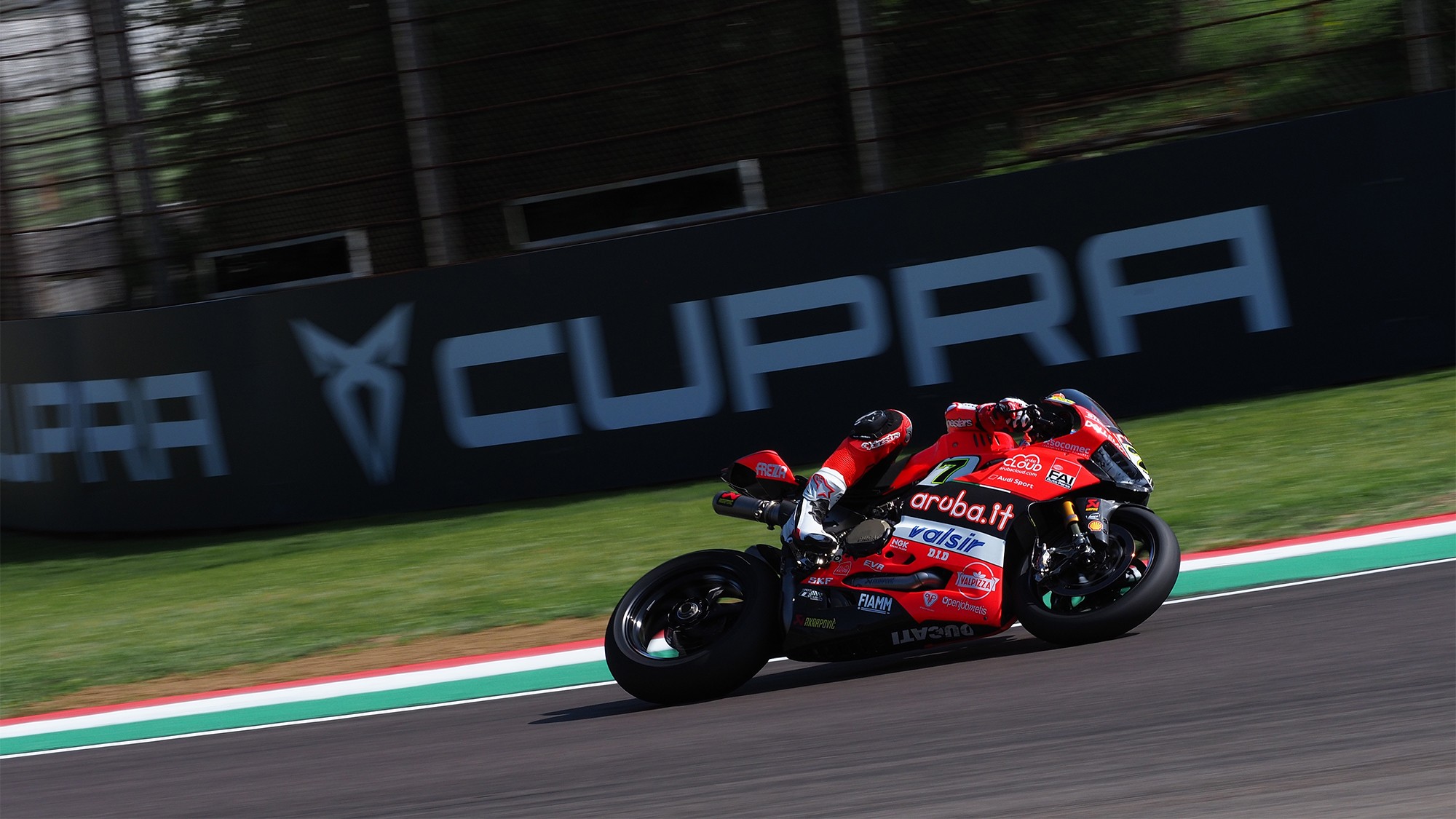 Davies and Melandri eager to net first Ducati win at Donington since 2011
Ducati and Donington. Two essential parts of the MOTUL FIM Superbike World Championship – the manufacturer with the most WorldSBK wins, and the track with the oldest history. A Ducati bike won here back in year 1 of the championship, and has done so more times than anyone else. But, winless here since Carlos Checa in 2011, the red machines have lost their magic touch at Donington Park in recent years. Will the streak continue into another season? Or can the Aruba.it team triumph over their past shortcomings?
After a 'spiritual' home race at Imola, Chaz Davies (Aruba.it Racing – Ducati) faces a true homecoming at Donington. He will be hoping for an improvement: while his fourth and second-place finishes in Italy were nothing to frown upon, he was unable to stop Jonathan Rea (Kawasaki Racing Team WorldSBK) from flying off to his first season double. Davies is the best positioned rider to dethrone Rea, but he'll need to act soon, with both KRTs on a season-high and Donington remaining one of their most cherished races.
The Welshman has never won here in WorldSBK – although he did once in WorldSSP – with third the best he's managed on the Ducati. "My first time out there was back in 1999 and I had some great results with two-strokes, but not yet with Superbike unfortunately", he recalls". "But, we've made improvements every year and it seems that we have been getting closer to our main rivals around there, so the goal is to find the next step and hopefully we'll have some results to cap off the weekend nicely."
Donington is admittedly not one of his better tracks – but a home round is always special: "Donington is a track I really enjoy and, being from the U.K., the atmosphere there is awesome and the home crowd support is always great".
Other than the two KRT riders, Marco Melandri (Aruba.it Racing – Ducati) is the only active WorldSBK rider to have tasted glory at Donington Park. Winner of Race 1 in 2011 and 2012, watch out for the speedy veteran at Donington, who will be out with a vengeance after his luckless Imola Race 2.
There was no podium repeat for Melandri last season, but he's confident the team is better prepared now: "I really love Donington as a track and I had some great races there in the past. It wasn't the case last year, but we had just entered a difficult stretch back then while now we know much better our strong suits and where we need to improve".
Warm temperatures and a stable machine, the keys to Donington success: "It looks like the weather will be nice, which is a good starting point, and our package is getting dialed in better and better, even though our rivals seem to have further improved. The Mugello test yielded some important confirmations, so I can't wait to ride again".
At Imola, Michael Ruben Rinaldi (Aruba.it Racing – Junior Team) got his first taste at leading a WorldSBK race. Although his lead was brief, it is obvious the Italian has bags of talent and is more than willing to show it. With his Panigale R also responding well, it should be no surprise to see Rinaldi battling with the best again at Donington.
"With three rounds under our belts, the team and I are getting more and more experience", claims Rinaldi. "Imola represented another positive weekend, and now we head to Donington, a track that I like, with more data available and the goal is always to get closer to the front. We've been improving steadily and we need to stay on this course, working especially on race pace. I'm confident".
How will the Aruba.it Racing riders fare at Donington Park? Find out this weekend, will all the action available thanks to the WorldSBK VideoPass.