WorldSSP300 riders experience VR46 Master Camp
Thursday, 27 July 2017 10:35 GMT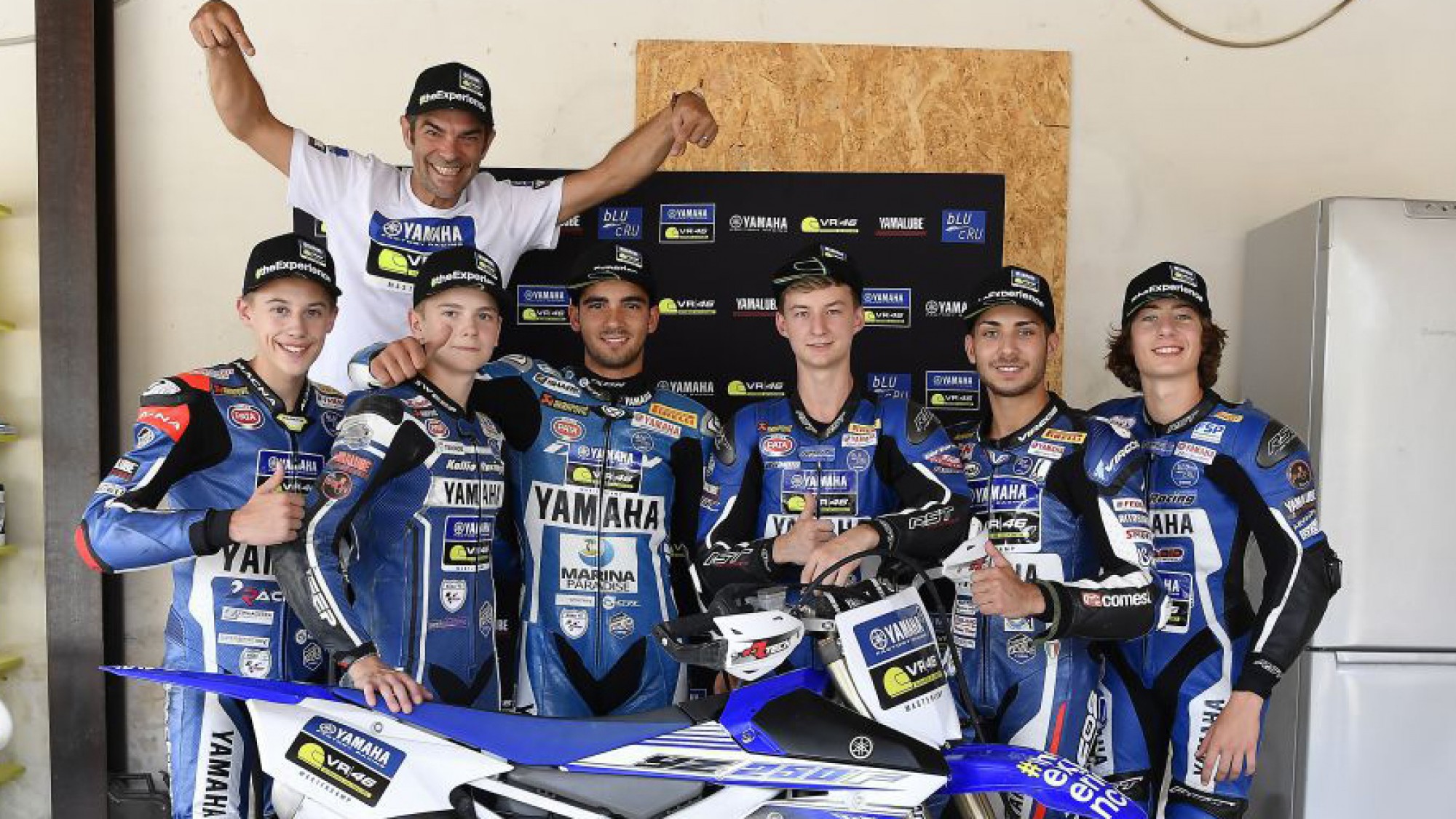 All work and no play for Yamaha bLU cRU riders in Italy
As the nine week summer break continues for the FIM Supersport 300 World Championship riders, not everyone is taking the time off to relax as the six Yamaha bLU cRU riders have been experiencing an intense week along the Rimini coastline.
Announced back in June, the young riders were invited to attend the fourth VR46 Mastercamp, which puts riders through their paces of an intense week of fitness and bike training. Starting the week testing their fitness in the gym, Italy's Alfonso Coppola, France's Enzo De La Vega, Finland's Kimi Patova, Ukraine's Mykyta Kalinin, Brazil's Renzo Ferreira and the Netherlands' Robert Schotman then spent the week training at Rossi's Motor Ranch as well as time out on track at Misano World Circuit.
Introduced to renowned racing expert Pietro Caprara, the Sky Racing Team VR46's Technical Director and Crew Chief for some theoretical lessons as well as some rider training sessions from VR46 Riders Academy's Franco Morbidelli, Francesco Bagnaia, Andrea Migno, Nicolò Bulega, Luca Marini and three-time English Flat Track Champion and two-time American and European Flat Track Champion Marco Belli, the WorldSSP300 riders will gain knowledge from all levels and areas of racing.
Testing their fitness, stamina and skills the riders have been put through their paces in all manner of ways throughout the course of the week. Already learning a lot and coming away with a much stronger feeling, it's clear there are many benefits to the Master Camp.
For Italian Coppola, it's clear what has been his highlight so far: "I had a great time at the VR46 Motor Ranch. I feel like I'm improving and riding better and better, so I really look forward to continue training at the ranch later in the week." French rider De La Vega echo's his fellow bLU cRU members sentiments: "I really enjoyed the riding session at the VR46 Motor Ranch because it's a fantastic experience." Schotman has been taking each day as it comes, but is happy with the level of improvement he has made: "There's still a lot to learn for me, but I think I've made some very big steps."
For Renzo Ferreira, a highlight was training with Moto2 rider Franco Morbidelli: "That was really exciting because he speaks Portuguese too and is half Brazilian, half Italian. It was exciting to attend the same gym class as him, which was luckily quite 'light', because in the afternoon we went to the VR46 Motor Ranch and we really had to concentrate on the bikes."
Kalinin is thrilled with the experience the riders are gaining: "I think we are all learning a lot and are making some big steps. I now almost feel like a flat track rider, the only thing I need is some more physical power."
Patova notes the importance of the changes made: "We improved our riding and body positions and the results were clear to see: we went faster and faster as the day went on. To make so much progress in such a short time is very nice."
The six riders now face two more days in Rimini at the Master Camp, with plenty more training and action to look forward to. Keep an eye on WorldSBK Social Media Channels to keep up with their progress.