WorldSSP300: Coppola closes in on title fight
Tuesday, 13 June 2017 08:00 GMT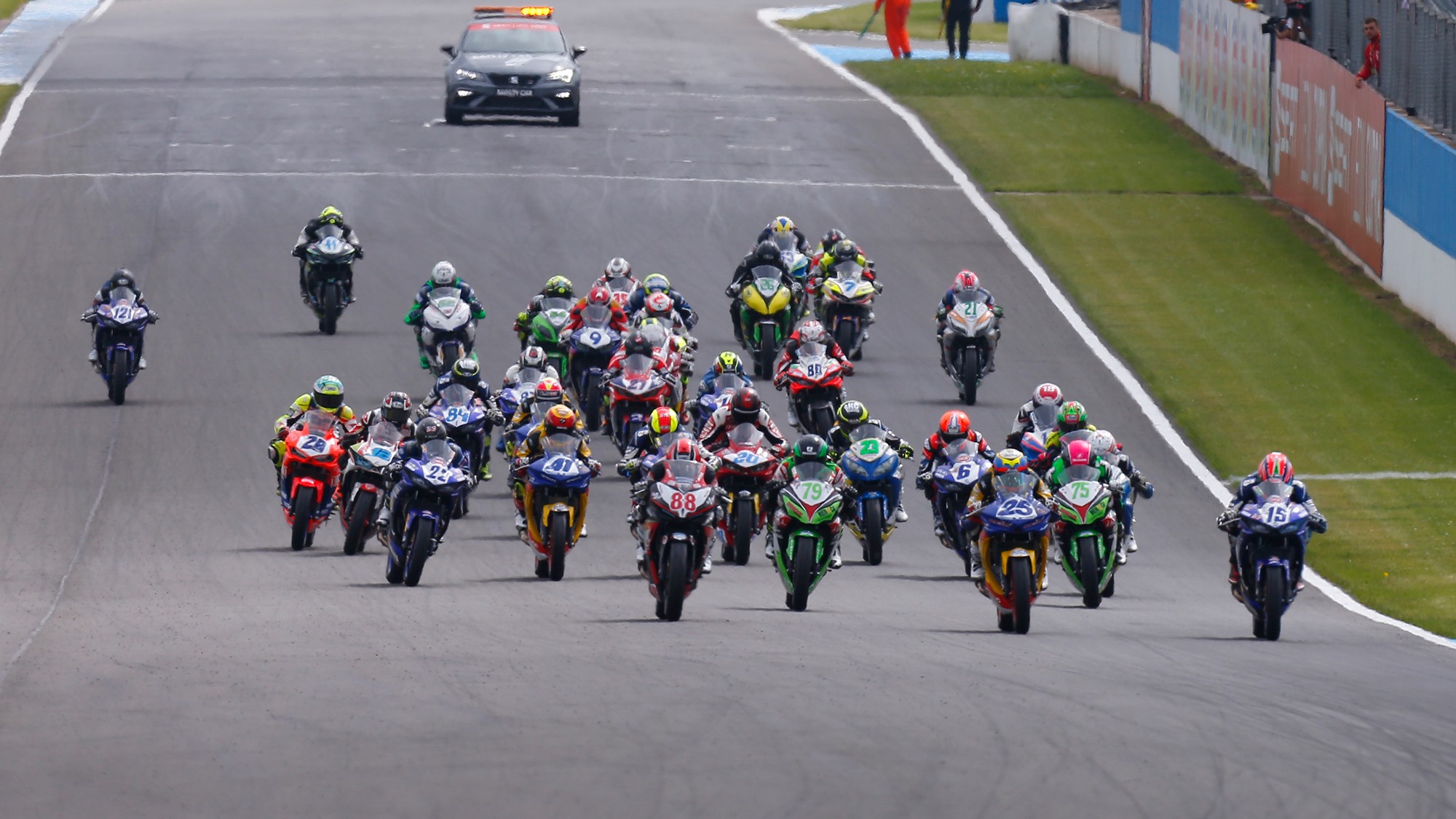 Deroue has some fiery Italians on his tail
Five Rounds in and the FIM Supersport 300 World Championship has already thrown up some stunning racing action, and unpredictable championship contenders to boot. Scott Deroue (MTM HS Kawasaki) looked to be the man to beat in the opening rounds, but following two tough rounds the championship is wide open once again, as the class continues on its stunning inaugural season. Offering the chance for youngsters to get involved in world championship racing for the first time, it won't be one to miss out on at the Pirelli Riviera Di Rimini Round.
Italian Alfonso Coppola (SK Racing) took his Yamaha YZF-R3 machine straight to the top at Donington Park, securing the gentleman's set in the UK; pole position, fastest lap and the race win. As the fight boiled down to a final lap scrap the 19 year old kept a cool head and was victorious over the line ahead of his rivals, igniting his championship charge. Now sitting just two points behind Deroue, Coppola heads to his home ground of Misano – a circuit which Yamaha's have a strong history around and with some local knowledge it will be hard to slow down the young Italian.
Flying the flag for Honda, Mika Perez (WILSport Racedays) was back on the podium in the UK following a few rounds of bad luck, but the Spanish rider finish outside of the points only once. Clearly running a strong pace with his CBR500R following some strong qualifying performances, the 18 year old has been unable to convert these into podium finishes in the last two rounds but Donington changed all this, and he narrowly missed out on securing his debut victory after a final lap battle. Hoping to take this momentum through to Rimini, Perez needs to build some consistent results in order to stamp his authority as a clear championship contender.
Championship leader Scott Deroue (MTM HS Kawasaki) has undergone a tough few rounds following such a stunning start to his campaign, as he was fast becoming the man to beat in the new series. However a tough weekend at Donington Park saw the Dutch rider unable to qualify above the third row meant a fight through the competitive pack was a tough ask for the 21 year old. However with only a two lead and heading to Misano, a track he has competed at in the past, it will be interesting to see how Deroue brings the fight in front of the passionate Italian crowd.
With 15 Italian riders lining up on the grid for the very first WorldSSP300 race held at the Misano World Circuit Marco Simoncelli, it could be anyone's guess who will take the victory in front of the passionate Italian fans come race day. Riders will prepare for battle at 14:20LT on Sunday, and it won't be a race to miss.