WorldSSP300: Yamaha take manufacturers title
Friday, 6 October 2017 11:00 GMT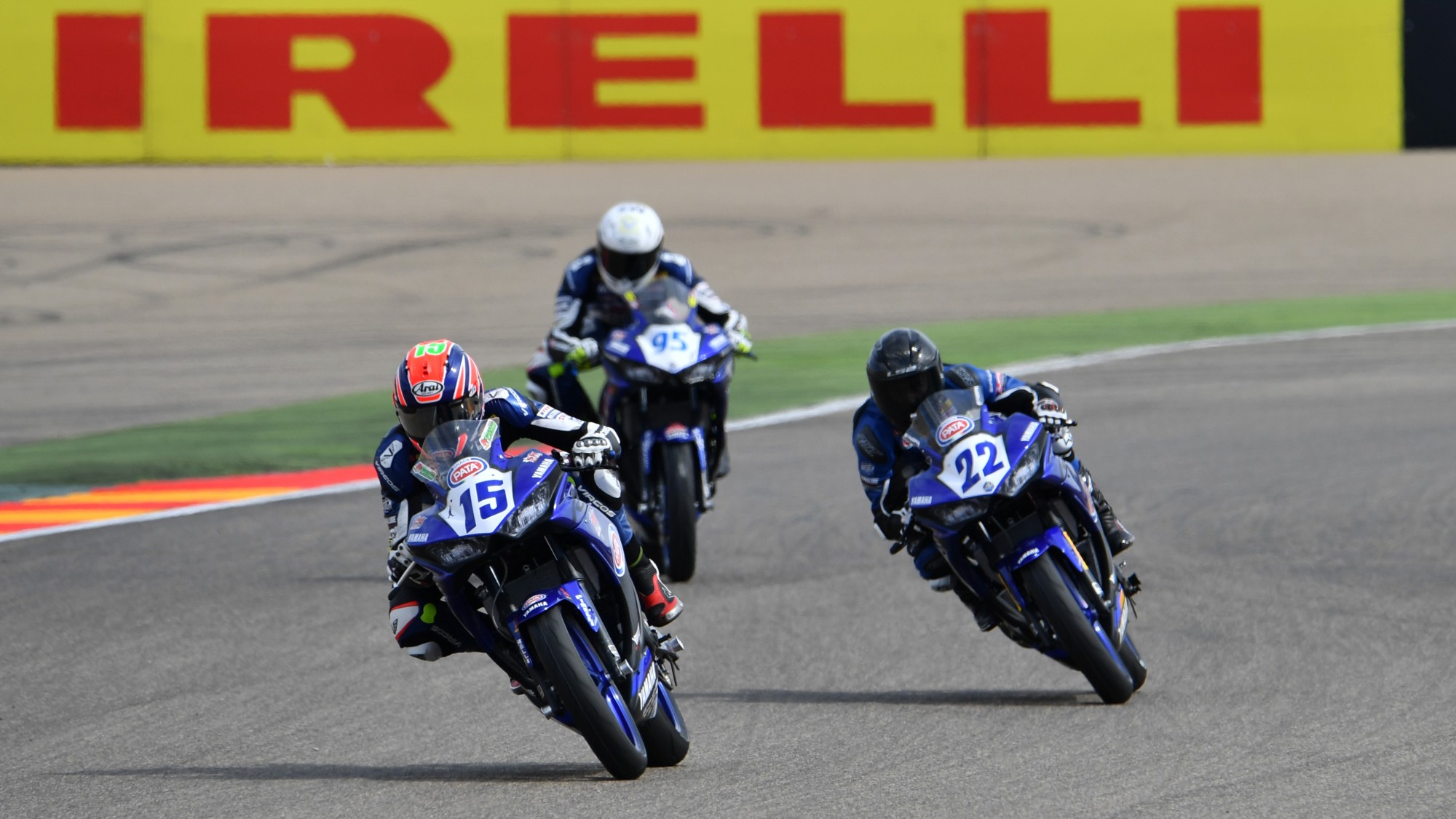 Magny-Cours sees first crown secured in new class
Only one round of the FIM Superport 300 World Championship remains in 2017, and Yamaha have already been crowned as the manufacturers world champions, taking the victory by a comfortable 52 point lead following Marc Garcia (Halcourier Racing)'s win around Circuit de Nevers Magny-Cours.
With 195 starts over the season for the Japanese manufacturer, and more than 21 riders starting each WorldSSP300 race, riders and teams were soon able to get to grips with the YZF-R3 and have been able to impress around the eight circuits so far this season, taking three victories in 2017 and a podium in every round.
Taking a second position in the opening round of the season around MotorLand Aragon, Daniel Valle (Halcourier Racing) put up a strong battle and was the lone Yamaha on the podium, with team-mate Borja Sanchez (Halcourier Racing) in fourth position. The second round of the season at TT Circuit Assen was the Japanese factories worst round of the season, as Alfonso Coppola (SK Racing) took third position behind two Dutch riders of Scott Deroue (MTM HS Kawasaki) and Glenn van Strallen (Vos - TKR Racing) gunning for home glory.
Heading to the first of the Italian rounds for 2017, Garcia took his debut victory in the class, in a Yamaha lock-out on the podium with Coppola and Mykyta Kalinin (Team MOTOXRACING) getting a taste of Prosecco DOC under the sunny skies. Spaniard Garcia continued to reign for Yamaha, and he was the top finisher for the factory as the WorldSSP300 series headed to Donington Park, taking second position in the 13 lap thriller.
As the Italian passion began to heat up for the fifth round of Misano, it was the turn of Armando Pontone (IODARacing) to take to the podium and finish in second position, and the highest Yamaha in the standings. In a stunning performance in front of his home fans, Pontone narrowly missed out on the victory from Honda's Mika Perez (WILSport Racedays) over the line.
The next three races saw even stronger races for Yamaha, with a victory in Germany and a second position in Portugal for Coppola, whilst Garcia took the victory in France. Now locked in a riders championship fight with Coppola, the victory was enough to secure Yamaha the title with one round remaining.
Consistency was the key for the manufacturer, as can be seen when looking at the standings; Yamaha have not had one race with a rider off the podium, whereas Honda have been without a trophy for four races out of the eight. Despite having a greater presence on the grid, there have been four top riders for Yamaha over the season.
With the riders world title yet to be decided, follow all the much anticipated WorldSSP300 action with the WorldSBK VideoPass, and watch the action live from Jerez from 20th – 22nd October.