What is the difference between Melandri and Davies' Panigales?
Friday, 17 March 2017 09:28 GMT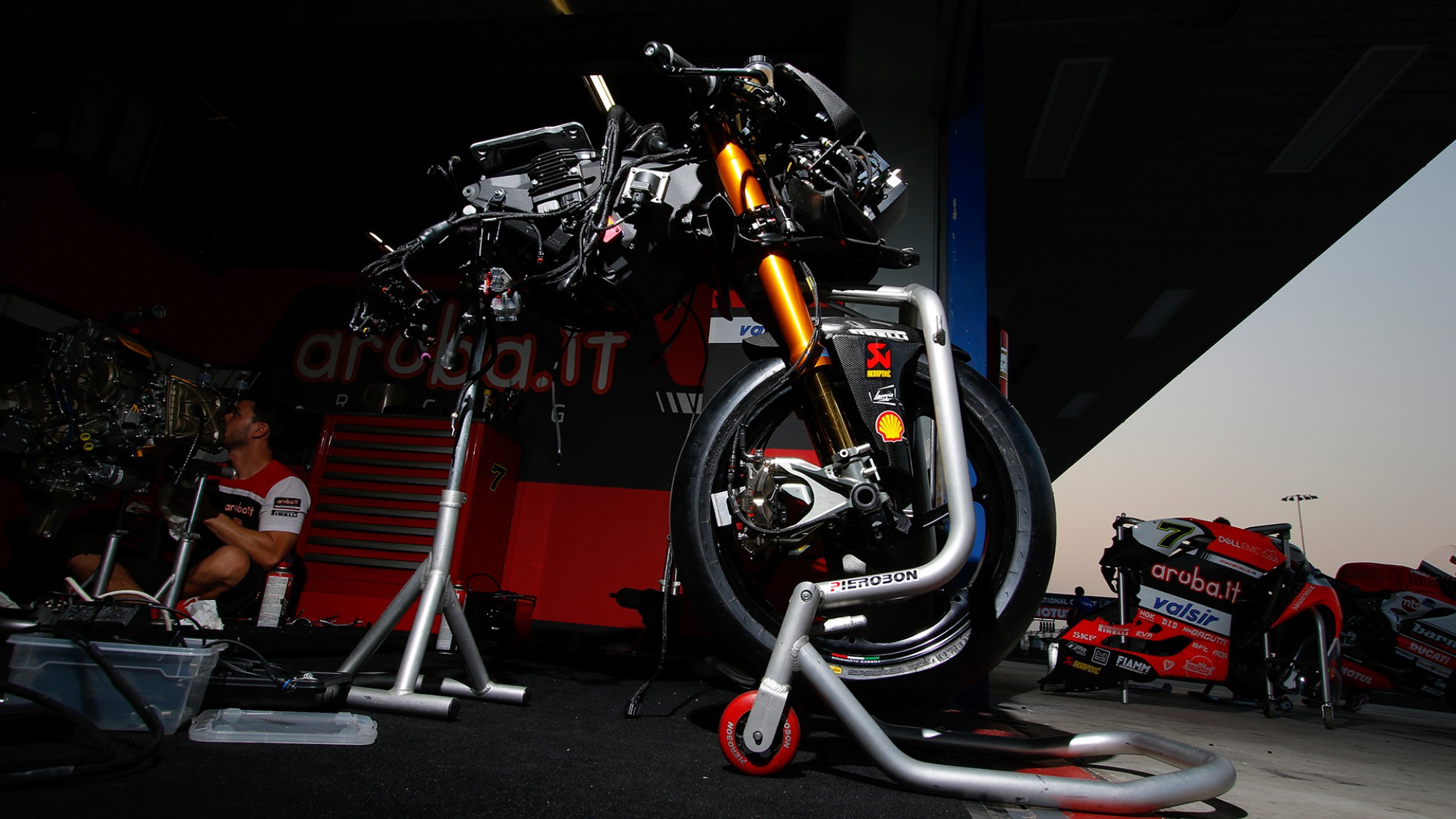 Ducati Project Director Ernesto Marinelli reveals all
Aruba.it Racing Ducati are a force to be reckoned with in 2017, making their ambition for the upcoming season clear – to win the world title. With British rider Chaz Davies and returning Italian Marco Melandri at the helm of their campaign, the team have a strong duo of riders to take them all the way to the top.
Securing podium finishes in all four of the opening races this season, it's clear the pair feel comfortable aboard the 2017 machine. However it is easy to note the difference between the riders, both in size and riding style, meaning the team would have to alter the bike to suit both competitors. WorldSBK.com caught up with Ducati WorldSBK Project Director Ernesto Marinelli to explain the differences.
"There isn't really much of a difference with the position of their screens, we are talking about a centimetre, so not that much. But the height of the foot pegs is different, as well as the padding on the seat to get comfortable on the bike.
The fuel tanks are the same but Chaz prefers to have a thicker part on the back of his seat, because he is tall he wants to sit further back on the bike, but these are just minor changes we can see."
Determining if the changes between the riding position is to do with riding style or with height, the Italian explains: "It's a little bit of both, in part it is the size and in part it is the characteristics of the riders. Of course they want to move more on the bike, and be able to move both forwards and backwards, but the rider must also like the fixed position on the bike, so that is what is changing between one and the other. There is not one position that is more effective than the other; it's just the way the rider likes to ride."
Finally, we begin to understand why Melandri is using the revised swing arm whereas Davies is to continue with the previous model: "At the moment it's just a matter of time, Marco dedicated a bit more time in testing to the rear of the bike. There is no major difference between the two and they could both use it, however Chaz would like to spend more time testing it."
Aruba.it Racing – Ducati head to MotorLand Aragon for Round Three of the championship in just two weeks time as the series breaks into Europe, at a circuit the Italian manufacturer have proved very successful at in the past.