What are the differences between a STK1000 and WorldSBK bike?
Friday, 14 July 2017 10:09 GMT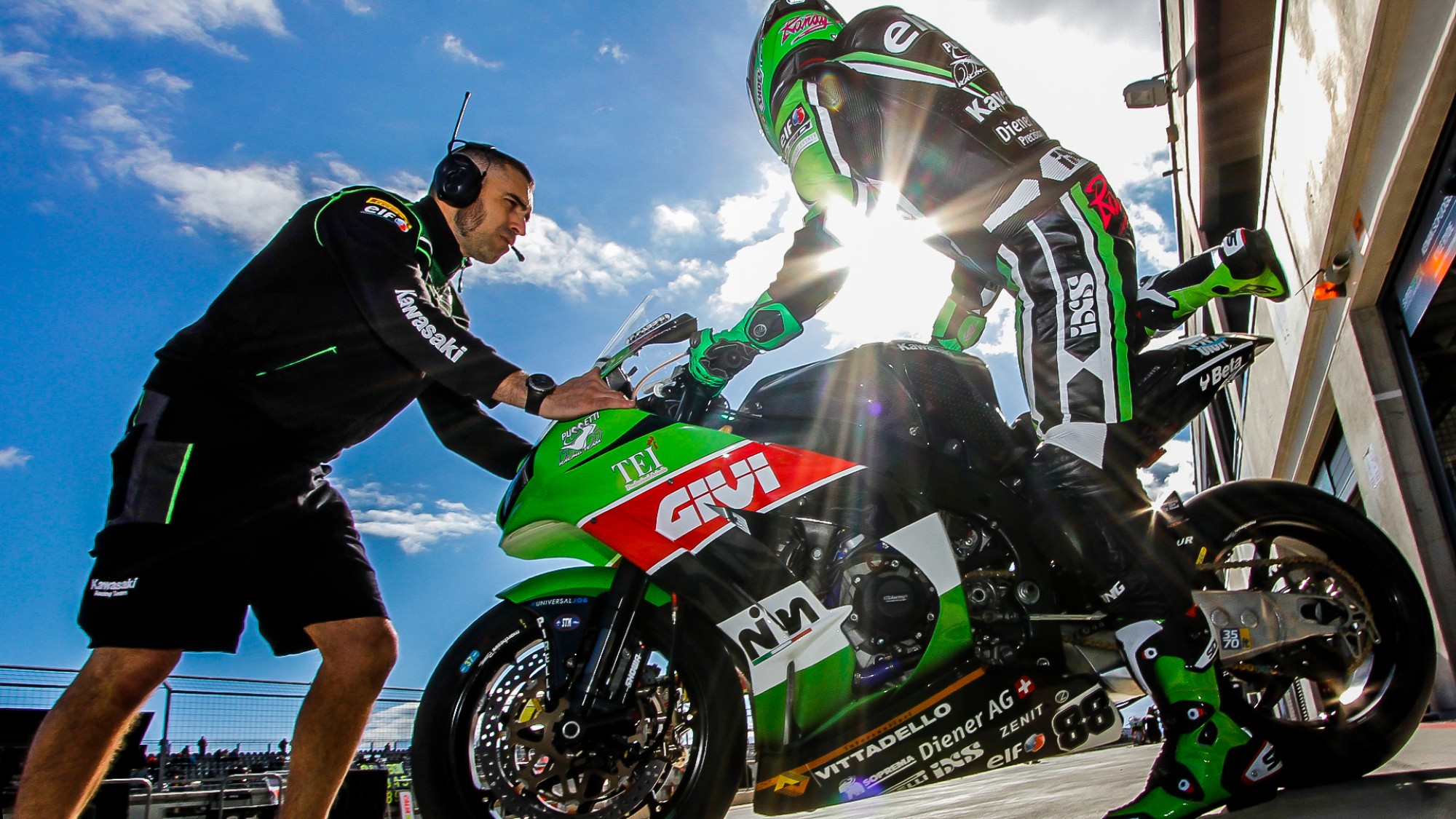 Take a look to see what similarities the Kawasaki Puccetti Racing machines hold
With Kawasaki Puccetti Racing present in all four classes of the MOTUL FIM Superbike World Championship, the team will have one of the greatest understandings of the differences between all the machines. Running the Kawasaki ZX-10RR in both the European Superstock 1000 Championship and World Superbike Championship, WorldSBK.com speaks to Andrew Pitt, crew chief to Randy Krummenacher, in order to help to understand the differences between the machines.
Pitt first explains the differences to the untrained eye, and what the immediate visual changes are: "First of all you see the chassis parts, as we have a standard swing arm on Toprak's STK1000 and the Kalex swingarm on the SBK, which is close to a factory item. You can also see the Showa forks, we have factory suspension on the WorldSBK bike compared to the original material on the STK1000 bike."
Delving further into the bike's performance, Pitt continues: "As far as engine performance and top speed, there's not a lot of difference. As the bikes leave the factory are at a very high level, and you'll see the STK1000 bikes from the showroom are basically Superbikes. With the engine you can squeeze more out of the superbike, and they don't have to do as many kilometres on one bike. But the top speed is always about the same, maybe to adjust the power on the WorldSBK makes it a little bit smoother and easier to manage. That's where the electronics come in, which the Superbikes have and the STK1000 bikes don't."
It is well known that electronics play a big role in the performance of a WorldSBK machine, and the retired racer talks us through the main changes made: "They both have the same electronic characteristics, in terms of engine braking, traction and wheelie control but it's a more primitive system on the STK1000 bike, as it comes from lessons learned on the SBK. As well as this it's based on cost. There are certain aspects you can adjust, and it uses the system you can buy from the Kawasaki dealers, but in WorldSBK they use the Magneti Marelli system that Kawasaki has developed. It's a much more refined system and designed to make tyres last longer, as well as to put in the same lap times for longer."
To hear more about the differences, subscribe to the WorldSBK VideoPass and hear Pitt explain even more differences between the two machines, which are currently both very successful in the world of WorldSBK.