This is who I am and this is what I think: Leandro Mercado
Thursday, 12 October 2017 08:29 GMT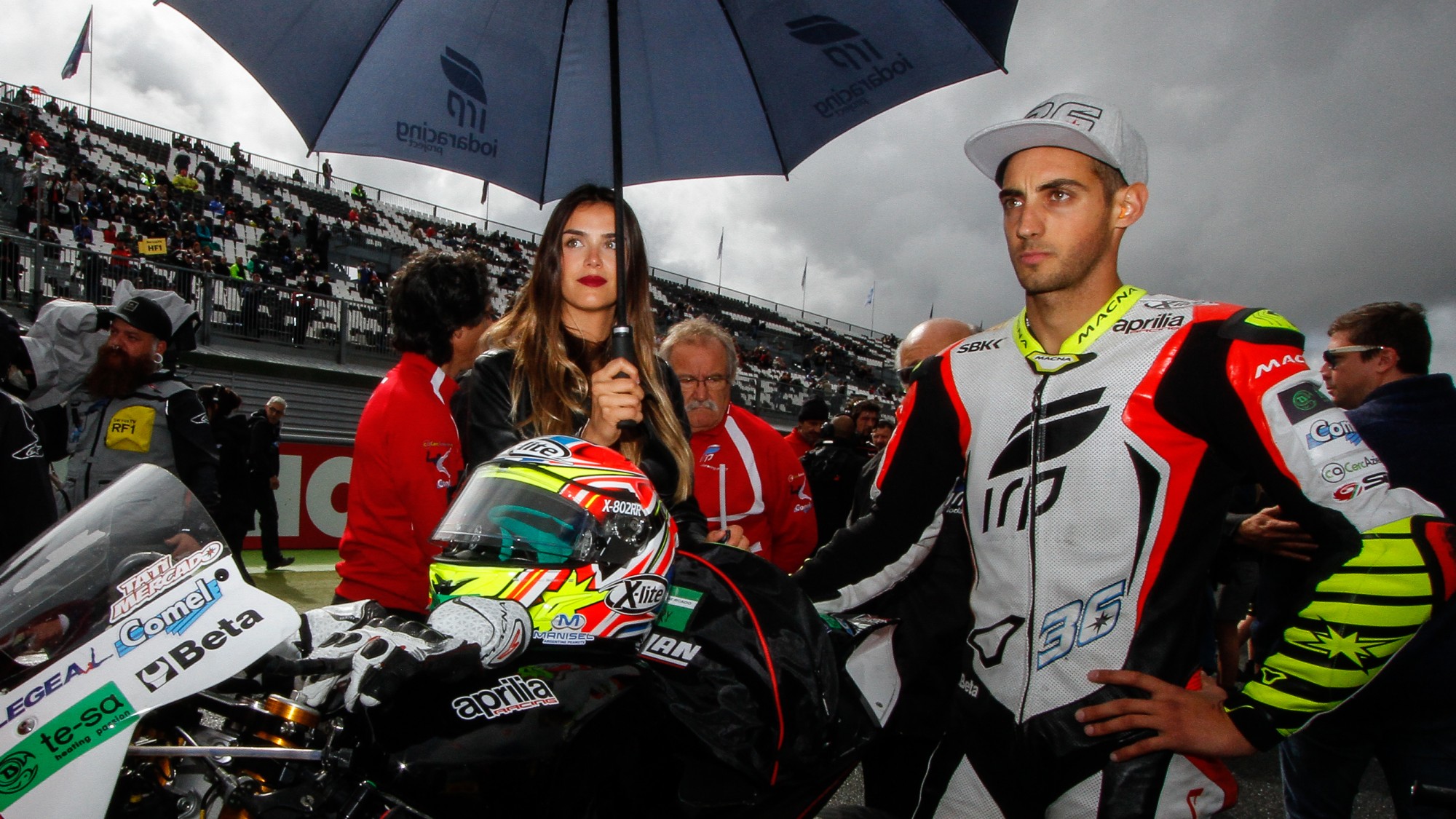 Argentinean discusses his ambitions and life outside of racing
Born in Córdoba (Argentina), the 25 year old rides an Aprilia RSV4 RF for the IODARacing team, in World Superbike. He is also part of another team with Agustina, his girlfriend with whom he is inseparable from and he travels the world with (and accompanies him in this interview with some of his answers). Next week he returns to Jerez, where last year he dramatically lost the possibility of being crowned double STK1000 champion.
The first thing I do when I get to a circuit is to study the data with the bike, to understand all the information about the circuit. Then I get my space. I like to have everything tidy; helmet, gloves and boots are always in the same place. I spend the day doing these things.
From my first race I knew that I wanted to be a rider. I started riding at the age of six, just in circles, with motorcycles made by my dad. My dream was always to represent Argentina and get to ride in a World Championship and today I am doing it, which makes me so proud.
The culture of motorcycles is different in Latin America. Most people have it as a hobby, many people follow motorcycle racing, car racing and so on, but starting to race professionally, going to race outside the country, is not easy.
People don't realise, but for non-Europeans it is harder to get here. I travel with my girlfriend Agustina, the two of us alone. We live in Italy and my family is far away, my father comes when he can, but he is at the other end of the world. So normally she's the one with me. We have made many sacrifices to live in Italy and to be in a World Championship. Nothing came to us easy.
I am delighted that there is set to be a Round in Argentina next year. For the Championship to go to Latin America for the first time in its history will be a very good thing. For me, representing Argentina and riding as a local rider would be fantastic, and I think it can help to grow the fan base in Latin America. I think a non-prototype championship, but based on production bikes can also attract more riders. Talent is not lacking.
I do not think I have a hidden face, a B face outside the circuits. I am always the same. Even though I am Argentinean I am a disaster with a ball, and a disaster playing soccer. I'm a rider, I'm not good for anything else!
I do not cook either, I do not have a strong skill. What I do is throw everything I find in the fridge into the pan, but Agustina can confirm that it is good ...
I like is to be a mechanic on my bikes. I put my hand on my training bikes, I do the maintenance and whatever it takes. Yes, I like to get a little dirty.
I like to read biographies of retired athletes and to hear their story. Right now I'm reading Andre Agassi's Open. It is very good, I have identified with many things, for example when he tells how he started and what it cost him to go to play to other countries.
The worst Sunday of my sporting career was last year in Jerez. That was a very hard blow. I have had difficult Sundays, but what really hurt me was that I did not have the opportunity to fight (a mechanical problem on his bike prevented him from lining up on the grid). Giving it up like that hurt me a lot because we're used to fighting on track ... I had a hard time understanding it, it still hurts me.
When I return to Jerez I will feel some emotions, but I will not think about it anymore. I focus on improving every day, on getting better results and growing as a rider and as a person. But yes, I will remember when I enter the track.