Misano Sunday Guide
Saturday, 17 June 2017 16:01 GMT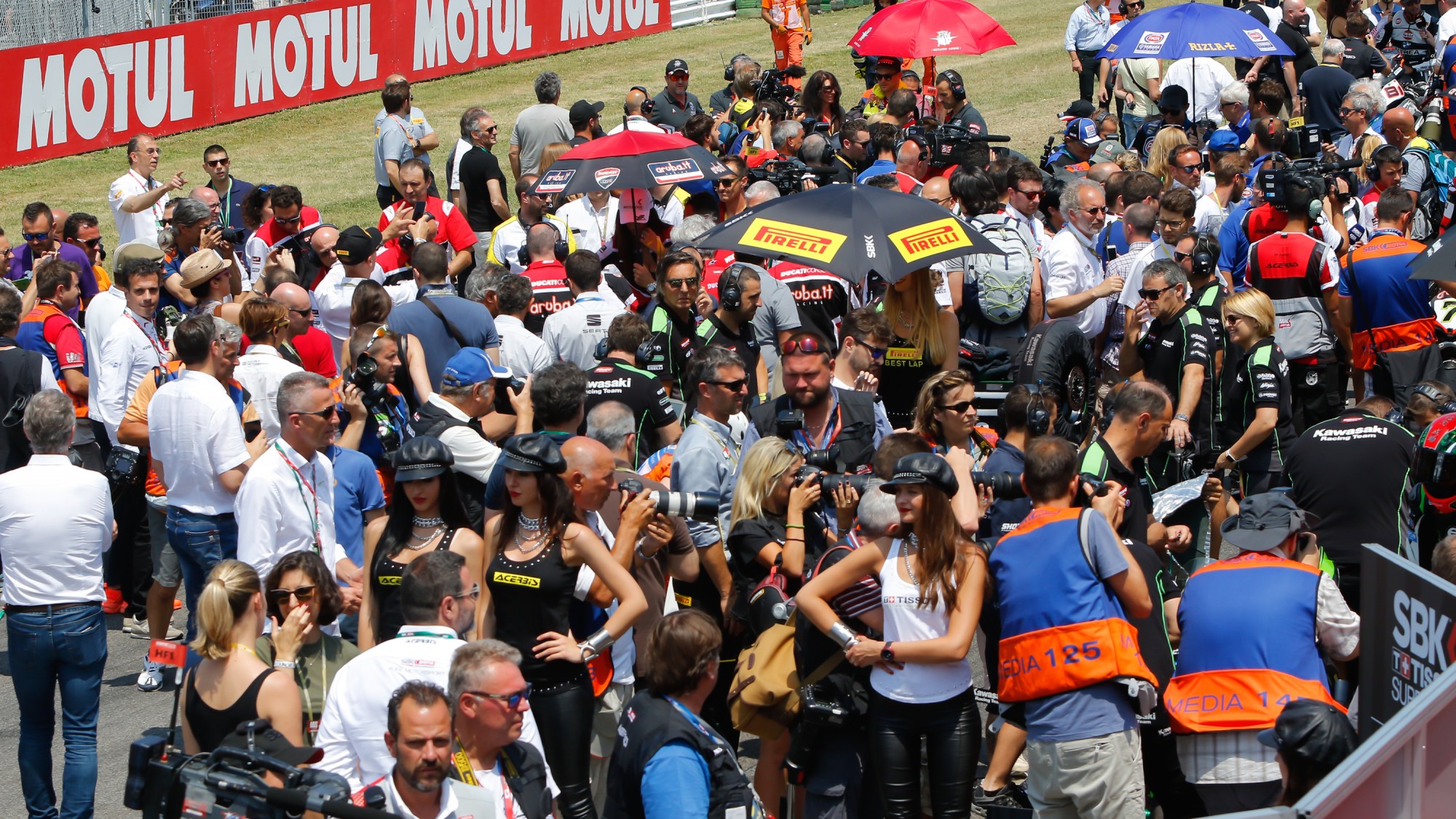 All the facts and stats to get you through the Pirelli Riviera Di Rimini Round
P1 in the Championship – Jonathan Rea (Kawasaki Racing Team)
In Race 1 Jonathan Rea became the 4th rider in history with at least 100 podiums after Troy Corser (130), Noriyuki Haga (116) and Carl Fogarty (109). The last rider before Rea to recorded this milestone was Haga in Donington (Race 1), 8 years ago (2009), also finishing third. Rea recorded his 5th straight podium at Misano, his 7th at this track. For the fourth time he recorded a 2nd grid spot in qualifying at Misano after 2009, 2012 and last year: in the last three he was beaten by Tom Sykes. For the first time in his career, Jonathan Rea qualified on the front row for the 10th time in a row, a feat accomplished in the current field only by Eugene Laverty (Moscow 2012-Algarve 2013). The all-time record string belongs to Scott Russell, with 17 straight front rows from Brands Hatch 1993 to Albacete 1994. After Race 1 Kawasaki has a total of 330 podium finishes, and is fast approaching Honda, who holds the 2nd all-time spot at 392. The all-time record belongs to Ducati, with 846. Half of Kawasaki's 330 podium finishes have been in the last 5 years (from 2012). Kawasaki has been represented on the podium in the last 43 races.
P2 in the Championship – Tom Sykes (Kawasaki Racing Team)
Tom Sykes became the first rider in history to record pole 5 years in a row at a given track: it was also his 6th pole here, equalling the record of most poles at a given track recorded always in Misano by Troy Corser, spanning from 1998 to 2010. This was Sykes' 40th pole position: he started from pole 41 times thanks to the demotion of Rea in Assen. Sykes is only 3 poles shy of the all-time record held by Troy Corser (43). And in Race 1 Sykes equalled Troy Corser for another record: 33 career wins. They now share the 5th all-time spot, 10 wins from Noriyuki Haga in 4th. Sykes climbed on the podium for the 94th time, and this also put him level with another great rider of the recent past, Troy Bayliss: they share the 5th all-time place for podiums. For the 16th time since official lap chart data is available (1998), a rider won leading only the final lap: the last one before Sykes had been Jonathan Rea in Malaysia, 2015 (Race 1). In that race Rea passed Davies on the final lap, while Sykes had led the first 11. It's only the second time that Sykes has won after leading only the final lap: the other occurrence is his maiden win at the Nurburgring 2011 (Race 2), when the racing leader, Noriyuki Haga, crashed out and the race was stopped shortly afterwards. By contrast, he won 18 races leading all the laps. This was Sykes' 4th win in Misano: it's the second track in which he scores a fourth win after Donington, where he won 9 times. 32 straight races in the points for Sykes after Misano/1: if he scores points on Sunday he will tie the third all-time string, set by John Kocinski from Sentul/1, 1996 to Sentul/1, 1997.
P3 in the Championship – Chaz Davies (Aruba.it Racing – Ducati)
Chaz Davies recorded his best starting spot in Misano (4th) and led for the first time at this track (2 laps), but like in Race 2 last year he crashed out of the race and was hit by another rider (Rea). Last year it was Michael van der Mark who couldn't avoid the Ducati rider. His next race will be his 140th in the World Superbike Championship. The laps led in Race 1 by Davies have historical importance as for the 300th time a Ducati led a WorldSBK race. Ducati leads the all-time standings from Honda (151 races led) and Kawasaki (128).
P4 in the Championship – Alex Lowes (Pata Yamaha Official WorldSBK Team)
Alex Lowes equalled his best career result in Race 1: a 2nd position in Assen, 2014, Race 2. This was his 5th career podium: the last two came in the space of three races (he had finished 3rd in Donington, Race 1). This was Yamaha's first podium at this track since Marco Melandri finished 3rd in Race 1, 2011.
P5 in the Championship – Marco Melandri (Aruba.it Racing – Ducati)
Marco Melandri crashed out of Race 1 out of 3rd, a spot he occupied 3 times on the podium in the past at Misano. He was able to remount and finish 15th, but for the first time since the Buriram round, he slipped to 5th in the Championship standings. He recorded his 17th career front row start in qualifying, a 3rd place which he has also secured in Phillip Island and Buriram this year, which is his best qualifying spot of the season.
P7 in the Championship – Michael van der Mark (Pata Yamaha Official WorldSBK Team)
Van der Mark in Race 1 recorded his maiden fastest race lap, the first for the Netherlands in the WorldSBK championship. Van der Mark led a WorldSBK race for the first time since Assen/2 last year, when he led one lap. He was at the front for 13 laps in Race 1, exactly the sum of his previous three races led (5 in Phillip Island/2, 2015; 7 in Phillip Island/2, 2016; 1 in Assen/2, 2016). His 5th grid spot is his best qualifying effort since he started from this same place last year in Assen.
P9 in the Championship – Jordi Torres (Althea BMW Racing Team)
Jordi Torres enjoyed his best result at the flag, 4th, since the first Lausitzring race last year, run in the wet. He will start for the first time from the pole spot on Sunday: this is the second time this year he gains a front row spot for Race 2 after Aragon, when he was 3rd thanks to a 6th place in Race 1.
P10 in the Championship – Eugene Laverty (Milwaukee Aprilia)
Best result of the season for Eugene Laverty, 6th in Race 1: in Misano he finished in a higher place only in 2011, when he was 5th for Yamaha in Race 1, again starting 10th.
P16 in the Championship – Randy Krummenacher (Kawasaki Puccetti Racing)
Best career result for Randy Krummenacher, 7th in Race 1, up from the 10th spot he recorded in his maiden WorldSBK race in Phillip Island at the beginning of the season.
Winners this season: Rea 8, Davies 3, Sykes 2, In Race 1, a British rider won for the 27th consecutive