Mahias: "I am so close to achieving my dream"
Tuesday, 10 October 2017 08:12 GMT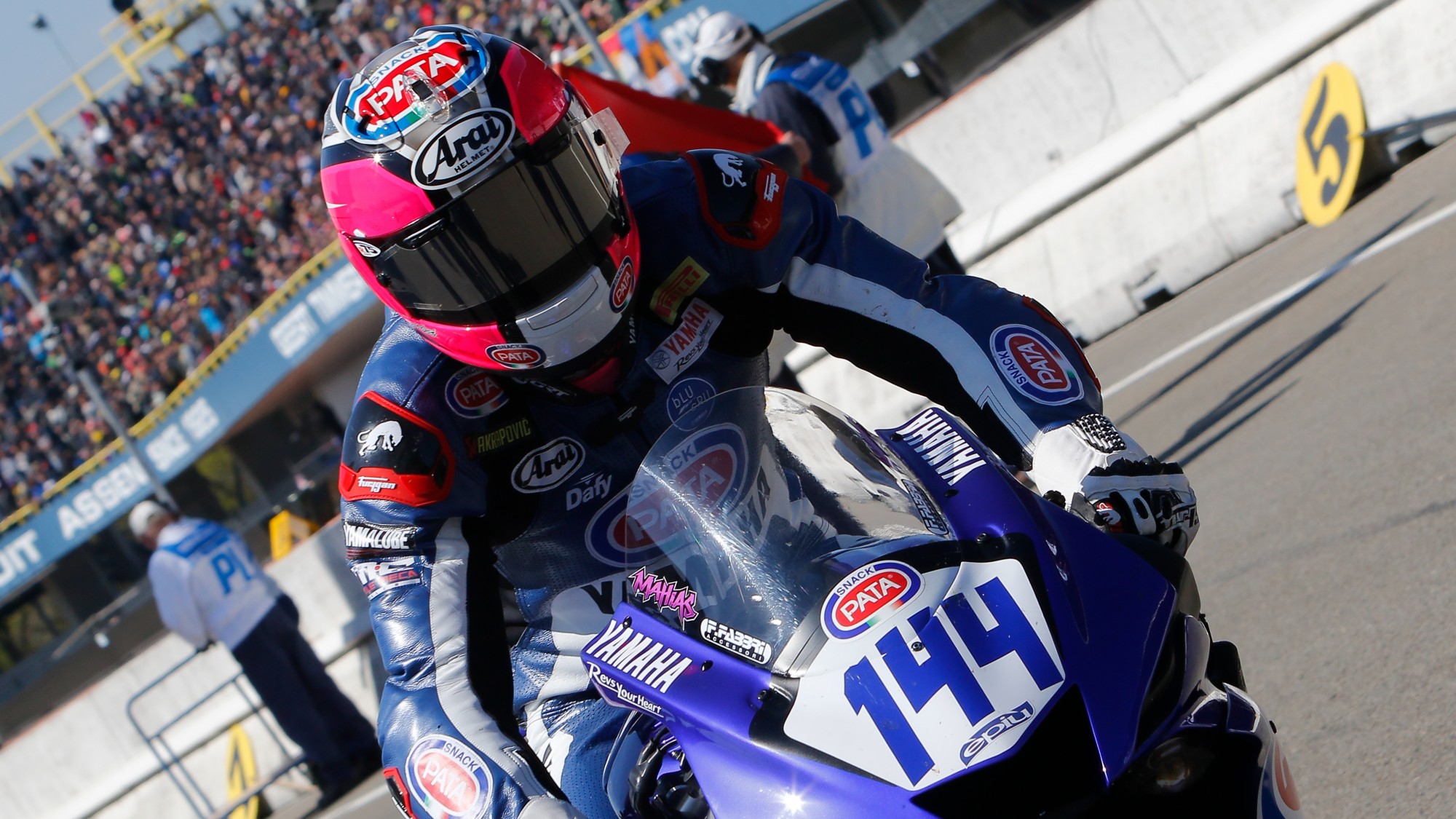 Frenchman faces first opportunity to take the title
Lucas Mahias (GRT Yamaha Official WorldSSP Team) waved the French tricole with pride at the Pirelli French Round around the Magny-Cours Circuit. The Frenchman, who had suffered some back luck in qualifying, put in a heroic performance in the FIM Supersport World Championship race with some breathtaking overtaking, despite sustaining an injury to his wrist.
After defeating his compatriot Jules Cluzel (CIA Landlord Insurance Honda) after an elbow to elbow fight, Mahias gave everything to make his move on PJ Jacobsen (MV Agusta Reparto Corsica), but he was unable to catch the American for a podium spot.
The Yamaha rider took the lead in the WorldSSP title fight overall and now sits nine points ahead of Kenan Sofuoglu (Kawasaki Puccetti Racing), who was heavily injured.
Mahias will be in with the chance to take the title for the first time in two weeks time, in the final European Round at Circuito de Jerez. Ahead of this pivotal round, WorldSBK.com catch up with him after his stunning performance.
Lucas, with time to reflect, how do you feel after your home race at Magny-Cours?
"I am extremely pleased with this result. Of course, I would have preferred to finish on the podium, but I think it was difficult to do better. I gave my maximum and the race was quite complicated. At the start of the race I found myself in 19th position and in this series, to be able to move from from 19th to fourth place, I can only be satisfied with my performance. "
Can you summarize your season in a few words?
"I'm pretty satisfied, but I'm also surprised that everything has happened as well. We got the new bike very late, and we were not able to do a lot of testing before the first race. It is also a new team with new members, so we had to get to know each other and work together. As well as this it's my first full season in the World Championship, on top of being in an official structure. But I think that being surrounded by such professional people can only give this result; it is a great satisfaction to lead the Championship today. "
You are now leading the championship, how does this make you feel?
"Of course I'm happy, but I know deep down that if Kenan had not hurt himself, it would have been a different set of circumstances. I have a lot to learn in this category. He missed the first two events and I have the same number of DNF's, except for the race at Magny-Cours. But he has also won on several occasions. Although I am often right behind him, I realize that I still lack something to beat him. The closer we got to the end of the season, the closer I got to him. I'm a little disappointed that it ends like this for him, but it's part of the racing. But if you look at 2015, if I recall correctly, he won the title after Jules's injury. "
The YZF-R6 is a new machine and it seems quite completed, what does it lack?
"We are only lacking experience, as we started with a blank canvas at each round. In Magny-Cours we used the settings I had used in wildcard in 2015, but the bike is different. We have to work on every detail, like the suspension. We have a base, but it is much more complicated than for Kawasaki or Honda or even MV Agusta, who can rely on their data that already exists. I also think that we lack a little power; wit the number of engines being limited, it was not easy to organize tests during the season. It's a whole bunch of details to make sure that next year we will be even better. "
What are the points you need to work on to make further progress?
"I do not really know what I'm missing. There are some tracks that I had to discover or rediscover. Arriving at a circuit and fighting for victory is one thing, but to compete for the title is different. Even if Yamaha or the team do not put any special pressure on me, I put it myself. The WorldSSP crown is my life's dream. Since my debut in racing, my dream has never been to race in MotoGP ™, my goal has always been to be crowned World Supersport Champion. It is a category that has always allowed me to dream, and now I'm so close to reaching this dream... few dreams come true, but I am not far off. A certain pressure rests on my shoulders and it is a point that I still have to learn to manage. It must also be said that Kenan is in another state of mind. He's already five times Champion and he's six will not really change. For my part, it's different, I'm building something. "
How will you approach the last two rounds of the season in Jerez and Losail?
"I will continue to do what I have been doing since the beginning, to fight for victory. Since the beginning of the season, I have always given everything. As I showed in Misano, I could have just finished behind Kenan rather than taking risks, and I will remain in this state of mind. If I start thinking too much about it, then I will not be able to achieve it. Many riders have cracked in this kind of situation. I understood this weekend after taking a step back, everything could very quickly stop. I will continue to fight and the victory will be even more beautiful. "
You will ride for the same team next season, do you plan to eventually move to WorldSBK?
"Even though my dream is to be World Supersport Champion, I have never had the desire to finish my career in this category. This is a step. I have already ridden a 1000cc, endurance or Superstock 1000, and I like it very much. Tyre management is different compared to a 600cc and my driving style lends itself perfectly. Racing for a second season in WorldSSP can only be beneficial to me and I hope, of course, to go to WorldSBK the following year. "
Keep up with Mahias' progress as he has his first opportunity to reach his dream around Circuito de Jerez all with the WorldSBK VideoPass, as Friday's free practise kicks off on Friday 20th, before the main event on Sunday at 11.30LT.