#JerezWorldSBK Sunday Guide
Saturday, 21 October 2017 14:08 GMT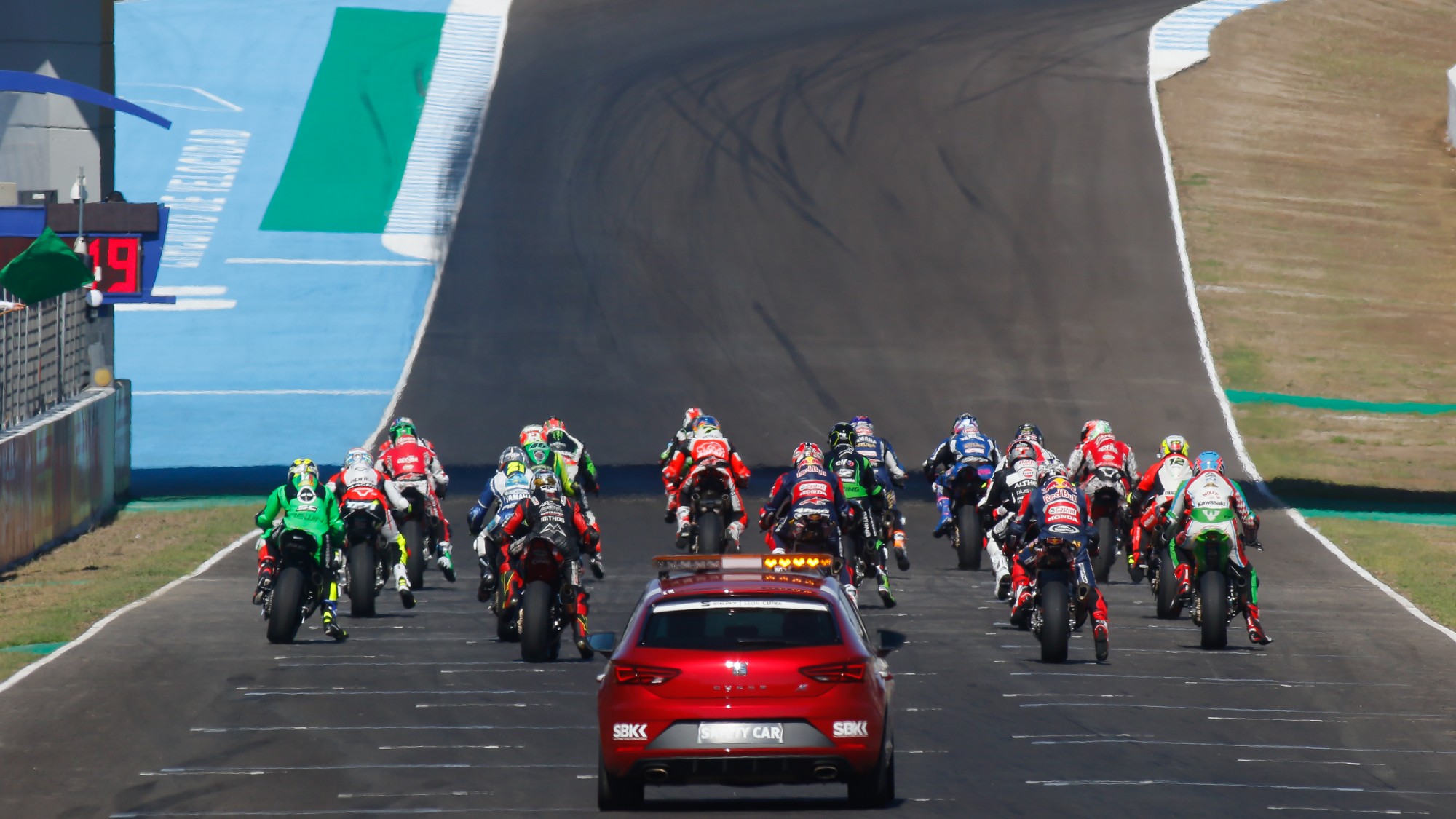 All the facts and stats ahead of Sunday at the Pirelli Spanish Round
1st in the championship – Jonathan Rea (Kawasaki Racing Team)
Jerez became the 16th track (out of 22) where Jonathan Rea has won at least once: he is fourth in the all-time standings of "winning tracks" behind Carl Fogarty and Noriyuki Haga, who have won around 19 tracks, and Troy Bayliss (18). His 109th podium allowed him to reach Carl Fogarty as the most successful podium finisher for Great Britain in WorldSBK history. All-time record holder is Australian Troy Corser at 130. His podium scoring rate has become impressive since he joined Kawasaki in 2015: he missed out only 8 podiums out of 75 races run for the team. His 51st win make him only one shy of the second all-time place, held by Troy Bayliss; after that, he will need 7 more to reach Carl Fogarty at the top of the standings. 21st podium this season: he needs two in the last three races to equal his season best, 23, recorded in the past two years. 13th win of the season, only one shy of his record of 14, set in 2015. The all-time record was set by Doug Polen in 1991, with 17 wins out 26. For the third consecutive year, he was second in qualifying at Jerez. 4-3-2-1- His last four Jerez races: 4th in Race 2, 2015; 3rd and 2nd last year; 1st in Race 1 this year.
2nd in the championship - Tom Sykes (Kawasaki Racing Team)
In Race 1 Tom Sykes became the 5th rider in history with at least 100 podiums after Troy Corser (130), Noriyuki Haga (116), Carl Fogarty (109) and his team-mate Jonathan Rea (109). Sykes also set a new record in WorldSBK history, becoming the first rider with 9 third places in just one season. In Race 2 Sykes will have the first chance to become the second rider in history with 100 podiums for the same manufacturer, as the only one at the moment is Carl Fogarty (for Ducati). Sykes' only podium for another manufacturer came in his second race weekend, in Donington, 2008, when he finished second for Suzuki. If it wasn't for his missed start(s) in Portimao interrupting the streak, this would have been his 40th straight race in the points. This was the only race weekend in Jerez where he wasn't able to qualify on the front row. 38 podiums this season for Kawasaki, the same they scored in 2015. Their only season with more than 40 podiums was last year, with 43.
3rd in the championship - Chaz Davies (Aruba.it Racing – Ducati)
Despite his second-worst qualifying result here (8th on the grid: he had qualified 10th in 2013), Chaz Davies managed to finish on the podium. The only time a podium at Jerez podium was conquered from a lower grid spot: by Leon Haslam in 2015, Race 2 (3rd from 11th on the grid). For the 44th time in history and the 11th this year, the podium was locked out by British riders
4th in the championship - Marco Melandri (Aruba.it Racing –Ducati)
Marco Melandri had to wait 6 years, 4 months and 2 days to record another pole after his maiden one in Aragon 2011, making this the longest wait in history for a second pole. The previous record belonged to Leon Haslam: 5 years, 1 month and 15 days (Phillip Island 2010 - Aragon 2015). This was the 39th pole by an Italian rider, the first one since Davide Giugliano in Algarve, 2015. Broke a string of 22 British poles, the longest in history for a single country: a British rider had been on pole since the 2016 Aragon weekend. In Race 1 he kept alive his record of having led every race he ran in Jerez.
5th in the championship - Alex Lowes (Pata Yamaha Official WorldSBK Team)
Lowes recorded his 4th front row start in qualifying, his first of the season and the first since he qualified in 2nd in Sepang last year. He is the 8th rider with at least one front row start in 2017: last year we had 10. His 4th place in Race 1 was his best result in Jerez, up from two 7th places recorded in 2015 Race 1 and last year in Race 2.Thanks to the new regulations, he will start from pole for the third time this year after the second races in Phillip Island and Aragon.
6th in the championship – Michael van der Mark (Pata Yamaha Official WorldSBK Team)
In Race 1, Michael van der Mark recorded his 10th straight points finish and equalled his best result at Jerez, 5th, recorded last year in Race 1 as well.