Davies and Melandri strive for Californian success
Wednesday, 5 July 2017 10:00 GMT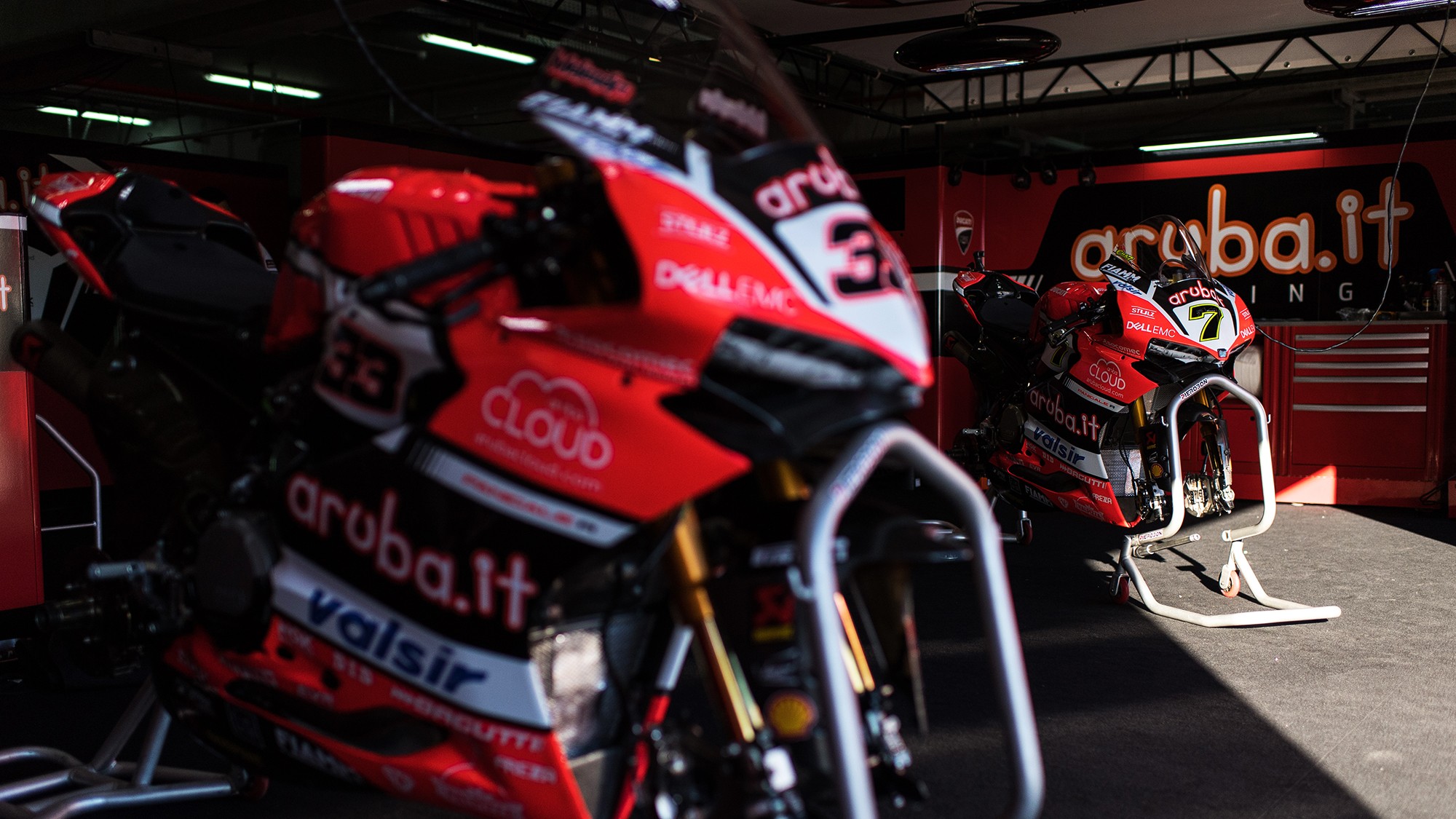 Aruba.it Racing - Ducati riders will work hard for glory at Laguna Seca
The Aruba.it Racing - Ducati team are ready for more action at Laguna Seca this weekend, at Round 8 of the 2017 MOTUL FIM Superbike World Championship.
At the exciting Californian track both Chaz Davies and Marco Melandri have achieved strong results in the past, and the Ducati squad are eager to keep up the momentum after Melandri's Misano Race 2 success.
Meanwhile, sidelined during that race due to the fracture of the transverse process of L3 (3rd lumbar vertebra) and a contusion of the left thumb after a crash in Race 1, Davies has undertaken an intense physiotherapy program to recover from those injuries, with positive results.
He will be examined by the Championship's Medical Director and circuit staff on Thursday to receive formal clearance to race at a track where he has already scored two wins and two further podiums in his career.
The Welshman commented, "I've been doing physiotherapy every day for the past two weeks, and my conditions have constantly improved. I feel generally pretty good, and the back is not bothering me particularly. We just need to wait for the official 'thumbs up' from the medical staff. Honestly, I can't wait to ride again."
"It's been a bit frustrating not to be able to train since Misano, but I didn't want to make anything worse. I want to take advantage of the next few days to wake my body up again. Laguna Seca is a great track, it triggers many a great memories, and its atmosphere is fantastic. Maybe I'll be a bit limited physically, but if we manage to find a comfortable setup that allows the bike to hit the marks without forcing too much we can aim high, so I'm confident."
Melandri has also stepped up onto the top of the podium at Laguna Seca, with victory in Race 1 in 2014, and he took third place one year before. Thanks to the setup improvements made in the last round, which culminated in his maiden win on the Panigale R, the Italian is keen to be a consistent victory contender from now on.
He stated, "Laguna Seca is one of my favorite races. I enjoy the track, and most of all the whole California vibe: the climate, the landscapes, and the fans' attitude. The track itself is small but fast, with many direction and elevation changes. It's complete and challenging."
"In the past two weeks I trained and recharged. I feel great and this is the right moment to resume action. I believe we stepped it up a notch at Misano, and we can be competitive on each track from now on. Now I ride a bike that is more suitable for my style."