Haga and Fabrizio aiming to up their game at Valencia
Wednesday, 7 April 2010 11:13 GMT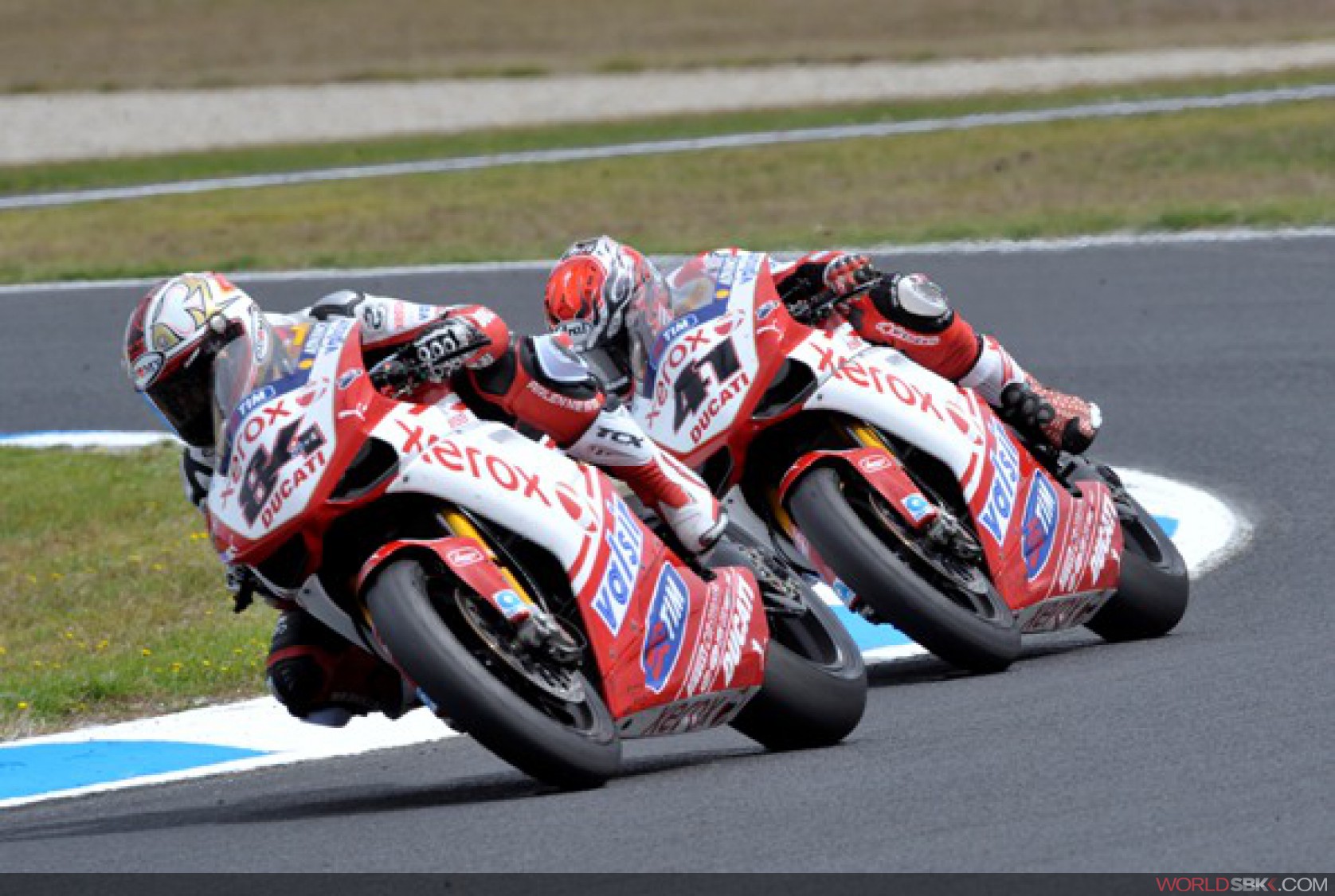 Haga and Fabrizio aiming to up their game at Valencia
Valencia is the third of the thirteen Superbike rounds and Ducati Xerox riders Noriyuki Haga and Michel Fabrizio will be back on board their 1198 bikes this weekend, ready to fight back and regain the ground they lost recently at Portimao. This is the eleventh consecutive year since its inauguration in 1999 that Valencia, the shortest track on the calendar at just 4005 metres in length, hosts a World Superbike event. Last year Haga, on his eighth outing at the Circuit de la Comunitat Valenciana, stormed to victory in both races, smashing the long-standing lap record in the process. He was followed by team-mate Michel who closed in second and third, his first podium successes at this particular track. Noriyuki has a good history here, having scored 10 podium finishes over 16 races, 5 of which were race wins.

Michel's first Superbike podiums at this track were attained just last year when he picked up a solid second and third place finish on his 1198. "Last year I had to battle hard against Spies and Laconi for the podium places but we were happy with the results, especially as my previous performances here were far from great! We made a strong start at Phillip Island a few weeks ago but then Portimao didn't go according to plan and I didn't make the points that I'd hoped to. Having said that, we're still near the beginning of a long season and Valencia is one of the tracks where I was on the podium twice last year so I'm confident that we'll be back on top in Spain."

Noriyuki did the double on his Ducati 1198 at the Spanish track last year and has also won races in 2008, 2004 and 2000, success that he hopes can be repeated again this year. "I had a great weekend at Valencia last year and scored the perfect results, it was my first double win at this track and of course I'd love to do that again this season! We need to make up ground that we lost at Portimao so from Valencia onwards we'll be back on track and aiming for race wins! I'm confident that me and my technicians will come up with a good race set-up that will allow me to fight at the front."