Round 09 - Lausitzring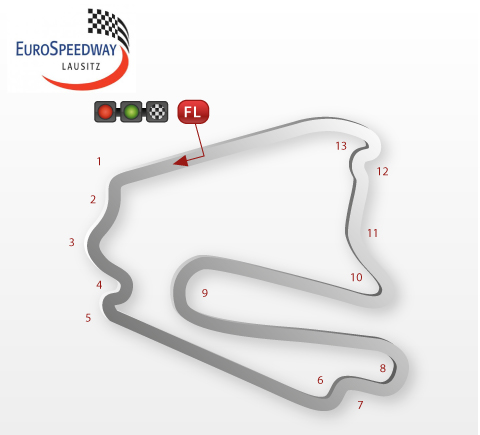 Circuit Information:
Length:

4.255 km

Pole position:

Right

Corners:

13

Left corners:

7

Right corners:

6

Introduction:

Lausitzring
EuroSpeedway Verwaltungs GmbH
Lausitzallee 1,01998 Schipkau, Germany
Tel: +49 35754 33 7 33
E-mail: postmaster@lausitzring.de
Website: www.lausitzring.de

How to arrive:

The Lausitzring is located about 60 km from Dresden and about 110 km from Berlin. You can easily reach the Lausitzring with its perfect traffic connections via Autobahn A13 – Turn-off 15 Klettwitz / EuroSpeedway Lausitz. From there, follow the numerous signs and you will reach the race track in less than five minutes. If you are coming from the Cottbus area, take Bundesstraße 169 and follow the numerous signs from Senftenberg in the direction of the Lausitzring.

Airport:

Arrival by plane is served by the airport in Dresden (www.dresden-airport.de), about 30 minutes away by car), as well as the two airports of Berlin (www.berlin-airport.de), about 60 to 90 minutes away by car). For private planes, there are also two airports in the vicinity – Welzow and Schwarzheide (www.flugplatz-welzow.de or www.aecschwarzheide.de).
Next Rounds