Get fired up for Brno with the WorldSBK Warm Up Tour!
Wednesday, 30 May 2018 15:06 GMT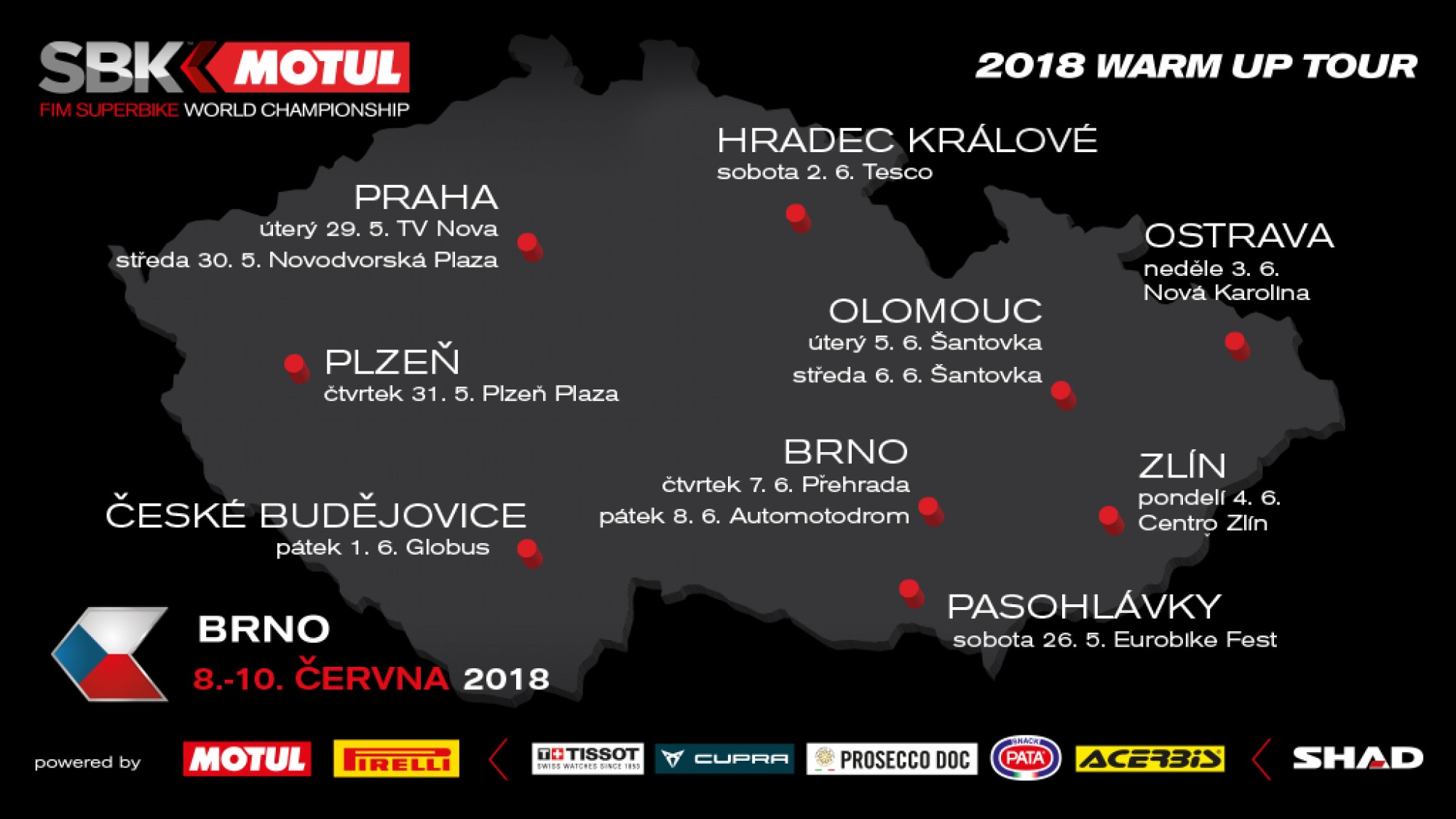 Prizes to be won and memories to be made ahead of the Acerbis Czech Round
Another European Round, another sensational journey for the MOTUL FIM Superbike World Championship's 2018 Warm Up Tour! Before the championship descends over Brno circuit for the first time in six years, WorldSBK sets off around the Czech Republic to extend the experience to everyone in the Czech Republic.
After thrilling motorcycling fans in Spain, the Netherlands and Italy, several Czech cities will welcome the WorldSBK Warm Up Tour truck. The tour started last Saturday at the Eurobike Fest in Pasohlávky, and has since visited the beautiful capital of Prague on May 29 and 30.
From here on, we have visits this week to Plzen, České Budějovice, Hradec Kralové and Ostrava, a voyage from one corner of the Czech lands to the other, in which fans will have the chance to win exciting prizes, including WorldSBK merch, safecty car laps, and passes for the Acerbis Czech Round!
After that, with WorldSBK approaching the seventh round of the 2018 season at full speed, the Warm Up truck will make its way to Zlin and Olomouc, before closing the tour at Brno just one day before the best Superbike riders in the world kick off another electric weekend of racing. With more prizes up for grabs and a special area for our younger fans to prove their skills on official WorldSBK bicycles, can you afford to miss the WorldSBK experience going your way?
Full Tour Schedule:
26.05 – Eurobike Fest, Pasohlávky
29.05 – TV Nova, Prague
30.05 – Novodvorská Plaza, Prague
31.05 – Plzen Plaza, Plzen
01.06 – Nákupní centrum Géčko, České Budějovice
02.06 – Tesco, Hradec Králové
03.06 – Forum Nová Karolina, Ostrava
04.06 – Centro Zlín, Zlín
05.06 – Galerie Šantovka, Olomouc
06.06 – Galerie Šantovka, Olomouc
07.06 – Brno Dam, Brno