Shortlisted: Idemitsu Asia Talent Cup 2018 Selection Event candidates
Thursday, 7 September 2017 19:17 GMT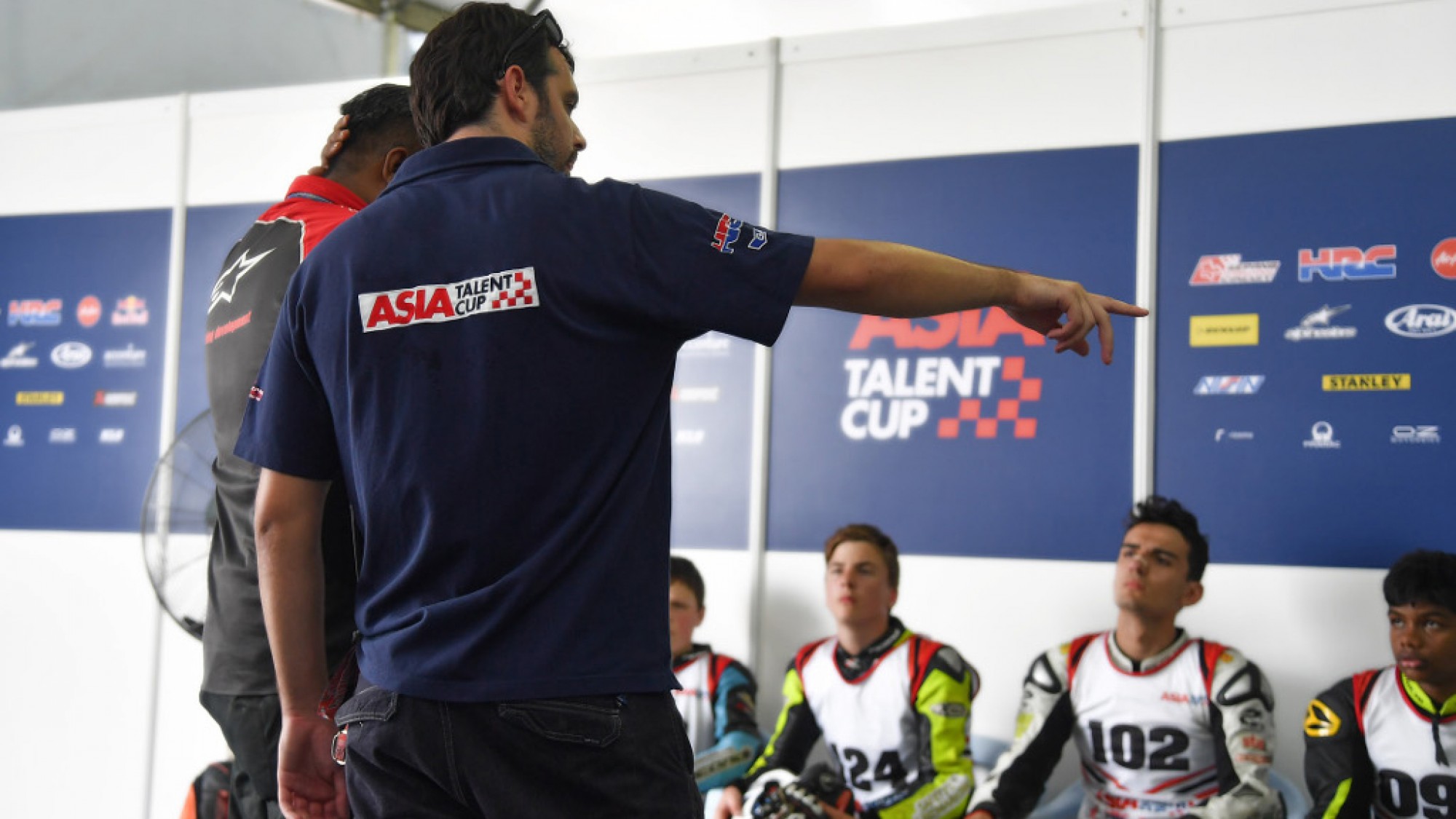 The selection process has reached a new and exciting phase
After the registration phase drew to a close on 13th August, with more than 500 applicants registered, the selection committee have compiled a shortlist of successful candidates who will take part in the Selection Event following a thorough analysis and review of each rider application. The committee, headed by Talent Promotion Director Alberto Puig, have identified the 127 riders who will be invited to take part in the Selection Event.

This event is scheduled to take place at the Sepang International Circuit on the 24th and 25th October, ahead of the last race of the current season of the Asia Talent Cup, which also takes place at the Malaysian venue near Kuala Lumpur. As in 2017, the Selection Event will take place over one day on Wednesday 25th October. However, riders will be asked to make all administrative processes on Tuesday 24th October.

During that day, each applicant must demonstrate their skills and ability riding a Honda bike at the Sepang Karting Circuit. Subsequently, the selection committee will meet again to analyse all the data and ultimately determine the final riders chosen to participate in the 2018 edition of the Idemitsu Asia Talent Cup.

Communication for the 2018 selection process began on the 24th June and the registration period ran from 8th July to 13th August. During this period, an intensive communications campaign also took place, with the collaboration of the main Asian circuits, federations, motorcycle riding schools and additional partners and companies.

Applications have been registered from riders in many countries across the region, including Australia, Bangladesh, China, India, Indonesia, Japan, Malaysia, Nepal, New Zealand, Pakistan, Philippines, Qatar, South Korea, Singapore, Sri Lanka, Taiwan, Thailand, Turkey and Vietnam.
The list of the 127 riders invited to the selection process in Sepang on the 24th and 25th October is:
App ID First name Last name Age
139 Senna Agius 12 AUSTRALIA
276 Benjamin Baker 12 AUSTRALIA
391 Oliver Bayliss 13 AUSTRALIA
94 Thomas Brown 12 AUSTRALIA
421 Seth Crump 14 AUSTRALIA
402 Ned Faulkhead 15 AUSTRALIA
361 Gerry Mahaffy 16 AUSTRALIA
436 Jordan Simpson 14 AUSTRALIA
432 Mitchell Simpson 17 AUSTRALIA
325 Connor Spinks 15 AUSTRALIA
298 Bill Van Eerde 15 AUSTRALIA
496 S. M. Fazle Rabby 20 BANGLADESH
359 Zhen Jie Cai 19 CHINA
360 Zhuo Ran Jiang 13 CHINA
357 Zi Xu Liao 18 CHINA
358 Yu Wu 16 CHINA
356 Jun Hao Zhan 12 CHINA
150 Ann J. A. Sundersingh 16 INDIA
452 Alan Fernando 18 INDIA
334 Varun Sobhan 19 INDIA
450 Mario Suryo Aji 13 INDONESIA
442 Hadi Faisal Baskara 17 INDONESIA
56 Willy Debiean 19 INDONESIA
198 Farrel R. Divano Putra 13 INDONESIA
180 Achmad Fachri Sayyidan 14 INDONESIA
453 Muhammad Agung Fachrul 14 INDONESIA
437 Herjun Atna Firdaus 13 INDONESIA
106 Muhammad Iqbal Firdaus 14 INDONESIA
292 Satria H. Adi Saputra 16 INDONESIA
43 Nicola Irawan 19 INDONESIA
438 Muhammad H. Kusuma 15 INDONESIA
115 Abdul G. Mutaqim 12 INDONESIA
485 Helmi Nafis 12 INDONESIA
46 Tengku Dika S. Nando 17 INDONESIA
328 I Gede Oik S. Putra 14 INDONESIA
179 Reza Pahlevi 18 INDONESIA
299 Aditya Prakoso 15 INDONESIA
32 Praga Prasa 16 INDONESIA
315 Valen Purangga 13 INDONESIA
451 Mohammad A. Putra 13 INDONESIA
401 Wildan Putra Jaya 16 INDONESIA
454 Surya Narayana R. Surojo 15 INDONESIA
435 Dion Reymanuel 18 INDONESIA
22 uhammad Rizki 15 INDONESIA
102 Arie Hadiyanto Salman 15 INDONESIA
483 Dedy Setiawan 19 INDONESIA
105 Dwiki H. Suparta 18 INDONESIA
449 Afridza S. Munandar 18 INDONESIA
189 Aldhi Tri Andhika Puri 13 INDONESIA
10 Respati Utomo 17 INDONESIA
303 Ali Baseri 17 IRAN
430 Ido Chen 13 ISRAEL
291 Hikaru Arita 15 JAPAN
428 Ryosuke Bando 14 JAPAN
406 Yuichiro Fukuda 18 JAPAN
297 Masaya Hongo 13 JAPAN
378 Shoki Igarashi 15 JAPAN
286 Anjyu Kasai 18 JAPAN
89 Shota Kiuchi 14 JAPAN
384 Takuma Matsuyama 12 JAPAN
431 Shun Miyazaki 14 JAPAN
441 Ito Motoharu 18 JAPAN
366 Hayate Nakada 14 JAPAN
444 Koshi Nakajima 13JAPAN
311 Eito Nakamura 14 JAPAN
419 Sho Nishimura 15 JAPAN
515 Shinji Ogo 11 JAPAN
392 Kazuki Ohori 17 JAPAN
440 Yuta Okaya 18 JAPAN
307 Toshiki Senda 14 JAPAN
395 Fugo Tanaka 13 JAPAN
503 Keijiro Tanimoto 14 JAPAN
461 Otojiro Tanimoto 17 JAPAN
508 Tetsuya Tetsuya 14 JAPAN
443 Naoki Yamada 15 JAPAN
469 Syuu Yamato 13 JAPAN
269 Nomura Yuito 13 JAPAN
476 Hayato Ota 13 JAPAN
147 Muhammad A.A. Rahman 15 MALAYSIA
369 Abdullah Q.A. Razak 13 MALAYSIA
457 Naeem Ahmad Fiqri 13 MALAYSIA
330 Muhammad Aidey Ilham 16 MALAYSIA
466 Khamirudin B.A. Kadir Amir 17 MALAYSIA
300 Izzat Azmi 15 MALAYSIA
1 Luth Harith Bin Erwan 15 MALAYSIA
513 Mohamad Qhuwarismi Nasir 18 MALAYSIA
77 Khairi Haziq Bin Roslan 14 MALAYSIA
429 Muhammad Muazim S.B. Anuar 15 MALAYSIA
206 Fais Daniel 16 MALAYSIA
53 Kishan Duraisingam 18 MALAYSIA
514 Daniel El Fahim Hadi 14 MALAYSIA
285 Aliff Afnan Haruddin 16 MALAYSIA
253 Ameri Hisam 14 MALAYSIA
288 Muhamad A. Ibrahim B.Pawi 16 MALAYSIA
350 Afiq Ikram 14 MALAYSIA
275 Salleh I. Dzul Karnaien 11 MALAYSIA
183 Izam Ikmal Izamli 14 MALAYSIA
262 Muhammad I.F. Mahadi 14 MALAYSIA
355 Amirul Hazeeq M. Anis 12 MALAYSIA
87 Muhd Fadhli M. Farouk 14 MALAYSIA
109 Muhammad Zafrey A.M. 16 MALAYSIA
284 Muhammad Sharul E.M. Sharil 13 MALAYSIA
374 Saiful Azhary Muhamad 17 MALAYSIA
427 Muhammad M. Razlan Hashim 12 MALAYSIA
112 Khairi Haziq Roslan 14 MALAYSIA
95 Muhammad Afiff Shafrizal 15 MALAYSIA
158 Danish Haiqal S. Rudzin 13 MALAYSIA
182 Zaifi Zaini 13 MALAYSIA
331 Rabin Sunar 18 NEPAL
342 Joshua Goddard 18 NEW ZEALAND
200 Jacob Stroud 18 NEW ZEALAND
188 Robert Ryan Espiritu 19 PHILIPPINES
256 Amber Garcia 13 PHILIPPINES
364 Abdulla Naief Al Qubaisi 17 QATAR
338 Yousef Mohammed Al-Darwish 12 QATAR
40 Muhammad Taqrizh Tsaqif 15 SINGAPORE
323 Jaden Gunawardena 15 SRI LANKA
386 Avinash Nanayakkara 17 SRI LANKA
370 Tatchakorn Buasri 16 THAILAND
306 Oliver Ohrman 16 THAILAND
367 Piyawat Patoomyos 18 THAILAND
335 Kopchai Sae-Liw 18 THAILAND
333 Nitipong Saengsawang 15 THAILAND
363 Warit Thongnoppakun 18 THAILAND
155 Kadir Erbay 11 TURKEY
171 Yigit Fazli Ercelik 13 TURKEY
215 Nguyen Tan Hưng Nguyen 15 VIETNAM