British Talent Cup Selection Event candidates shortlisted
Wednesday, 26 July 2017 08:34 GMT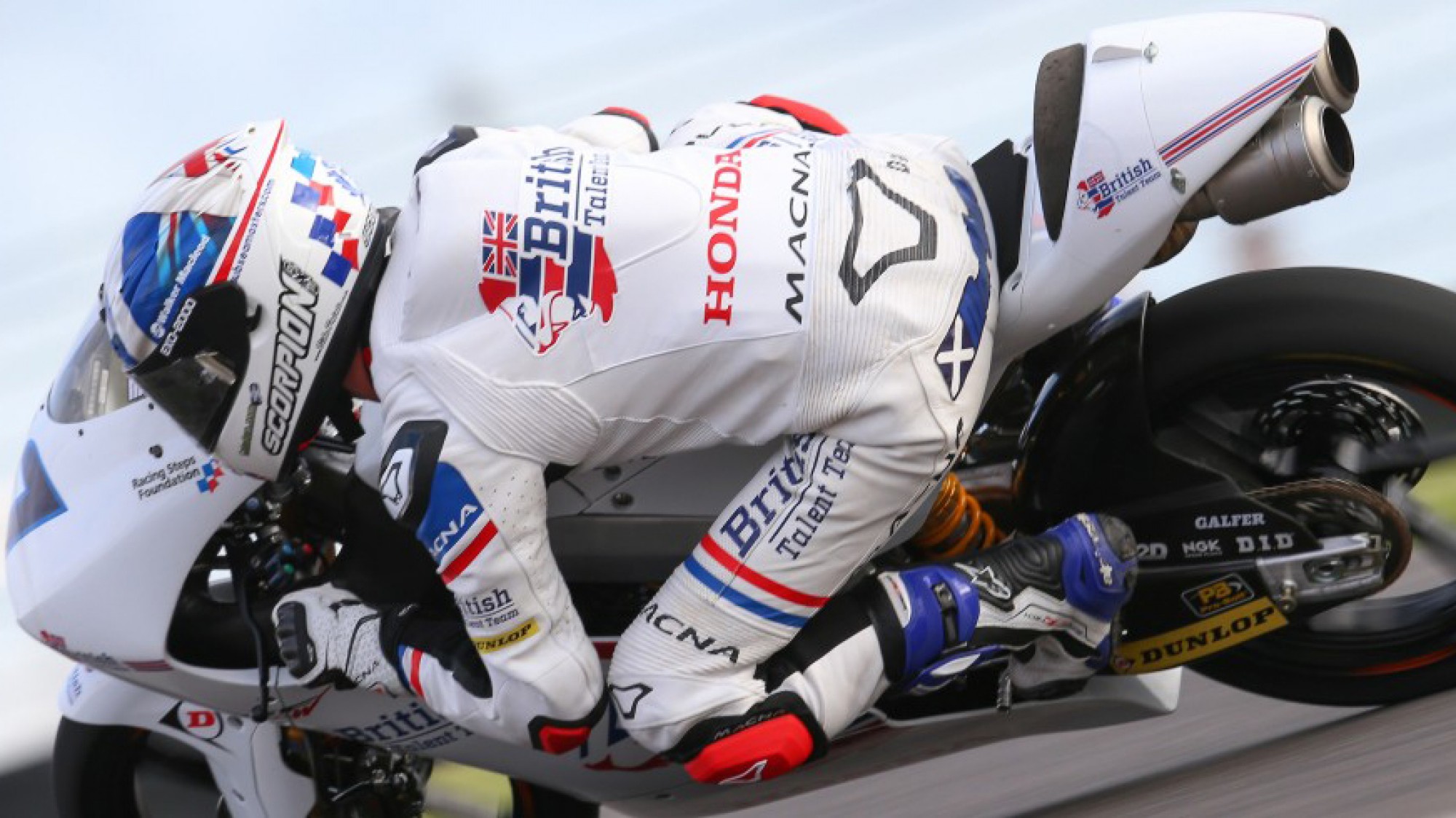 The BTC gets closer to becoming a reality every day – with candidates to be invited to the Selection Event at Silverstone now decided
After more than 200 applications from young riders from within the British Isles to form part of the first ever British Talent Cup, a shortlist of riders have now been chosen to attend the Selection Event at Silverstone.

The selection committee - including Talent Promotion Director Alberto Puig and British Talent Scout Jeremy McWilliams - have carefully assessed each application, and 90 riders will now be invited to the Silverstone for the next stage. The Selection Event takes place at the British track just ahead of the British MotoGP™ weekend this year, with inscriptions on Tuesday 22nd August before track action gets underway the following day.

Wednesday 23rd August will give the riders chance to show what they're made of, with a full day of riding under the watchful eye of Puig and McWilliams. They will be on Honda machinery similar to what will be raced in the Cup, and the final list of entrants who will make up the first ever grid in the BTC will then be decided.

On Thursday 24th August the riders who have been accepted as full time entrants to the Cup in 2018 will also take part in the Day of Champions at Silverstone as they prepare for their next adventure – invited onto the stage for their first taste of the Road to MotoGP™.

The inaugural British Talent Cup is now on the horizon. After applications opened on May 5th and ran until June 18th, next up is the Selection Event – before the engines get ready to fire up for 2018.
| | | | | | |
| --- | --- | --- | --- | --- | --- |
| ID | FIRST NAME | LAST NAME | AGE | NATIONALITY | GENDER |
| 43 | Jay | ABLE | 12 | GREAT BRITAIN | Male |
| 41 | Tom | ALEXANDER | 13 | GREAT BRITAIN | Male |
| 195 | Montague | AMER | 11 | GREAT BRITAIN | Male |
| 87 | Blake | ANSELL | 14 | GREAT BRITAIN | Male |
| 138 | Charlie | ATKINS | 14 | GREAT BRITAIN | Male |
| 72 | Calum | BEACH | 11 | GREAT BRITAIN | Male |
| 90 | Harris | BEECH | 13 | GREAT BRITAIN | Male |
| 68 | Jack | BELL | 14 | GREAT BRITAIN | Male |
| 98 | Edmund | BEST | 16 | GREAT BRITAIN | Male |
| 93 | Callum | BLACKWELL | 14 | GREAT BRITAIN | Male |
| 120 | Franco | BOURNE | 13 | GREAT BRITAIN | Male |
| 45 | Matthew | BOWER | 15 | GREAT BRITAIN | Male |
| 66 | James | BULL | 13 | GREAT BRITAIN | Male |
| 139 | Jonathan | CAMPBELL | 14 | GREAT BRITAIN | Male |
| 143 | Harvey | CLARIDGE | 12 | GREAT BRITAIN | Male |
| 100 | Jacob | CLARK | 14 | GREAT BRITAIN | Male |
| 105 | Luke | CLEMENTS | 14 | IRELAND | Male |
| 102 | Torin | COLLINS | 12 | GREAT BRITAIN | Male |
| 131 | Declan | CONNELL | 12 | GREAT BRITAIN | Male |
| 148 | Max | COOK | 14 | GREAT BRITAIN | Male |
| 103 | Brody | CROCKFORD | 12 | GREAT BRITAIN | Male |
| 16 | Adon | DAVIE | 12 | GREAT BRITAIN | Male |
| 134 | Jamie | DAVIS | 12 | GREAT BRITAIN | Male |
| 159 | Cameron | DAWSON | 12 | GREAT BRITAIN | Male |
| 170 | Harrison | DESSOY | 12 | GREAT BRITAIN | Male |
| 177 | Kam | DIXON | 12 | GREAT BRITAIN | Male |
| 17 | Nathan | DRURY | 16 | GREAT BRITAIN | Male |
| 78 | Shane | FABER | 16 | GREAT BRITAIN | Male |
| 59 | Charlie | FARRER | 15 | GREAT BRITAIN | Male |
| 198 | Jodie | FIELDHOUSE | 18 | GREAT BRITAIN | Female |
| 190 | Luke | GARDNER | 11 | GREAT BRITAIN | Male |
| 12 | Brian David | HART | 15 | GREAT BRITAIN | Male |
| 86 | Jack | HART | 13 | GREAT BRITAIN | Male |
| 188 | Troy | HAYWARD | 16 | GREAT BRITAIN | Male |
| 76 | Rishon | HICKEY | 15 | GREAT BRITAIN | Male |
| 1 | Luke | HOPKINS | 15 | GREAT BRITAIN | Male |
| 24 | George | HOPPER | 13 | GREAT BRITAIN | Male |
| 112 | Jake | HOPPER | 12 | GREAT BRITAIN | Male |
| 70 | Sandy | HORNE | 12 | GREAT BRITAIN | Male |
| 163 | Cameron | HORSMAN | 16 | GREAT BRITAIN | Male |
| 167 | Rhys | IRWIN | 15 | IRELAND | Male |
| 142 | Owen | JENNER | 13 | GREAT BRITAIN | Male |
| 83 | Chloe | JONES | 13 | GREAT BRITAIN | Female |
| 197 | Daniel | JONES | 16 | GREAT BRITAIN | Male |
| 92 | Lewis | JONES | 12 | GREAT BRITAIN | Male |
| 137 | Osian | JONES | 12 | GREAT BRITAIN | Male |
| 22 | Jeremy | KNIGHT | 13 | GREAT BRITAIN | Male |
| 114 | Sam | LAFFINS | 15 | GREAT BRITAIN | Male |
| 164 | Alexander | LATHAM | 14 | GREAT BRITAIN | Male |
| 122 | Will | LATHROPE | 14 | GREAT BRITAIN | Male |
| 116 | Harry | LEIGH | 13 | GREAT BRITAIN | Male |
| 117 | Jamie | LYONS | 12 | GREAT BRITAIN | Male |
| 69 | Ross | MAGUIRE | 12 | GREAT BRITAIN | Male |
| 129 | Oisin | MAHER | 14 | IRELAND | Male |
| 94 | Owen | MELLOR | 12 | GREAT BRITAIN | Male |
| 77 | Brian | MOFFITT | 16 | ISLE OF MAN | Male |
| 81 | Chris Moffitt | MOFFITT | 16 | ISLE OF MAN | Male |
| 71 | Taylor Fox | MORETON | 16 | GREAT BRITAIN | Male |
| 152 | Jake Peter | NESTOR | 16 | GREAT BRITAIN | Male |
| 60 | Jack | NIXON | 16 | GREAT BRITAIN | Male |
| 53 | Stanley | NOBLE | 14 | GREAT BRITAIN | Male |
| 52 | Scott | OGDEN | 13 | GREAT BRITAIN | Male |
| 33 | Oliver | OWEN-FOXON | 13 | GREAT BRITAIN | Male |
| 5 | Lewis | PATERSON | 16 | GREAT BRITAIN | Male |
| 27 | Charlie | PIDDOCK | 12 | GREAT BRITAIN | Male |
| 19 | Elliot | PINSON | 14 | GREAT BRITAIN | Male |
| 56 | Oscar | PINSON | 12 | GREAT BRITAIN | Male |
| 144 | Ciaran | POULTER | 11 | GREAT BRITAIN | Male |
| 154 | Joshua | RAE | 15 | GREAT BRITAIN | Male |
| 147 | Jack | ROACH | 14 | GREAT BRITAIN | Male |
| 109 | Matthew | RUTTER | 13 | GREAT BRITAIN | Male |
| 11 | Jack | SCOTT | 16 | GREAT BRITAIN | Male |
| 37 | Fenton Harrison | SEABRIGHT | 15 | GREAT BRITAIN | Male |
| 80 | Zak | SIMPSON | 11 | JERSEY | Male |
| 46 | Storm | STACEY | 14 | GREAT BRITAIN | Male |
| 79 | William | STANSBIE | 15 | GREAT BRITAIN | Male |
| 165 | Thomas | STRUDWICK | 15 | GREAT BRITAIN | Male |
| 136 | Scott | SWANN | 14 | GREAT BRITAIN | Male |
| 153 | Ben | TAYLOR | 12 | GREAT BRITAIN | Male |
| 89 | Annabel | THOMAS | 13 | GREAT BRITAIN | Female |
| 101 | Corey | TINKER | 12 | GREAT BRITAIN | Male |
| 82 | Kyal | TINKER | 13 | GREAT BRITAIN | Male |
| 130 | Stephanie | TOVEY | 12 | GREAT BRITAIN | Female |
| 13 | Ross Akechai | TURNER | 13 | GREAT BRITAIN | Male |
| 42 | Eddie | WADE | 14 | GREAT BRITAIN | Male |
| 97 | Myles | WASLEY | 16 | GREAT BRITAIN | Male |
| 39 | Joshua John | WHATLEY | 11 | GREAT BRITAIN | Male |
| 193 | Callum | WHYBROW | 14 | GREAT BRITAIN | Male |
| 30 | Jack | WORTH | 13 | GREAT BRITAIN | Male |
| 196 | Billy | WYNN | 16 | GREAT BRITAIN | Male |